KL to take 10k workers under G2G system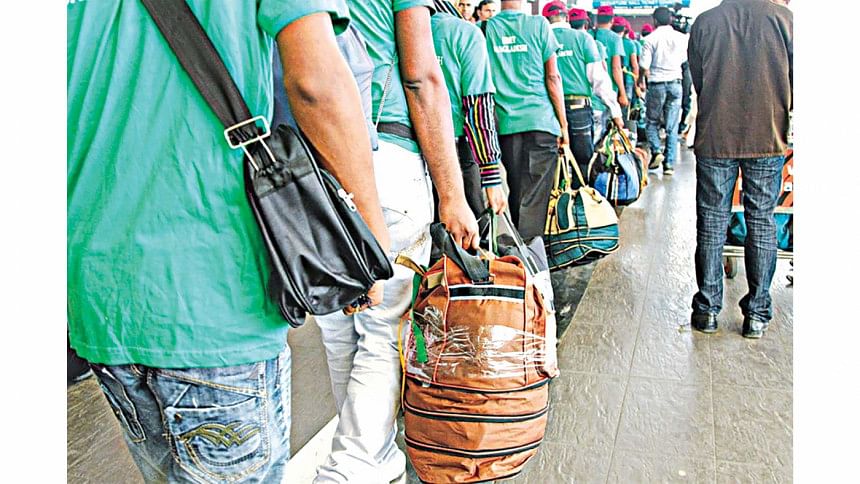 The Malaysian government has made a new move to hire Bangladeshi workers under a government-to-government arrangement as the labour recruitment through private agencies that began in August has been slow and there were allegations of high migration cost and syndication.
"Yes, we are entering a direct government-to-government arrangement for at least 10,000 workers. The airfare and all the cost in the Malaysian end will be borne by the Malaysian employers," Imran Ahmad, expatriates' welfare and overseas employment minister, told The Daily Star yesterday.
He said Malaysia is in a huge shortage of workers, but the recruitment via private sector has been slow. This prompted the Malaysian government to take the new initiative and expedite the labour recruitment.
Asked if the recruitment through the private sector would be discouraged then, the minister said all options -- private and public -- should be open for positive competition.
The Malaysia's human resources ministry will be implementing the one-off recruitment of 10,000 workers, involving Malaysian Employers' Federation (MEF) and Bangladesh Overseas Employment and Services Ltd (BOESL), a state-owned recruiting agent.
"We will continue to work on a better recruitment system -- either through public or private sector," Imran Ahmad said.
According to a letter of MEF sent to all its members on September 23, the total cost of each Bangladeshi worker under the G2G mechanism would be Tk 42,920, needed at the Bangladesh end.
A BOESL official said it has already received a demand for 350 workers for employment in Malaysia and will be able to send them in a week.
The new move came as a surprise to many as a syndicate of 25 recruiting agencies approved by the Malaysian human resources ministry earlier this year was already engaged in sending workers to Malaysia.
Bangladesh had wanted Malaysia to engage all recruiting agencies in hiring but a powerful quarter in Malaysia lobbied for the 25, according to industry insiders.
Each of the workers going to Malaysia through the 25 agencies is supposed to pay Tk 79,000, but they are now forced to pay Tk 3.5 lakh to Tk 4 lakh, they said.
Shameem Ahmed Chowdhury Noman, secretary general of Bangladesh Association of International Recruiting Agency (Baira), said as of September 26, only 2,200 workers went to Malaysia for jobs since August though the Malaysian employers sought 70,000 workers.
"We think there is a lack of capacity of the recruiting agencies that have the approval of the Malaysian government," Noman told this correspondent.
An official of the expatriates' welfare and overseas employment ministry said many brokers are involved, in Bangladesh and Malaysia, who increase the migration cost.
On December 19 last year, Malaysia and Bangladesh signed a memorandum of understanding for manpower recruitment after a pause of more than three years following allegations of a 10-member syndicate that manipulated recruitment during 2017-18.