Monuments of Greed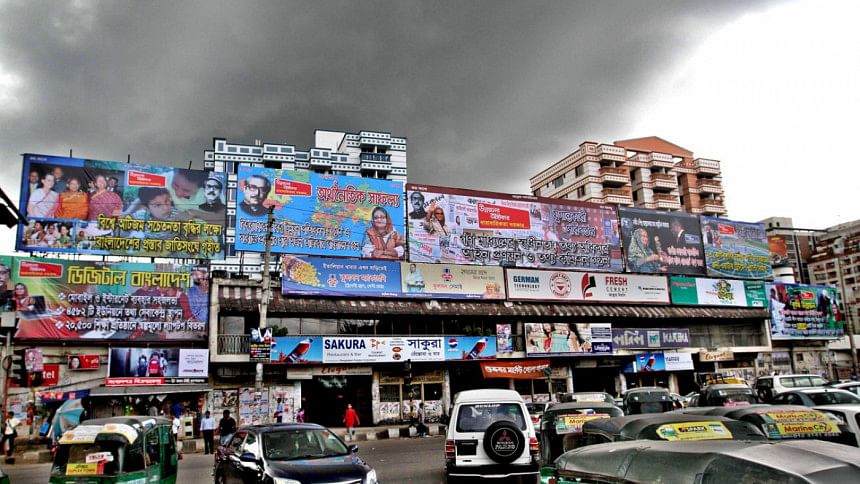 GREED is an ugly thing. To see just how grotesque it can be, just look up from your vehicle and try to get a broad view of the city as it spreads out in front of you. The first thing you will see are billboards, scores of them. You will feel like one of the miniscule protagonists in the Land of the Giants (a popular series in the 70s). A gigantic woman is eating a humungous shashlik and grimacing menacingly while oceans of green soda tempt her from the backdrop. There are chanachur packets the size of your front door pouring out what they claim to be the ultimate socializing snack. A team of giant doctors pose confidently promising health miracles of 'international standard' – though the billboard housing them is hanging on a dilapidated building where anything but healthcare can be expected. 
Then there are those billboards lining the VIP roads extolling the tremendous successes of the government. What is impressive is not the accomplishments that are being disseminated to the poor, ignorant, clueless masses but the jaw-dropping levels of unimaginative photography and graphics that can produce such eyesores. Was there a constraint in the budget for the posters on these billboards that had been rented by other enterprises? Had some pesky sycophant who religiously failed in art class throw a tantrum unless he had been given the job?
But let's not bother our pretty little heads over such trivia. Let's talk about the upcoming polls that have given hoardings a whole new status. About a week ago if you were going by under the Mohakhali flyover, you would be greeted by larger than life billboards of AL mayoral candidate (before he withdrew from the race) Haji Selim and Annisul Haque, the current favourite of the ruling party. Billboards sporting the smiling faces of other larger than life candidates were looming down on us all over the city.
Providence, however, has always had a way to teach us lessons, the hard way. All it had to do was send a little nor'wester to blow away many of the precariously constructed, illegal, hoardings that landed on the street, on cars and on people. 
Was it to tell us to stop this nonsense – this odious sight pollution created by these billboards that have complemented the ungainly, chaotic, unapproachable city with its spaghetti of cables for channels and internet connections, broken roads and unattended heaps of garbage strewn about intermittently for the passersby's olfactory pleasure? Ironically one of the billboards fell on one of the former mayoral candidate's car; he was unhurt but two rickshaw pullers were wounded – of course.
But what were we talking about again? Oh yes, about greed being an ugly thing. Billboards require permission from the city corporations who get quite a hefty sum for such authorisation. That's not enough obviously, so some officials and cronies of the ruling party, whichever one happens to rule, decide to turn the other way, to make some extra cash, when those scraggly men put up those rectangular metal sheets over flimsy metal structures. The billboard ad business is the golden goose of many a CC official promising an endless supply of gold eggs as every corner and inch of this city can be covered with billboards, and more billboards. If there ever was a sliver of greenery around Bijoy Sarani it is hard to tell, now that it is laced with those rectangular structures to obliterate the fact that once upon a time we had real live trees lining the road. Or maybe they are still there and the city fathers desperately need to hide them.
Yes, billboards are an undeniable accessory of cities all over the world. But in most countries the rules and regulations regarding the construction and display of billboards is closely monitored by the city authorities. For us, that's the biggest problem. Those in charge of monitoring have gone a little carried away. They have cluttered the entire city with poorly constructed, illegal hoardings that can fall on people and kill them at any time. And that is really ugly.

The writer is Deputy Editor, Op-Ed and Editorial, The Daily Star.