The Orlando massacre and the "Muslim factor"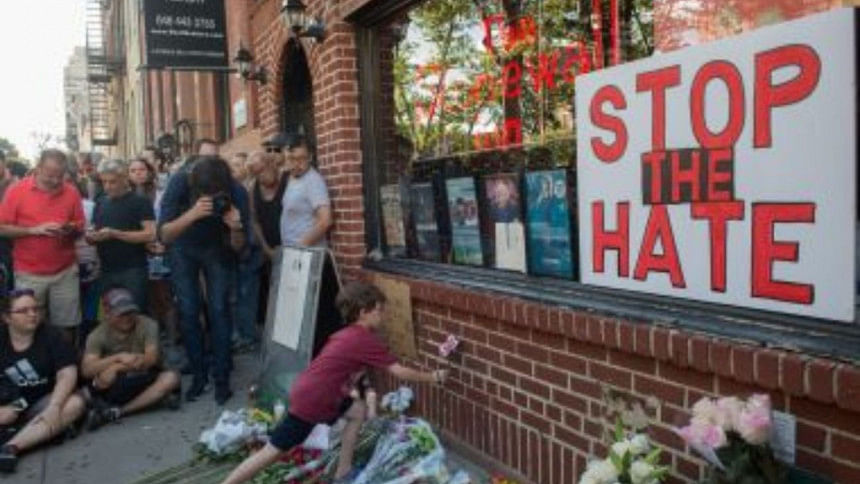 When I first saw the news flash scrolling at the bottom of my TV screen, my first thought was, please God, not another Muslim!  
With Donald Trump waging his own "jihad" against Muslims – all Muslims, including those who are American – I was hoping that the shooter was from another religion, any religion but Islam. My hope turned into a nightmare when the shooter was confirmed not only to be a Muslim, but someone who was born in New York and had gone to US schools. Omar Mateen was just a regular guy, it seems, who wore a bandana, loved taking selfies, dated a Pakistani woman, and even occasionally visited the same gay night club where he unleashed his vengeance. He may have been a closeted gay.
Omar was also someone living amidst other Muslims. Some people might have known his darker side and could have stepped in to intervene. Nobody did, and now all Muslims living in the US are guilty by association. We are giving the Donald Trumps of the world a reason to gloat. 
There could be a thousand theories to explain what motivated this "homegrown" terrorist to decide one night to gather all his guns and embark on a personal vendetta against a group of people he thought was different and deserved punishment. At the end of the night, his decision to play God left nearly 50 people dead and another 50 or so gravely wounded, and turned every Muslim in the US a marked person. Dana Milbank at the Washington Post has publicly wondered, how long would it be before American Muslims are forced to wear yellow badges featuring the star and crescent? 
Donald Trump had already used his "Muslim card" to romp through the Republican primaries and to snatch the party nomination for president. Be fearful of Muslims, he had warned, while demanding a total ban on Muslims entering the US. Now, after Orlando, he is self-congratulating saying, 'I told you so'.
Like it or not, this "Muslim card" is winning, as Trump's words are echoing with many Americans. Six months ago, after the San Bernadino shooting carried out by another "homegrown terrorist" and his Pakistani wife, Trump cheerfully explained why he loved these mass shootings. "Whenever there's a tragedy, my numbers go way up," Mr. Trump gloated.
This time, he has amped up his attacks on Muslims, and even implicated President Obama, another "Muslim" in his estimation, for enabling such a massacre by refusing to condemn "radical Islam" as the real culprit behind all terror attacks. To many Trump supporters, Obama's argument that terrorists use a perverted version of Islam to advance their political cause sounds hollow. "Look, he was a Muslim," they now say, pointing to Mateen's last minute declaration of allegiance to the so-called Islamic State.
"I told you so," Trump smiles and gloats. 
The wounds are still fresh and many of the dead have not yet been laid to rest, but he is already out there to collect a few extra votes.
Some opinion leaders have tried to redirect the conversation, focusing instead on the need for gun control. In the US, mass shootings – in which at least four people are killed or wounded - take place almost on a daily basis. In 2015, according to a Shooting Tracker Data, there were as many as 372 mass shootings in the US, killing 475 and wounding 1,870. That makes it more than one mass shooting per day throughout the year.
Mateen – who was known to FBI for his radical views – acquired his cache of guns legally.  In any other country, in the aftermath of such a mass murder, the obvious action would be to impose stricter gun control, making sure that guns don't fall into the hands of any deranged person, such as Mateen. Although there is strong support within the country for "common sense gun control", the gun lobby is too strong and the politicians in Washington, in the view of The New York Times, "too cowardly." So nothing happens, except for an occasional call for vigilance and prayer. 
President Obama and some of his Democratic allies have tried for some common sense gun control measures.  He tried again three days ago, after the Orlando shooting. "The shooter was apparently armed with a handgun and a powerful assault rifle. This massacre is therefore a further reminder of how easy it is for someone to get their hands on a weapon that lets them shoot people in a school, or in a house of worship, or a movie theater, or in a nightclub," he told a stunned nation. 
Appearing exhausted and even resigned, he somberly said, "We have to decide if that's the kind of country we want to be. And to actively do nothing is a decision as well."
Clearly, Americans have already chosen the kind of country they want for themselves. They want to remain armed to the teeth. Bearing arms is a sacred right and an expression of their free will, guaranteed by an amendment to the Constitution. 
"My numbers go up, way up," winks Trump and many people clap. 
Meanwhile, there has been an outpouring of emotions and expressions of solidarity all across America, beyond all social and cultural boundaries.
While there is no reason for any Muslim to own this dastardly act, it is important that they publicly condemn Mateen and others like him. After all, these attacks are carried out by people who claim to be Muslims and do so in the name of Islam. The Islamic State, for example, quickly claimed responsibility for the Orlando massacre. No sensible and self-respecting Muslim should allow a group of perverts to hijack their religion. Now more than ever before, they must – with every fibre of their being - condemn such mindless killings.   
Unfortunately, no leaders of the Muslim world have risen. Not in one Muslim country has there been a public demonstration of protest or solidarity. Yet, the massacre was committed in the name of their religion.
We may now deny but Omar Mateen was our son, growing up in a Muslim family that sympathised with the Taliban. It is also entirely possible that Omar was bipolar and needed help. Shouldn't the family and members of his own community have been the first to notice this and come together to aid him?
Clearly, they did not do their part. 
The time to act is now. We must not allow the self-proclaimed Islamic State and its ideology to enter stealthily into our homes and turn our children into monsters. We cannot and we must not.
The writer is an author and journalist based in New York.