Why Donald Trump scares me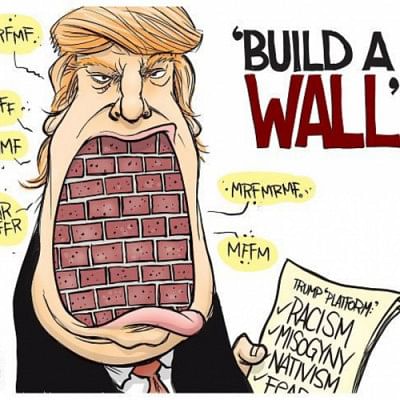 Donald Trump has variously been described as "dangerous," "fraud," "unhinged," "racist," "mentally unbalanced" and "outright nuts." Vanity Fair magazine's Mark Bowden summed up these epithets in one sentence in a slightly more charitable manner: He argued that Donald Trump is "adolescent, hilariously ostentatious, arbitrary, unkind, profane, dishonest, loudly opinionated, and consistently wrong."
Yet, this "dishonest" man ¬¬- whose state of mental sanity was openly questioned by Mike Bloomberg, his one time friend and a former mayor of New York City, at last month's Democratic National Convention in Philadelphia - is only a heartbeat away from becoming America's next President!
As many as 14 million people – most of them white, many of them without a college degree and very few of them women – voted him to victory through a primary process that included 16 seasoned and sane politicians. Right now, although he is trailing Hillary Clinton, his Democratic opponent, a significant portion of the American electorate appears willing to endorse him and his policies, which centres on three things: banning Muslims, expelling illegal immigrants and building a wall with Mexico.
To me, that is the scariest thing.  
How could 14 million Americans so eagerly embrace a white supremacist ideology that disparages whole groups of people who either look different or practice a different religion? Trump even endeared himself by disparaging women and people with disability.
Recently, three New York Times reporters put together a video montage, bringing together the sounds and fury of Trump supporters at various public meetings (http://www.nytimes.com/2016/08/04/us/politics/donald-trump-supporters.html) . These people are almost exclusively white, universally crude and completely happy to hurl the worst epithets at Muslims, immigrants, gay and anyone who does not speak English.
Build a wall – kill them all.  Ignorance and immigrants, they mix together. If you don't speak English and don't contribute, get out. They chant, as Trump from the podium exhorts, "Am I a unifier or what?"  The crowd goes wild, and everyone begins chanting, build that wall.
What are these people angry about?
Most fair-minded American pundits – most of them white, too! – seem to agree that Donald Trump has successfully appealed to the economic anxiety of America's bottom half. Over the past twenty or so years, while America's top one percent prospered, the middle class and the rest of the country languished, trapped in an economic morass. These whites once held good jobs at local factories and coal mines, or owned their own small businesses. The recession killed them all. In rust belt States of the Midwest, such as Indiana, Michigan, Iowa and even Pennsylvania, most mines remain idle, factories shuttered and small businesses closed.  
Now they are angry and need a scapegoat. Donald Trump has given them two - immigrants and Muslims.  
Sure, that's a good reason to feel frustrated about, but the 99 percent that has been left behind also include people from other groups, most notably African-Americans, and millions of documented and undocumented immigrants. Bernie Sanders built a whole movement on the theme of economic disparity that has brought together millions of young Americans, white, black and everyone else in-between. Instead of joining hands with them to demand economic fairness, why are the Trump supporters venting against those who too are facing the same quagmire?
I believe they are angry at the loss of their sense of power – white power. To most of them, America is a white man's country that they alone conquered by vanquishing the American Indians. They once owned farmlands, cotton fields, and yes, hundreds of thousands of slaves. Now all are lost, except perhaps a framed photo on the wall of the old farm house.    
Donald Trump claims he will be the "law and order President," making no secret of his disdain for those picketing against police brutality in inner cities. This veiled attack on protests by Black people has delighted the white supremacists. 
We have to note here once the black man was considered to be only three-fifths of a white man, barred from travelling on the same bus with a white man or entering into the union of marriage with a white woman. While the original framers of the US Constitution used the three-fifth formulation for the purpose of counting slaves, Supreme Court Justice Roger Taney made its hidden meaning amply clear. In his now infamous Dred Scott decision of 1857, Taney ruled that neither slaves nor free slaves were eligible to be US citizens, and since blacks are "regarded as beings of an inferior order," they had "no rights which the white man was bound to respect."
Fast forward the tape to present day. The descendants of the same slaves now enjoy - at least on paper - the same rights as whites do. Worse, one of them is now the country's President, occupying the White House! The last eight years, a mostly white Republican Party has argued over and over again that Obama was an illegal occupant, a usurper, who must be defeated at any cost.  
Add to this sense of loss and defeat the spectre of non-white immigrants streaming into the country. The white man's anguish has been further compounded by an inescapable demographic reality. According to the US Census Bureau, by 2045, this country will become a non-white majority country, putting the whites - demographically speaking - into second class status. No wonder, the traumatised whites feel lost and abandoned in a country that they thought was God's gift to them – only to them.  
Faced with this twin reality – lost economic security and swarming immigrants – the Trump followers want to build a "wall" to stem the tide of non-white immigrants. What they really want is to build a wall around themselves, separating them from all non-whites. That's what the Ku Klux Klan wanted. That's what many white supremacist groups – with such well-meaning names as New Century Foundation and American Renaissance – want.  
African-American comedian and writer Kamau Bell, whose documentary series United Shades of America is now featuring on CNN, recently met with some KKK members. Speaking through his white robes, a KKK man told him that they were '100 percent' for white people. "Just leave us alone."  
In Trump, these white supremacists have found an ally. He speaks their language and shares their worries. As The New York Times reported, white supremacist groups all across America have found in his candidacy a cause worth celebrating.  It quotes Jared Taylor, the country's most prominent white supremacist, who admits he has finally found someone he can support. In robocalls to voters across Iowa and New Hampshire, Mr. Taylor has urged voters to support Trump. "We need smart, educated, white people who will assimilate to our culture," his recorded message counsels.
One Jared Taylor, or his small band of followers, would never be a cause for concern. We now have millions of people who either agree with Donald Trump or are ready to tolerate him to maintain the Republican – read white – political control. Some opinion polls show that unless Trump's road to the presidency implodes by his own folly, as much as 40 percent of the US voters could be seen supporting the "con man".
That, in my view, is the real danger.
The writer is a journalist and author based in New York.