Remembering Sydney Schanberg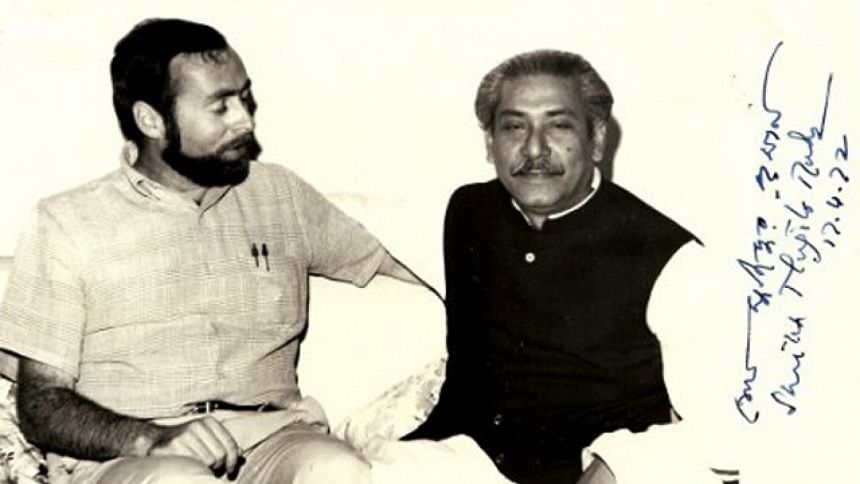 Bangladesh's war of independence had many unlikely heroes, some of whom lived outside of Bangladesh and had no formal connection with the country and its people. Sydney Schanberg, an American journalist working for The New York Times (NYT), was one of them.
My first contact with Schanberg was in June 1994. Mafidul Hoque, a well-known author and publisher, was planning to bring out a collection of reports sent by Schanberg for the Times on Bangladesh's struggle for independence. Mafidul bhai asked me to contact Schanberg and get his permission to publish the book in Bangla. By then Sydney had left the Times and was working as Associate Editor for New York's alternative tabloid, Daily Newsday.  I sent him a brief note requesting his permission and a foreword to the book. Within days, a letter from Sydney arrived with his consent.
The following year, I met Sydney at a mid-Manhattan restaurant. The book was out and Mafidul bhai had sent me a few copies for him. "That was an important part of my experience," he said as I gave him the copies. He caressed the book's cover with the eagerness of a man who had just recovered a long-lost treasure.
In 1970, Sydney became the South Asian bureau chief of The New York Times. He visited Dhaka many times to cover the tumultuous events preceding the 1971 war. When a devastating cyclone hit Bangladesh's coastal districts in November 1970, he spent days chronicling the stories of men and women who perished in the disaster, and the loss and pain of those who survived. He covered the historic December 1970 elections and came to know Bangabandhu Sheikh Mujib quite well. In those fateful weeks of March 1971, he spent many patient evenings and late nights, speaking with Bangabandhu about his negotiations with General Yahya and Zulfikar Ali Bhutto.
On March 25, when the military crackdown began, Sydney was at Dhaka's Hotel Intercontinental. From his darkened hotel room, he saw firsthand the brutal massacre unleashed by the Pakistan army. He was forced out the next day. From Bombay, he filed his first report, "In Dacca, troops use artillery to halt revolt," which was published on March 28. In it, he captured the trauma of the Bengalis under military crackdown with the simple quote of a student trying to keep back his tears, "My God, my God, they're killing them. They're slaughtering them."
Over the next ten months, Sydney kept the world informed with his frequent reports, often from the refugee camps in West Bengal and the adjoining Indian states, but also from free zones inside Bangladesh.
As he leafed through a copy of his book, Dateline Bangladesh, 1971, Sydney seemed overcome with emotion. "It was a terrible time," he muttered.  I asked him what he remembered most from his 1971 days. Unhesitatingly he said, Sheikh Mujib. "We had become quite good friends," he said.  In February 1972, on his way back from the Pakistani prison, Bangabandhu stopped over in Delhi.  Sydney, with thousands of others, was at the airport to greet the Bengali hero. Bangabandhu spotted him from a distance and almost screamed, "Schanberg, is that you?" With encouragement from him, Sydney crossed the security rope and rushed to meet Bangabandhu. They embraced each other like two old friends.
Sydney was present at the Pakistan army's surrender at Dhaka's Race Course. He told me of a mass grave he had visited in Mirpur. There he saw a young boy, probably 10 or 11, running frantically back and forth with a pruning handsaw. At times, he was pushing his handsaw deep into the earth. This was a makeshift burial ground, with human remains still fresh. What is he doing? Sydney asked his interpreter. He was told, the boy was trying to find the body of his father. He was among those killed during the final days of the Liberation War.
Sydney, almost whispering to himself, said, "I still see that little boy. Just like Hamlet and the gravedigger.  How tragic, lonesome and absurd."
One day after our meeting over lunch, I received a large packet from Sydney, hand delivered to my office. It was a framed copy of the first page of The New York Times, detailing the Bhola cyclone. An accompanying note said, "With appreciation and gratitude."
That was the beginning of a wonderful friendship. Over the next several years, I turned to Sydney for all kinds of help, mostly to do with Bangladesh's Liberation War. When Sentu Roy, a Bangladeshi student from Howard University, planned to do a documentary on the 1971 genocide, I requested Sydney to give an interview. Unhesitatingly, he spent several hours at a makeshift studio, giving his testimony. He even volunteered to present his testimony at a formal trial, if required. He also agreed to sit for an interview with Onindo Atiq, a young filmmaker. This never happened due to scheduling conflicts and his failing health.
Sydney spent the last few years of his life in his rural home in Upstate New York. We stayed in touch, mostly through e-mails. Several times I tried to invite him to the annual Bangla book fair organised in New York by members of the Bangladeshi community. He always responded enthusiastically, but was unable to attend due to failing health.  The Bangladesh Liberation War Museum also wanted to honour him with a special event in Dhaka. Again, poor health prevented him from traveling to Bangladesh.
The last message I got from Sydney was on May 10, 2012. He was writing to apologise for cancelling our planned meeting in New York, but it contained so much more. Sidney wrote:
"My experiences in Bangladesh continue to be very important to me. The genocide was not covered well by the international press and I felt it my duty to tell the story as completely as possible. I admired Sheikh Mujib for his leadership and bravery and I was appalled that my government, the United States, supported the Pakistan army's criminal behavior. As you probably know, in my 2010 book "Beyond the Killing Fields," I included a chapter containing 12 of my detailed stories from that period.
I wish I could come and discuss all these things at your event, but I must live my life now in the slow lane. I will never forget my experiences in Bangladesh and the suffering your people endured."
These were not empty words. Sidney genuinely felt a bond with Bangladesh and its people. He told me of a flag he had received from a young Bengali guerrilla in 1971 – the old flag, with the map in the middle. "I still have that flag in my study," he said.
On July 9, 2016, Sydney Schanberg breathed his last. He was 82.
The writer is an author and journalist based in New York.