HIGH NOTES LOW NOTES: The Gulshan Mayhem
What more could we have done?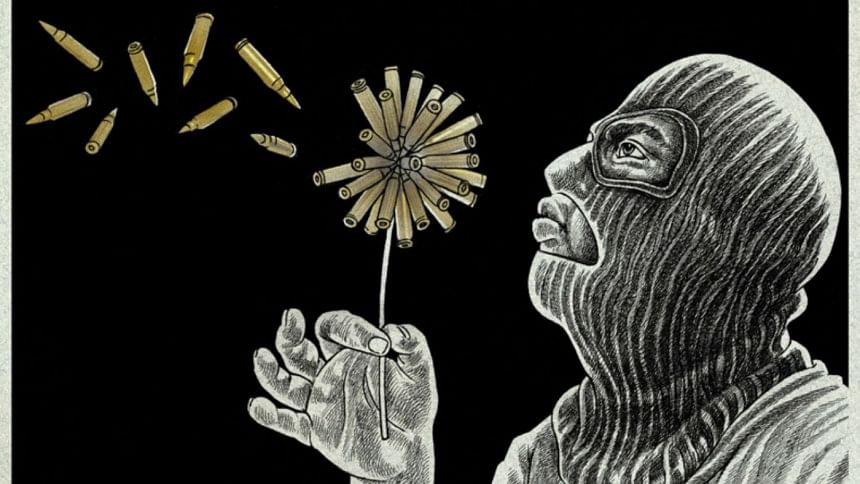 My plane touched down at Dhaka airport at about the time when the joint security operation against terrorists at Gulshan's Holey Artisan Bakery was underway. Almost ten hours had passed and five youths, just out of their teens, were challenging Bangladesh's security establishment. When they did dare, it took them under 13 minutes to finish off the youths, leading to the claim that it was a huge success.
Not only were lives were lost - innocent and unlived - but our idea of youthful innocence also died with it. Our failure to intercept the carnage and stop it is now on full display on so many fronts. There are two opposing thoughts: on the one hand, a sense of collective guilt, and on the other, a stubborn denial. The guilt is in the fact that these were our kids – born and bred in the society's upper echelon and schooled at the nation's best academic institutions. What more could we have done? That's the question that the parents seem to be asking. The denial is from the government and some opinion leaders, who seem to be implying that this was just an isolated event, just an aberration, carried out by misguided youths.
Such things happen in America every day, I have heard members of our 'chattering' class bleating in their midnight talk shows. "More people died in launch accidents during this year's Eid," one of them said at a recent talk show, implying this was no big deal. One of the talking heads, explaining the mindset of the terrorists, even compared them with leftist revolutionaries in our country and elsewhere. "Jyoti Basu was a barrister but he became a leftist, didn't he," he argued. And the show's host, unable to complete one full Bangla sentence without lacing it with five English words often used incorrectly, chimed in to blame the Western media for its obsession with Bangladesh.   
Wrong. This was truly a big thing. Its monumentality should not be measured in terms of number of lives lost, but in the very nature of the tragedy. It's our children and we do not know them. It's our children who take so much pleasure in killing complete strangers. It is our children who seem to have unbound pride in displaying their "trophies" through social media.  
Within days, it became clear that the problem of homegrown "jihadists" is much wider than we had ever contemplated.  The administration has been very reticent with its investigation results, but the local media have moved in to fill in the blanks. As many as 150 "jihadists" may be out there, either perfecting the killing art in terror camps inside Bangladesh or maybe even landing in the so-called Islamic State. As if to confirm this premonition, three young men, touting their terror utensils and appropriate head gears, declared in Bangla and English that there would be more such attacks.
The government has been obsessed with the argument that this was not IS' handiwork, but that of a handful of homegrown terrorists. What difference does it make whether they are homegrown or imported via the terror Khilafat? IS itself took no time to claim responsibility; all debates on IS or not should end right then and there.
Yet not everything is lost.  Ever since the Gulshan mayhem, the entire country has been consumed by an unprecedented conversation on terrorism and societal responsibility. There is even a slim chance of bringing all, including the political opposition, under one roof to formulate a comprehensive counter-terrorism strategy. That is perhaps the only silver lining emerging out of this unprecedented tragedy.
The focus of the security apparatus has mostly been on the use of fire power to counter terrorism. While this is important, no less important is a better understanding of the mindset of these terrorists.  What drives these "perfectly normal" young men to choose a path of mayhem and self-destruction? The usual theory of poverty-driven action for collective justice does not explain the Gulshan tragedy. The five young men so far identified were mostly from the affluent strata of the society and were well educated. Yet, they embraced an ideology which completely counters everything our society stands for. Why?
The answer still eludes us. We hope the security groups involved in investigating the case would include social scientists and physiatrists, who could help map the mindset of these terrorists. Such an exercise should not be done in the typical bureaucratic hierarchical isolation and secrecy. We are talking about our children and every parent has the right to know the truth they unearth.
For those from Western Europe joining IS, the mindset of a terrorist is not difficult to understand. These young men and, in some cases women, live on the fringes of society and don't see a clear future for themselves in a growing anti-immigrant atmosphere. Repressed sexuality is another powerful motivating factor. The creation of IS – a real state with territory, some form of government, employment opportunities and "sex slaves", provides a tempting choice for many of these "social misfits".
The "Gulshan five" and the 150 or so young men reportedly missing from their homes don't fit this prescription. We can only speculate that they are motivated by a powerful ideology that promises a better life in this world and hereafter. This may have been enabled by a fast spreading practice of religious piety. Religion in today's Bangladesh is like a daily dose of collective staple, and the young are perfectly comfortable consuming it in large doses. Are we sure we know what they are consuming? I attended this year's Eid prayer at Gulshan's new multi-million dollar mosque, where the Imam declared – without batting his eyelashes - that during the early years of Islam, pious Muslims shared their "second wife" with those seeking refuge in Medina. No eyebrow was raised and when I tried to protest, those around counselled me to keep quiet.
Another enabling factor may have been the widespread use of violence. We love to describe our society as peaceful and docile. The reality is just the opposite. Violence is a regular diet dished out by political parties of all hues, legitimising the use of brute force. Women and children are publicly beaten and social disputes are often settled in the most violent manner. Thanks to YouTube and Facebook, we now have a trove of evidence, a virtual catalogue of our love for violence.
Add to this the pervasive nature of social media, enticing the young and the beguiled to an illusory reality. Could these have all been contributing factors?
We don't know but we must try to know and understand. The future of our country and the future of our children are at stake. Nothing can be more important than claiming it back.
One last thing. There is agreement among social scientists that one of the driving factors behind mindless acts of the modern terrorist is self-aggrandizement. They feel "heroic" when the whole world talks about them. This is clear from the many snap chats and twitter posts made by the "kids" right in the middle of the Gulshan mayhem. The Afghan-American man, who this year in June killed almost fifty people at a gay club in Orlando, USA, stopped several times to check his Facebook page to see how the world was reacting to his brutality. Let's stop "lionising" them by refusing to name or identify them. They are just killers - no name, no family, no identity.
The writer is a journalist and author based in New York.