A challenge to India's pluralism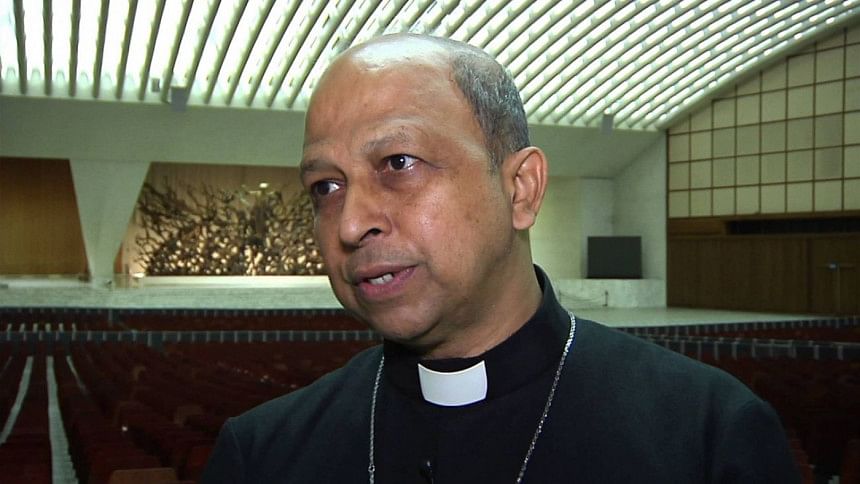 However justified Delhi's Archbishop Anil Joseph Thomas Couto may be in calling on fellow Catholic Christians to pray for a change of government at the Centre, he is guilty of committing a grave mistake: mixing religion with politics. In a pastoral letter, he has asked fellow priests to pray and fast for a change in 2019 elections, arguing that India faces a turbulent political future which threatens the country's democratic polity.
Today, when India as a nation faces attacks from fascist and parochial organisations, it is incumbent upon the religious heads to speak out. Some may not consider it good for India's health. If religious heads of different communities jump into the political arena, they no longer remain distant from politics as they should. The main criticism against Prime Minister Narendra Modi is that he wears the badge of Hindu chauvinism on his sleeves. He has divided the people to an extent never seen before.
So much so, several Christian leaders have accused the Bharatiya Janata Party government of tacitly supporting the groups that are working for establishing a Hindu rashtra, ignoring the interest of other religious and ethnic minorities. They allege that attacks against Christians have increased after Modi came to power.
There were as many as 736 attacks recorded against Christians in 2017 against 348 in 2016, as per an ecumenical forum that records Christian persecution in India and helps victims. "We are witnessing a turbulent political atmosphere which poses a threat to the democratic principles enshrined in our constitution and the secular fabric of our nation." So writes the Christian protector. It is our hallowed practice to pray for the country and its political leaders, but all the more so when we approach general elections.
The pastoral letter carried a special prayer composed for the nation's protection. It also asked parishes, religious houses and Catholic institutions to organise Eucharistic adoration every Friday and recite the prayer for the nation. The prayer read: "Let the ethos of true democracy envelop our elections and flames of honest patriotism rekindle our political leaders in these troubled times as we see clouds eclipsing the light of truth, justice and freedom."
The move by the Delhi Archbishop has been welcomed by India's Catholic and Christian leaders. Perhaps, other minorities may use this as an opportunity to ventilate their grievances. The Muslim leaders, particularly, may challenge India's constitutional credentials. Already Asaduddin Owaisi, a Lok Sabha member from Hyderabad, speaks like the Muslim League leaders of pre-partition days. He probably believes that parochial politics will give him a countrywide importance as well as renew the atmosphere of confrontation between Hindus and Muslims.
During my recent visit to Aligarh, I found the Muslim University living in the same make-believe world. They have not realised that there is no ummah other than India. A few years ago, there was an international conference at AMU to revisit and rethink traditional solutions. The focus was to chart out a future course of action for Islamic unity. The outcome of the two-day conference brought out an interesting summary of how Muslims saw themselves then and how they would like to be seen in the future. One of the speakers from Egypt wanted all the sects under one umbrella and presented a unified Islam to the world.
The answer to counter Hindu chauvinism is not Muslim chauvinism or, for that matter, Christian chauvinism. One prays that the Archbishop's effort to bring about a change at the Centre would depend on his equation with the Hindus, who constitute 80 percent of the Indian population, not any particular community. He has given an opportunity to the country to discuss how far India has slipped away from its objective of being secular, the ethos of the national freedom movement. The Archbishop should not be seen as a person who has reignited the fire of communal divide. Nor is it his purpose.
The scenario is similar to what happened during the Pope's visit to Mexico before the recent elections in the US. During his visit, the Pope gave the first-ever Catholic mass that straddled the border between the two countries. About 200,000 people watched from the Mexican side of the border, and around 50,000 from the US. The visit provided the most iconic visual from his trip. It was also overtly political, directly aimed at influencing American politics.
In fact, the United States was in the process of choosing its next president. I recall immigration was right at the heart of that debate. If there was any doubt that the Pope wanted to affect America's election by praying with immigrants on the US-Mexico border, he put it to rest on his trip back home. The then presidential candidate Donald Trump was categorical about his immigration policy when he said: "If elected, I would build a 2,500-kilometre-long wall along the border." He wanted to deport 11 million illegal immigrants. The Pope's remark was equally caustic. He replied: "A person who thinks only about building walls, wherever they may be, and not building bridges, is not Christian!"
However, the Pope later said that he would not advise whether to vote or not to vote. "I am not going to get involved in that. I would only say that this man (Trump) is not Christian if he has said things like that." But the Pope had made clear what he thought of Trump and his policies. He had clearly tried to influence the presidential race.
In fact, the Pope had called himself a "political animal." In 2013, he had even gone on record as saying that a good Catholic meddled in politics. He viewed it as part of his religious duty. Perhaps the Delhi Archbishop has torn a leaf from the Pope's book. But, unfortunately, this is not what India needs to strengthen its secular polity. The RSS may try to emulate the extremists and push its agenda of a Hindu rashtra in India.
Kuldip Nayar is an eminent Indian columnist.