Kashmiri Pandits' Dilemma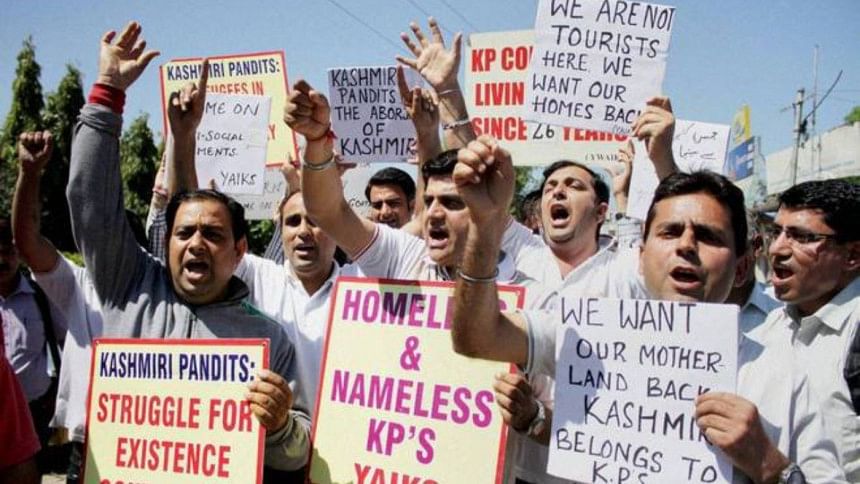 Chief Minister Mehbooba Mufti has said that the Kashmiri Pandits should visit their place of origin, meaning thereby the Valley. Her remark is like splashing salt on the wound. The Pandits were forcibly ousted from Kashmir in 1993. Their fault was that they were Hindus in the 90-percent Muslim Valley.
Former State Chief Minister Farooq Abdullah has admitted in a public statement that no Muslim from the Valley objected to their ouster. It is, indeed, true. He resigned from the position of chief minister which led to presidential rule in J&K. It was alleged that then governor Jagmohan was primarily responsible for facilitating the exodus of Kashmiri Pandits. The day he was appointed as governor, a large number of Kashmiri Pandits were forced to leave the Valley because of his pro-Hindu stance.
It was being alleged that security forces searched each and every house in Srinagar when hundreds of militants were found to be in possession of weapons. Most of them were arrested but during the operation, which led to the Gawkadal massacre, questions came to be raised on the role of the governor. Jagmohan, who was very close to Sanjay Gandhi, was also instrumental in forcefully destroying many slums in Delhi in the name of beautification.
The Kashmiri Pandits began to leave the Valley in greater numbers in the 1990s during the eruption of militancy, following persecution and threats by radical Islamists and militants. In 2010, the Government of Jammu and Kashmir noted that 808 Pandit families were still living in the Valley and that financial and other incentives put in place to encourage others to return there had been unsuccessful.
According to a Jammu and Kashmir Government report, 219 members of the community had been killed in the region between 1989 and 2004 but none thereafter. However, in July 2017, the Supreme Court refused to reopen 215 cases in which over 700 members of the Kashmiri Pandit community were killed in Jammu and Kashmir in 1989, citing the passage of time.
The appeal now by Chief Minister Mehbooba Mufti is a step in the right direction. During her appeal, following an interaction with Kashmiri Pandits in Delhi, she said, "Kashmiri Pandits should visit Kashmir (and) their younger generations should see where their roots really lie. We will make all arrangements. Whatever has happened in the past is unfortunate but now we will have to move forward," she said.
In fact, she also urged Prime Minister Narendra Modi to take a leaf out of former Prime Minister Atal Behari Vajpayee's book and initiate dialogue with Pakistan. "I urge Prime Minister Modi to talk to Pakistan just like Vajpayee ji did. Neither are we nor is Pakistan in a condition to fight a war, both countries know now that if there will be a war, nothing will be spared. Both the nations will just lose everything," she added.
I do agree with her because this is not a Hindu-Muslim question and should not be made into one. All political parties need to initiate steps which will enable the Pandits to return to the Valley. Most of their property is intact. The rest must be taken back from the people who have occupied it forcibly or otherwise.
I recall the Hurriyat leader, Syed Ali Shah Geelani, vehemently denying that it was a Hindu-Muslim question. At that time, the bug of fundamentalism had not bitten Geelani. He may not have changed his views. But he is conspicuous by his silence. He should have re-enunciated his earlier stance: the Kashmiri Pandits are part of our culture and should not be mixed with the general Hindu-Muslim question. Geelani, in fact, told me that he had wrongly stated earlier that the Kashmiri Pandits' question would be settled with the overall Kashmir dispute.
But Home Minister Rajnath Singh has unnecessarily given an opening to those who argue that Kashmir is an unfinished task of partition. They want the state to be divided on religious grounds. Somewhere they will also try in Pakistan to reemphasise their contention that the criterion of religion—on the basis of which India was divided—should be extended to Jammu and Kashmir.
Then Chief Minister Mufti Mohammad Sayeed had mooted an idea of having a separate area where the Kashmiri Pandits can safely reside. At present, 30,000 of them are reportedly in Kashmir while their total number is around four lakh. As long as Sheikh Abdullah was dominant in the affairs of Kashmir, he did not allow religion to play any role in politics. He would say that he opposed the state's integration with Pakistan because Jammu and Kashmir was a secular state. He did not want to join an Islamic country because he preferred pluralism to communalism.
Even during the independence struggle, the Sheikh sided with Congress instead of the Muslim League which demanded a separate homeland for the Muslims. He paid the price for being critical of New Delhi's policy of wanting a strong centre. After being detained for 12 years at Kodaikanal in the south, he stayed with the then Prime Minister Jawaharlal Nehru to register that Nehru had realised his mistake of misjudging Sheikh when he demanded that the centre should only administer three subjects—Foreign Affairs, Defence and Communications—as was offered at the time of partition. 
Sheikh's famous statement was that the Kashmiris would not eat Indian wheat if it meant compromising their autonomous status. Sheikh's faith in secularism was deep although he wondered whether India would stay pluralist in the long run.
Whether the Kashmiris realise it or not, they have greatly lost the services of trained people. The Pandits have gone to other parts of India and have found jobs because of their high qualifications. They are not likely to go back even if the state offers them equivalent jobs. In fact, Kashmir has lost the cream of youth which is technically well-equipped to help the state develop economically.
Yet Srinagar should make efforts to get the Pandits back because that will give them the secular image which they had enjoyed for decades. Lack of efforts on this front would only alienate the rest of the country where the Kashmiris are gainfully employed.
---
Kuldip Nayar is an eminent Indian columnist.
---
Follow

The Daily Star Opinion

on Facebook for the latest opinions, commentaries and analyses by experts and professionals.
To contribute your article or letter to The Daily Star Opinion, see our

guidelines for submission

.
---