Are we doing enough to combat the coronavirus pandemic?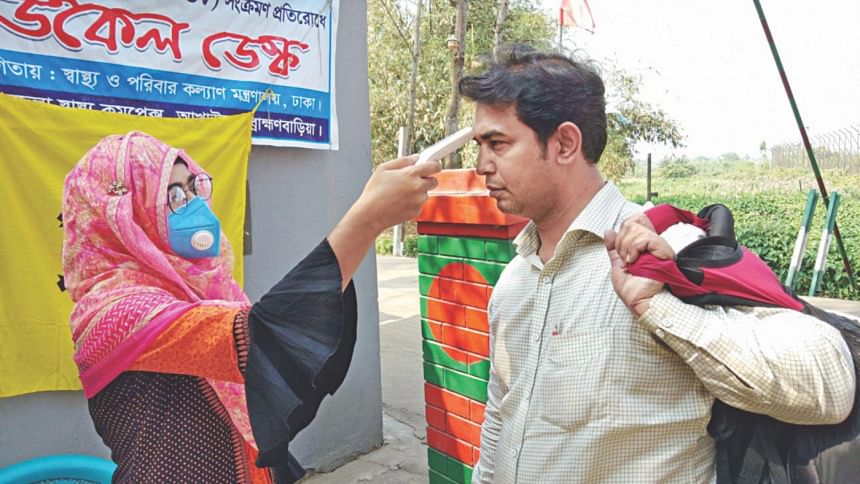 On Wednesday, the World Health Organization (WHO) formally declared the COVID-19 outbreak a "pandemic". With three confirmed cases of the latest strain of the coronavirus, aka COVID-19, diagnosed on March 7 by the Institute of Epidemiology, Disease Control and Research (IEDCR), Bangladesh has been added to the tally of over 110 countries and territories affected by the scourge that originated in Wuhan, China, and is now sweeping the world. The situation report 49 of the WHO, dated March 9, shows Bangladesh as an affected country. According to the latest WHO situation report, there are now 118,326 confirmed cases of COVID-19 worldwide, with more than four thousand new cases added each day. The report indicates a "very high" risk assessment for the world.   
While the infection rate of the virus in China is on the wane, Italy and Iran are getting thrashed under the pressure of rapid rise in the number of infected people, especially in the Lombardy province of Italy which is under complete lockdown with runaway increases in the number of new cases and fatalities for more than a week now. Except the remote frozen continent of Antarctica, no other continent could escape the wrath of this easily transmitted virus, and the peak rate of dissemination may still be before us.
The COVID-19 virus is known to spread through tiny droplets ejected by affected people when they sneeze—anyone coming in contact with such droplets by inhaling the aerosolised air within close proximity of an infected person or shaking hands with such a person or even touching a surface such as chairs, tables or basins, where such tiny droplets might have settled down. In view of this, any crowded place such as classrooms, movie theatres, conferences, train stations, airports, restaurants, places of worship and shopping malls are highly susceptible to becoming purveyors of this nano-organism that can be quite lethal for older people with compromised immune systems and those with underlying medical conditions.
In Bangladesh, the most densely populated country in the world outside of city states such as Singapore, even the street pavements appear crowded all the time; buses, ferries and trains overflow with passengers; and bazaars and "haats" seem to have never-ending human streams where people can feel the breath of others around. In such close encounters—the hallmark of living in densely packed human habitations—coronavirus can literally have a field day every day unless we tackle it with every possible containment measure available at our disposal.
With hundreds of passengers arriving every day by air from destinations such as Bangkok, Beijing, Kuala Lumpur, Kung Ming, Los Angeles, New York, Rome and Singapore that are designated to be at "high risk" for COVID-19 by WHO, these initial detections in the country may very well be the proverbial tip of the iceberg. Our population density and the poor civic hygiene sense make for a dangerous concoction with the potential for a runaway epidemic. Faced with this nightmarish threat to our public health, it is highly irresponsible to play down—as some self-proclaimed experts did on social media—the threats of the pandemic. The health ministry in collaboration with the ICT ministry needs to proactively monitor and stop the spread of such misleading messages on social media.
The COVID-19 is not just a public health nightmare; the staggering losses on account of stalled economic activities, rocketing healthcare costs and potential food and drugs shortage can cripple life for months to come.
Under these dire circumstances, we must do what we must: 1) take every possible preventive measure—personally, at home, at workplace, on roads and in public places; 2) use this crisis to teach everyone good hygiene practices such as not spitting or expectorating everywhere; 3) diversify supply sources for raw materials, machinery and consumer goods so that we are not dependent on a single country for the bulk of our imports; 4) set up relief funds for the affected poor and a low-cost working capital fund for affected factories and mills; 5) impose restrictions on travel from the red zones of coronavirus pandemic and carry out proactive screenings of travellers from high-risk countries; 6) bring all land, river and sea border outposts under screening and active surveillance, etc.
We have to accept that coronavirus will eat away at least 1 percent of our GDP, and then work out how we may sustain that loss over the next one year or a longer timeframe. We also have to plan for long-term epidemiological preparedness as an essential mechanism to sustain the shocks of pandemic hazards unbeknownst to the human race. We must realise that diseases need no visa and have no travel restrictions, but we must control their human vectors so that the fallout from any such pandemics can be contained and managed.
Habibullah N Karim is CEO of Technohaven Company Ltd and former President of BASIS.
Email: hnkarim@gmail.com