Do mothers ever leave us?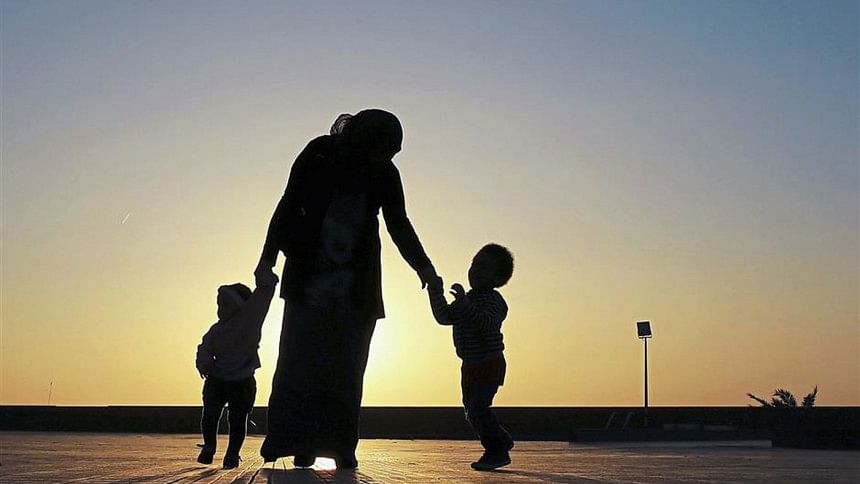 We are brought into this world by our mothers with whom we have an inseparable "biome" connection. Growing up in a well-tended middle-class family, I never realised how much my mother could sacrifice for her children—two daughters and a son—until our spartan but comfortable living came to a head when my father suffered a debilitating muscular dystrophy, forcing him to retire early from civil service. After nearly six months in hospital, our lives would be a lacklustre shadow of the past. We, three siblings, were in our early teens attending high school at the time, and my mother never made us realise that we were having to do with so much less in those days. The brunt of the hardship was absorbed by my mother in a way that left us almost unscathed.
To us, she was a bundle of energy, always ready to take care of any family need with love and zest while never thinking for herself. She had a prodigious memory about family lineages, and in any social gathering, it would take her all of five minutes or less to find a family connection to someone there. She was an inexhaustible fountain of situational anecdotes and family legends that had no parallels in our family on either side.
She was an exceptional cook and had a creative flair for a wide range of culinary tastes from deshi and North Indian to Western and transcontinental. We often found her on the phone giving step-by-step cooking instructions to our aunts and cousins who were in awe of her cooking repertoire. She had raised cooking to an art form: even her simple jhal-muri concoction would have guests scratching their heads over how palatable and addictive her servings were. We had it good at home because of her exceptional cooking ability but that also meant we had a real hard time (and still do) stomaching food at social dinners and on nights out at restaurants that fell short of her standard.
In her quintessential motherly way, she was always protective of her children, always looking out for us even when we were all grown-up. Especially since we lost our father to cancer in the early nineties, she had been the sheet anchor of the family, constantly fretting about the well-being of her three children and four grandchildren. I remember a few months after my father passed away, we were awakened by loud knocks on our main gate in the middle of the night. As I came down in my sleeping robe to investigate it, my mother quickly jumped to her feet and followed after me. When I came out, I found three policemen with a piece of paper which they explained was an arrest warrant for someone apparently residing at our address, though no one matching the age, gender, name or description of that person lived there. My mother was quite straightforward with the police and made sure they did not run off with her son by mistake! Her courage knew no bounds when it came to matters of her family.
She was never very comfortable with smartphones or touchphones, as was the case for most of her generation. Two state-of-the-art smartphones given as gifts by her grandson and her daughter always lay beside her—she would never pick them up. One day, I was very late in returning home when even our maids were asleep and I was shocked to see a call coming from my "digitally-challenged" mother. She somehow managed to place a call to me to enquire where I was and when I was coming home using one of the phones even though I had never seen her use either of them. Her love for me triumphed over her disinclination to use touchphones.
When I got married in the late nineties, my mother welcomed into the family someone who had also lost her father early on. My wife's mother became my second mother. My guardian angels must have been looking over me as I could not have imagined a more loving and doting mother-in-law. Sometimes even my in-laws probably felt jealous of her unrelenting love towards me.
But having been fortunate to have two doting mothers— Amma and Ma—for more than two decades, it was extremely painful and mind-numbing to have lost them both within the span of three weeks last year, just before the onset of the pandemic.
The vacuum that their heavenward departure created in our earthbound hearts is unfathomable. In life, mothers surround us with their unmitigated love and when they leave, that connection is temporarily lost, leaving us in utter despair. This feeling of detachment is aptly captured by Rumi in his couplet: "We are born of love; love is our mother." And a mother's love finds its way back into our lives as we find the constant reminders of their lives in our home, the places we visited together, the joyful moments we spent together, and remembering the happiness in their eyes as they saw us grow and become what we are.
But old-age infirmities and debilitating medical conditions sometimes weaken that connection even when they are still around. For Amma, it was heart-breaking for us to see her lose her precious memories, her mental alertness and gradually her mobility. For Ma, it was equally traumatic to see her give up on her daily walks and enquiring about the well-being of the guard's daughter next door, or checking up on a neighbour's marigolds. 
Even as they started vanishing away right before our eyes, they never lost a chance to give us a warm smile from their deathbeds, as if to say, "don't worry about us, we will always love you."
And their earthly entanglements seem to fade away with time but the love that mothers give us is for a renewal of the cycle of love that is unmistakably unselfish in nature.
How do we make sense of the world without them? Because, in the words of Abraham Lincoln, "All that I am or ever hope to be, I owe to my angel mother."  
Habibullah N Karim is founder of Technohaven Co Ltd, co-founder of BASIS, and coordinator of Blockchain Olympiad Bangladesh.