The missing pieces of our tertiary education puzzle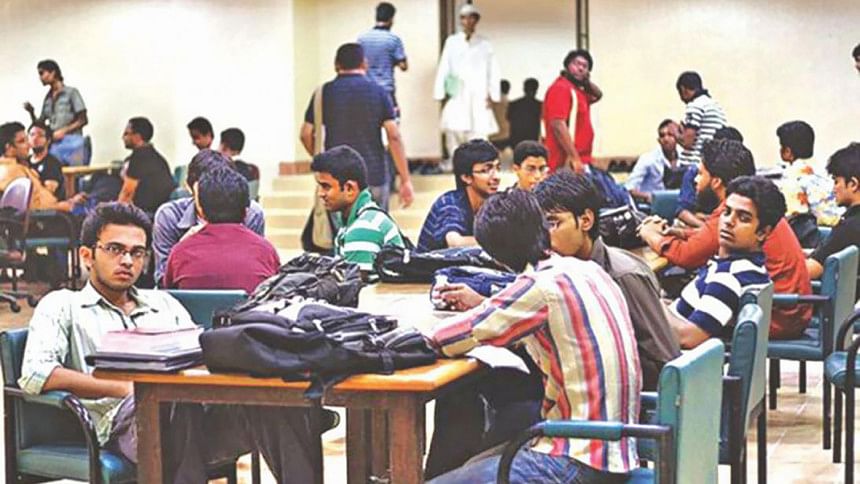 In 1994, the country had around half a dozen public universities and zero private ones. A quarter of a century later, we now have 135 universities—a large majority of which are private. This growth in the number of tertiary-level educational institutions is certainly a significant development for the nation, but the question remains: are these universities providing the educational values required for economic growth and social amity?
Each year nearly a million students pass the Higher Secondary Certificate (HSC) or equivalent examinations and then vie for around 200,000 university seats. Add to this another 20,000 who go abroad for higher education, most of whom then turn economic migrants and never return to their homeland. Even without them and those who leave the country for post-graduate education and settle abroad, the country still can boast of more than a tenth of its high school graduates ending up with a university degree and the number of such university graduates is increasing by the day. This may be a far cry from the 80 percent share of high school graduates targeted for university education in South Korea but compares quite favourably with other South Asian countries.
But how do these graduates fare in the job market? While we do find that many end up in professions unrelated to their field of study, such as doctors or engineers working in administration, or literature graduates working as economic planners, or soil science graduates working as marketing specialists, but the real tragedy is that almost half of university graduates here are unemployed or underemployed, according to a recent ILO survey.
Add to this mix the fact that nearly 300,000 mid-level and top managerial positions are filled by foreign workers from mostly South Asian countries, and we have a toxic social concoction of hundreds of thousands of highly educated and frustrated youth twiddling their thumbs while an influx of cheap mid-level managerial workers from abroad fill up a large basket of lucrative jobs that should have been theirs.
Against the backdrop of this dismal scenario in our tertiary education system and employment prospects, it is no wonder that we see rampant drug abuse among the frustrated youth who, after investing four years of their tireless efforts in a university degree, find themselves without proper career prospects.
On the other hand, large business houses of the country are spending more than USD 10 billion (equivalent to Tk 90,000 crore) each year on foreign workers and services because they cannot fill up middle and upper echelons of management and technical positions from the pool of local workers. This is quite puzzling when one looks at the fact that hundreds of thousands of Bangladeshis are working with high repute as engineers, doctors, managers, researchers and corporate executives in Europe, Middle East and North America. Even transnational companies operating in Bangladesh employ a sizable number of Bangladeshis in the managerial ranks.
There is an obvious gap between what the local industry demands and what the local academia produces. After talking to a few university executives (vice chancellors and deans) and industry experts, I have come to the conclusion that this gap exists on several levels. First of all, a large number of university graduates focus only on mainstream, employment-friendly degrees such as Bachelor of Business Administration (BBA) and Computer Science Engineering (CSE), without regard for the employee absorption capacity of the local industry.
Secondly, most graduates are found to be ill-equipped with the fundamental tools of learning—language, maths and inquisitiveness—turning out as automatons who can retch-up their force-fed formulaic course materials, but cannot express their own thoughts coherently in either Bangla or English, and certainly cannot add up or multiply numbers without the aid of calculators.
Then there is the problem of a serious lack of emphasis on a well-rounded education system in line with liberal arts education, which results in the myopia of the graduates—business graduates who have no clue that the country they live in is a parliamentary democracy, or engineering graduates who don't know that the United Nations headquarters is located in New York city.
Now to get out of this rut, the universities as well as the education planners of the country will have to figure out two things. One: conducting a job survey every year and assessing what trades and disciplines are in demand and identify which sectors have recorded the biggest growths in terms of employment; based on the survey result, the universities need to restructure their student intake and faculty recruitment plans. Two: giving special emphasis on soft skills—encouraging students to think out of the box, enhancing their communication skills, allowing students to achieve time-bound goals, and inculcating good work ethic—skills that will help the graduates fit into middle and top layer managerial jobs.
If the universities can abide by these two simple yet effective principles and combine them with a well-rounded general education programme, we will soon be able to fill all the local industry jobs with local talents, and we shall also be able to fill the ranks of middle and top managers around the world. After all, with the right mix of education and skills, the sky is the limit.
Habibullah N Karim is an author, policy activist, investor and serial entrepreneur. He is a founder and former president of BASIS and founder-CEO of Technohaven Company Ltd. Email: hnkarim@gmail.com