Bagh Bidhoba
Birth of Evil: The Sacrificial Survivals of a Tiger-Widow in the Sundarbans Delta
Sonamoni! No prefix, no suffix, that is her name. It signifies the golden pearl of the eye. However, the irony lies in the fact that this golden pearl became an outcast in society, as the locals cursed her as "Swami Kheko," meaning a husband eater. It was common to label women as "Swami Kheko" when they lost their husbands to tiger attacks in Sundarbans.
Unfortunately, such identifying remarks still persist to some extent in that area. Recently, several NGOs have stepped forward with development projects under the name "Bagh Bidhoba" (tiger widows) to assist these vulnerable individuals. Consequently, "Bagh Bidhoba" has now become a popular category used to identify these women.
Sonamoni couldn't recall her date of birth, but she roughly estimated her age based on a significant event. "I got married at the age of 12, before the 'Golagulir Bachar' (the year of bombardment in 1971)." Her married life began with Charan Sardar, who belonged to the Bagdi community, a subgroup within the broader Hinduism fold, and was a successor of the fishermen in the coastal basin of Sundarbans.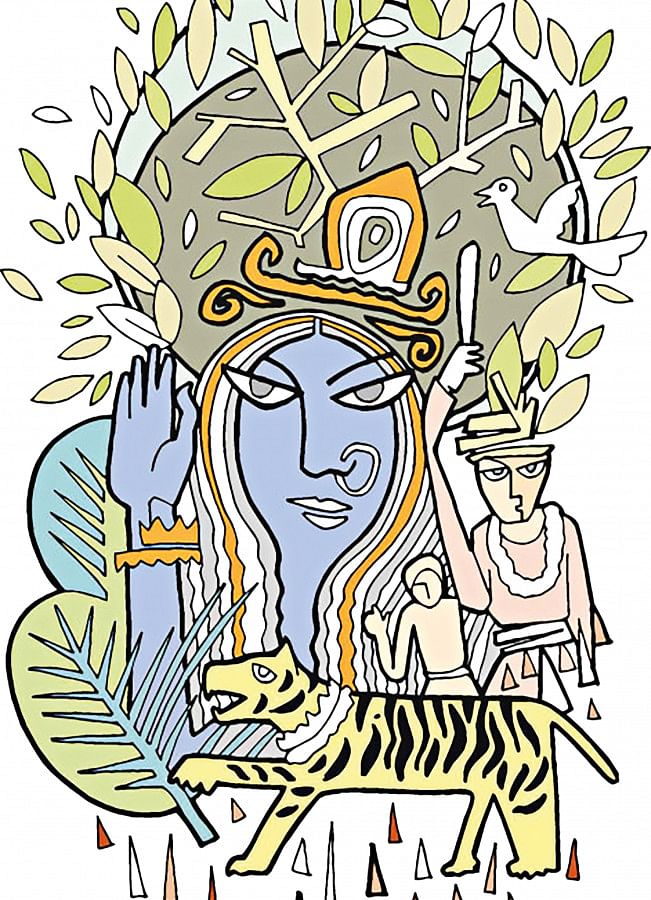 The majority of fishermen and the Bagdi community lacked land for cultivation, which compelled them to venture into the water-bound Sundarbans to catch fish, crabs, wax, honey, wood, fruits, and other resources to sustain themselves. Moreover, they didn't have proper housing. From my observations, I discovered that they managed to live in cramped huts in the "Charland" of Chuna River, located at the edge of Sundarbans. This settlement is known as Jelepara, adjacent to the Munshiganj bazaar of Satkhira range Sundarbans. They have resided in this area for generations, sometimes following hereditary lineage and other times shifting their profession to fishing and crab collection in the marshy forest for an extended period.
The landless Bagdi community finds themselves trapped within the intricate network of watery forests in order to sustain their livelihood, despite the constant threat of tiger attacks. In the small village of Jelepara, it is rare to find a family that haven't experienced injuries, losses, or fatalities among their kin, relatives, or neighbors due to these tiger encounters. Despite the high risk to their lives, thousands of people venture into the Sundarbans every day in the coastal regions just to survive.
Among them was Charan Sardar, Sonamoni's husband, who embarked on a 15-day trip into the forest with a group of fishermen after obtaining a permit from the forest department in 1973. The first 14 days passed uneventfully, but on the final day, as they were returning home, Charan Sardar stopped to gather firewood for their household. It was then that a nearby fishing boat passed by, and he asked them to relay a message to Sonamoni: "We will be home by noon, so tell her to cook rice."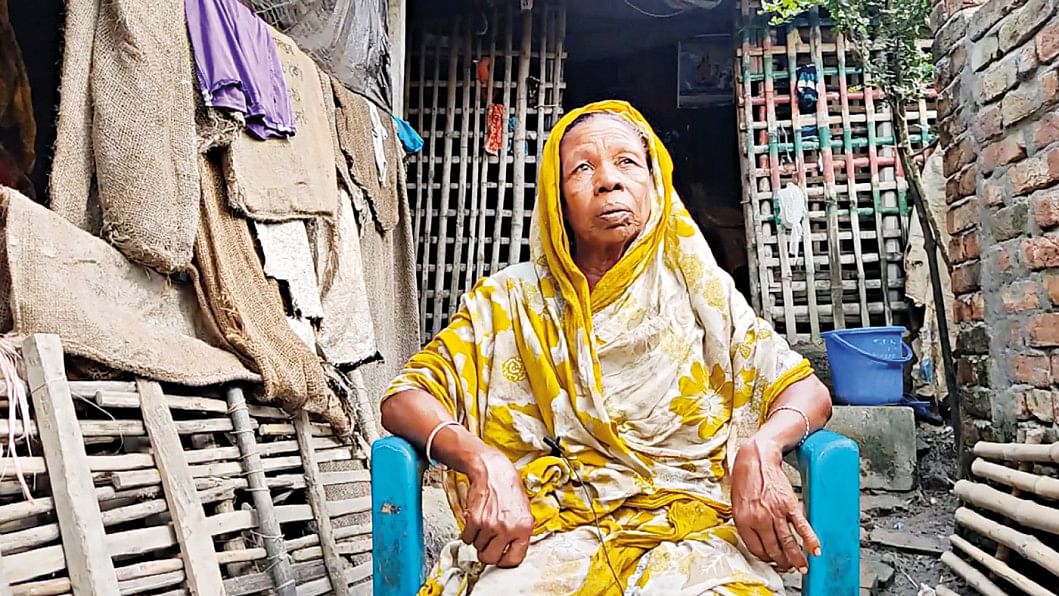 Upon receiving the message, Sonamoni prepared the food and anxiously awaited her husband's arrival. However, on that unfortunate Sunday, news spread rapidly through Jelepara. A tiger had attacked Charan Sardar and dragged him deep into the dense vegetation. The villagers immediately organized a rescue mission in an attempt to recover his body from the tiger's clutches. Unfortunately, the efforts were in vain as the river tides had washed away any trace of his whereabouts.
Sonamoni faced immense hardships following the tragic loss of her husband to a tiger attack. In her own words, she shared, "Upon hearing the news, I felt a moment of faintness and couldn't believe it. I had lost my husband, and it felt like I had lost everything in life. I was only 14 years old at that time. Right after this shocking moment, my mother-in-law blamed me, saying that her son had to die because of me. I was branded as 'Opoya' (evil), 'Olokkhi' (inauspicious), and 'Oshoti' (unchaste). Consequently, they started calling me 'Swami Kheko' (husband eater). These curses pushed me to the brink of suicide, but I couldn't take such a step because I had a seven-month-old child to care for. I silently endured every curse for the sake of that baby."
Following that traumatic incident, Sonamoni's brothers stepped forward to support her. She temporarily found refuge within her brothers' family. As time passed, her brothers took it upon themselves to find a suitable groom for her. However, due to the stigma attached to being labeled a "husband eater", no one was willing to accept her. Additionally, Sonamoni herself had no desire to remarry, as she wanted to focus on raising her son without the potential pain and deprivation that could come from a stepfather.
As days turned into months and months into years, Sonamoni became an additional burden for her family, leading to strained relationships and frequent arguments over various daily issues. Sonamoni shared, "Even my brothers and their wives began accusing me, claiming that the tiger attacked my husband because of me. Whenever any discomfort arose within the family, they would blame me for having eaten my husband and even threatened that I would devour them and their children. I had no place in my in-laws' home, nor did I have any shelter in my parents' house. In moments of despair, I would lament, 'Oh Bhagoban' (god), it would have been better if the tiger had devoured me."
Amidst those challenging circumstances, one of her distant fathers-in-law came forward to provide assistance and help them secure a shelter where they could survive and protect Sonamoni's child. Her mother-in-law welcomed Sonamoni back. "After returning to my in-laws' house, some relatives convinced me that we have another unmarried son. If you marry him, you will be able to survive and provide a better life for your child," Sonamoni recounted.
With limited options, Sonamoni reluctantly agreed to this marriage proposal. Thus, she married her brother-in-law, who happened to be the younger sibling of her deceased husband. It felt as though she had lost a family in the ebbing tide and had now found solace in the surging waves. However, just as the tidal waves bring extremely saline water that renders the coastal area's health and soil infertile, the second chapter of Sonamoni's life was marred by the unforgiving nature of societal interrogation. The villagers were unwilling to accept her as she was branded "Swami-Kheko" and considered a source of bad luck for the larger community. Consequently, Sonamoni and her husband, Bharan Sardar, were subjected to social exile or "Ekghore" by the villagers.
Sonamoni became a dreaded symbol of "bad luck," and her family had to adapt to a life of ostracization within the village. She explained, "We were prohibited from participating in any social or religious ceremonies. If someone was getting married, a few days before the ceremony, someone from that household would come and ask me not to step outside. They believed that my presence would bring misfortune to the newly weds. I was not allowed to attend any Puja (religious ritual) because they believed that my presence would render the Puja Mandap impure and displease the gods and goddesses. Even my innocent son's presence was not accepted at any social festivals or gatherings; he would cry and we would have to return home."
Sonamoni also shared that she would hide whenever the Bonojibis (local people who ventured into the forest for resources) went into the forest. They believed that if she was spotted during the initial stages of the forest expedition, it would attract tiger attacks towards the Bonojibis. Sonamoni and her family became symbolic of foreboding and ill omen for the larger society. Due to being associated with social evil, she lost all avenues of social connections, even with her own relatives. 
However, a couple of years later, that forceful imposition of "Ekghore" life had been withdrawn over successive fierce conflicts between Sonamoni and larger Bagdi Samaj. As a consequence, Sonamoni had to arrange social gatherings twice and serve food to the villagers to erase the "Ekghore" status and for the social recognition as decided by the leaders of her Samaj.
Despite the challenges they faced, Sonamoni and her second husband had three more children. As her elder son grew up, he and her husband began fishing together in the jungle to sustain their livelihood. They relied on catching fish and crabs for survival, though they struggled to attain financial stability. The hardships of life continued to follow them.
In an attempt to alleviate their difficult circumstances, Bharan Sardar purchased a Pata Jal (a type of fishing net) from a nearby market. He processed the net by applying gum derived from velvet apple, which enhanced its durability and made it easier to set up along the long riverbanks. With a pass permit obtained from the forest department, he joined a group of fishermen for a fishing expedition. Utilizing the Pata Jal, they had a successful catch during the trip and anticipated returning home soon.
However, tragedy struck once again. While they were preparing to pack up the net and other belongings, a tiger suddenly pounced on Bharan Sardar, injuring his shoulder and other parts of his body. Despite their best efforts, his colleagues were unable to rescue him, and his body could not be recovered. Once again, Sonamoni experienced the loss of her second husband, mirroring the circumstances of her first husband's demise.
After this incident, the villagers had no doubts in labeling Sonamoni as a source of bad luck for the Bonojibis. Consequently, her mother-in-law confined her within the house, forbidding her from going outside. The belief was that her presence would bring misfortune to the Bonojibis, and the risk of a tiger attack would increase if she was sighted during their forest expeditions.
Sonamoni shared her heartbreaking story, saying, "My mother-in-law had lost two of her sons, and I had lost two husbands. After those tragic incidents, she became convinced that I was Swami Kheko, and she forcibly restrained me and later expelled me from the house. I attempted to find work to sustain myself, but people continuously rejected me. I resorted to collecting rice gruel (Vater Fan) from door to door, sometimes cooking "Shaluk" (water lilies) and "Khuder Bhat" (broken spare rice). Life had become stagnant, devoid of any progress.
In desperation, I started working as a cleaner in various establishments in Munshiganj bazaar. I worked in tea stalls, hotels, grocery shops, rice storehouses, and decorator shops. I took on any kind of work that came my way. It was through these endeavors that I managed to provide for and raise my three children. I even saved enough to arrange their marriages."
When I asked her about the reasons behind the accusations of being a husband-eating evil, Sonamoni explained, "Listen carefully. When my husband would leave home and venture into the jungle for resources, I was expected to adhere to certain practices. I was not allowed to apply vermillion on my forehead, tie up or part my hair, or even oil and comb my hair. I couldn't wash our clothes or do any sewing. Cooking during the day, frying chilies, or even disposing of ashes from the oven was prohibited. I was not permitted to entertain relatives or neighbors by offering them good food. Brooming and mopping the house, as well as casually going to the market, were also forbidden. There were many sets of practices, known as 'Bachok,' that were expected of women whose husbands went into the jungle."
These "Bachok" practices hold esoteric explanations. It is believed that by following these practices, the forest expeditions of their husbands are secured, acting as safeguards and bringing well-being, protecting them from tiger attacks. On the other hand, the Bonojibis themselves have to adhere to additional "Bachok" practices.
Sonamoni continued, "My husband also had his own set of 'Bachok' when entering the jungle and working there. For instance, he was not supposed to enter the jungle on Fridays as it was considered a sacred place, and his body had to remain sacred. They had various mantras (formulas) to recite in the jungle. They had to use leaves for toilet purposes and were not allowed to eat crabs. Since the jungle is considered the sacred place of Bonbibi, nobody was allowed to harm anything within its boundaries. Every member of the group had to follow the guidance of the Gunin/Fakir (spiritual leaders). They had more 'Bachok' than us."
Sonamoni further explained, "You see, my parental home was far from the jungle, and fishing was not a common activity there. Hence, I was unaware of these 'Bachok' practices. After getting married and coming here, I did my best to follow these practices whenever my husband went into the jungle, although sometimes I couldn't adhere to all of them due to urgent matters. But people would curse me as if I were the sole reason for the tiger attacks, even though my husband followed his own 'Bachok' as well."
The practices of "Bachok" in the Sundarbans, stemming from the belief in Bonbibi, are often viewed as cultural stigmas and superstitions by various stakeholders in the region, including some environmental activists, conservation movements, tourist agencies, NGOs, media outlets, researchers, and the forest department. They portray these practices as exacerbating the suffering of "tiger widows," and Sonamoni's experiences align with this narrative. However, focusing solely on superstitions as the source of suffering overlooks the broader context and intertwined reasons behind the social exile, economic deprivation, violence, and discrimination faced by these widows. It also disregards the larger social, economic, and power dynamics that influence the fishermen community in the Sundarbans.
We also need to address questions regarding the sources of decision-making power within the Samaj (community) beyond customary laws and state apparatus, and how it functions as a social norm. For example, the mechanism that defines Sonamoni's transition from human to evil, and later from evil to human, demonstrates the cyclical nature of categorizing humans within the anthropological machine of her community. This process creates a dichotomy between humanity and others, leading to the justification of practices such as slavery and genocide. It also allows for the acceptance of violence against those defined as the "other," stripping them of their human status. In the case of Sonamoni, she was forced to endure a life of social exile imposed by the Bagdi Samaj, following acts of social performance through dispositif rather than simply stigmatizing her belief in Bonbibi. Therefore, without delving into the constitutive functions and sources of authoritative power within the Bonojibis' Samaj, any understanding of the beliefs and practices regarding Bagh Bidhoba would be incomplete.
---
Md Raihan Raju is a PhD researcher at the Department of Sociology, South Asian University, New Delhi. He can be contacted at  raihanraju29@gmail.com