Laughter and Thrills: A History of Circus in East Bengal
The circus industry in Bengal experienced a significant boost during the 19th century, thanks to the arrival of Russian and European performers, as well as contributions from Africans, Mongolians, and other Asians in the 20th century. This infusion of diverse talent served as a catalyst for its popularity among the masses. Initially, some Russians and Europeans were contracted on an annual basis to showcase their skills, while others owned their own circuses and trained local artists. Despite the influence of British colonization, the European and Russian circus styles merged harmoniously with local traditions, creating a unique blend that captivated audiences.
One remarkable example of this fusion was the "Wilson's Great World Circus," which brought Calcutta to life with its dynamic sports style in 1880. The following year, the city experienced a touch of Italy with the arrival of the "Royal Italian Circus," owned by Giuseppe Chiarini. As Calcutta was the capital of British India until 1911, it served as the main hub for European circus shows during that era. However, it's important to note that the development of the circus industry in Bengal also owes much to the Malabar region in North Kerala. This region served as a breeding ground for circus artists, trainers, managers, and entrepreneurs, contributing significantly to the growth and evolution of the circus scene.
In the late 19th century, the circus scene in East Bengal experienced a significant evolution, thanks to the pioneering efforts of local circus artist Shyamakant Bandyopadhyay. Born in 1865 in the village of Ariyal under Bikrampur, Bandyopadhyay, an alumnus of Dhaka Collegiate School, laid the foundation for the industry. In 1888, he established his own circus troupe known as the "Grand Show of Wild Animals." Bandyopadhyay's exhibitions spanned various locations, including Cooch Behar, Dhaka, Calcutta, Rangpur, and Agartala.
Renowned for his strength and ability to tame wild animals, Bandyopadhyay garnered recognition from esteemed individuals such as the King of Jaydevpur and the Nawab of Patna. He not only entertained audiences but also inspired the youth, promoting physical fitness, self-reliance, and patriotism, which contributed to the freedom struggle. Later in life, Bandyopadhyay embraced a spiritual path and adopted the name 'Soham Swami.' Arpita Mukherjee's book 'The Monk Who Tamed the Tiger' chronicles his remarkable journey.
During the same period, other circus troupes emerged across East Bengal, offering more than just entertainment. These groups served as a source of inspiration for aspiring gymnasts, including Ananta Singha, who later became one of the heroes of the Chittagong Armory attack.
He wrote about his admiration for Professor Ramamurthy in his memoirs, mentioning his aspiration to emulate the performer's physical prowess. In Agnigarbha Chattogram, he wrote, "Ramamurty came to the city at this time, showed his incredible physical prowess, lifting huge elephants on his chest, breaking heavy iron shackles, creating a stir in the youth community by stopping the movement of motor vehicles, and unknowingly inspiring a student of Class VIII of Chittagong Municipal School. From that day on, my meditation was how to be as powerful as Professor Ramamurty."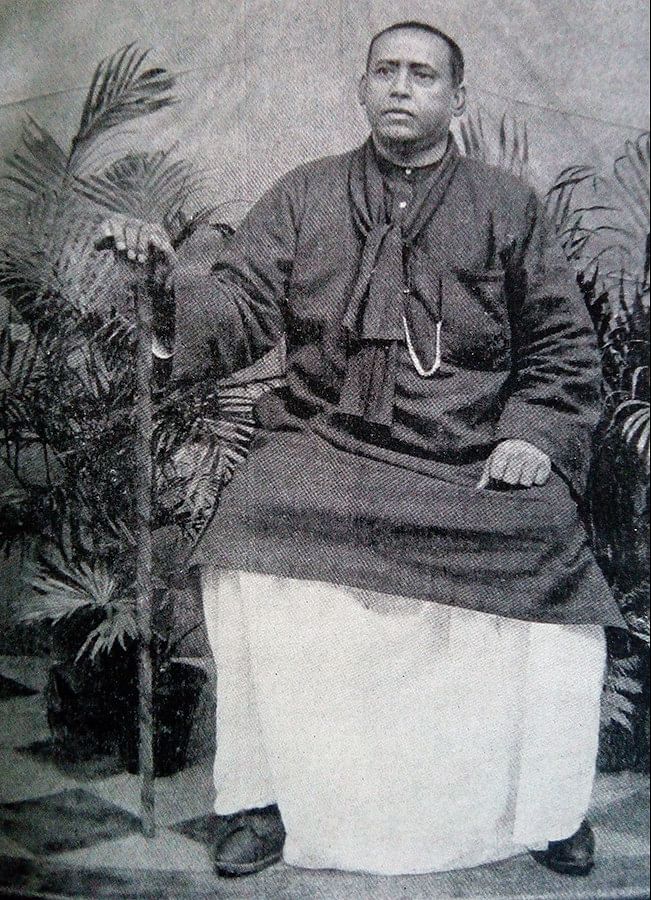 Another contemporary account of Prof. Ramamurty's exhibition in East Bengal can be found in Syed Murtaza Ali's autobiography, "Amader Kaler Katha." This event took place in 1918 when horse carriages had just started on the Moulvibazar-Srimangal road. The streets of the city were illuminated with oil lamps, and instead of electric fans, palm leaf fans, hatpakhas (hand-held fans), and pankhas (hanging fans) were used. The cinema culture had yet to arrive, and circus performances served as one of the annual forms of entertainment during that time.
In his autobiography, Ali wrote, "Renowned circuses used to come during the winter season. Big tents were pitched in Jalla's field behind Kachari. Once, during winter, a famous circus party arrived from Madras. 'Ramamurty Circus' was prominently displayed on a large placard. The advertisement read, 'go to Jalla's field and enchant your sight.' Monkeys, dogs, and horses were part of the spectacle, with the tiger brought in a cage. Professor Ramamurthy, dressed in dazzling lace and silk attire, captivated the audience with his exceptional skills, displaying a row of medals hanging from his chest."
In the circus industry, it is not uncommon for performers to switch troupes or establish new ones. A notable instance of this occurred with the creation of the 'Abell Klaer Olmann Circus' by Abell, an English member who departed from Wilson's Circus. Olmann took on the role of manager. The circus group emerged in Chittagong. Krishnalal Basak was among the key members of this group. A comprehensive account of this incident can be found in Birendranath Ghosh's book 'Bengalir Bahubal'.
Among the numerous circus troupes of that era, the Kamala Circus from Madras gained particular popularity in East Bengal. On one occasion, the troupe arrived in Pabna, where a grand pandal was erected in Jinnah Park. This transformed Pabna into a vibrant hub of tents and attracted people not only from the city but also from the surrounding villages and districts. Each night, the circus was promoted with rotating searchlights, their beams visible from villages situated fifteen to twenty miles away. An intriguing depiction of this event can be found in the book 'Obela Ebela' written by Rashid Haider.
Various writers have vividly depicted the circus scene in Dhaka. In the book 'Banglar Madhyabitter Atmabikash', Kamruddin Ahmad wrote about how circuses from different countries would gather in Dhaka during the winter season. Among them, the Russian Circus Party stood out as the most famous. Syed Ali Ahsan, in his book 'Goli of Zindabahar', recounted how carnivals and circus parties would occasionally arrive from various parts of India and perform at Armanitola Maidan in Dhaka. As school students, they would catch glimpses of circus animals on their way back from school. These circuses featured elephants, horses, monkeys, lions, and tigers. The elephants would be tied outside the tent, allowing them to be seen from the outside. Ali Ahsan vividly recalled watching the elephants swaying their trunks from outside the field.
Rabeya Khatun's autobiography, 'Sopner Sohor Dhaka', also mentions the circus in Armanitola Maidan during the 1930s. She reminisced about the circus groups that would come with their tents, with a separate tent reserved for women and equipped with wooden terrace seating. She fondly remembered watching thrilling shows featuring live tigers, lions, bears, and rhinoceroses, clinging to her mother's body in excitement.
Mizanur Rahman's book 'Dhaka Puran' provides a captivating and intricately detailed description of the circus in Dhaka. The author's exceptional writing style has the power to evoke the reader's imagination and transport them to the world of the circus. Rahman writes, "In the blink of an eye, the renowned Kamala Circus from Madras, India, arrived in Dhaka during the 1950s, bringing with it a magnificent array of entertainment... They set up their camp at Paltan. Paltan transformed into a bustling circus city, with small tent houses housing the circus performers and workers. Impressive rows of large cages housed magnificent beasts like lions, tigers, beloved bears, and mischievous monkeys. A grand tent stood majestically in the heart of the field, ready to host the enchanting performances."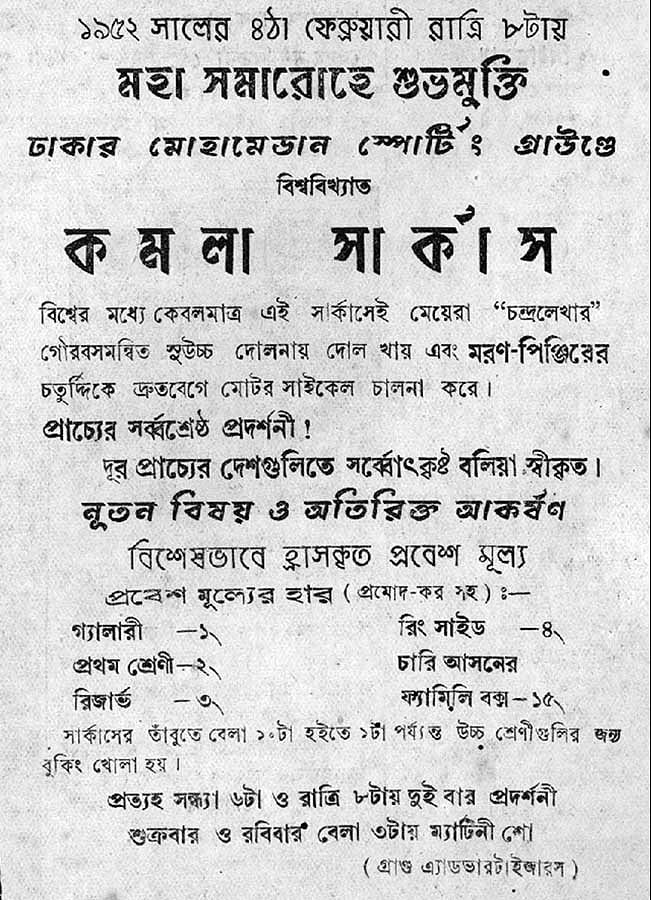 Rahman goes on to describe the clowns, adorned in vibrant costumes, who dedicated themselves to bringing laughter to others, even if joy may be scarce in their own lives. Their colorful attire and hats would surely bring a smile to any visitor's face. The trapeze artists would mesmerize the audience as they swung high, suspended at breathtaking heights of 500 feet. Rahman emphasizes that this is the essence of the circus experience. Additionally, there were performers cycling on narrow wires, gracefully dancing, playing ball with elephants while seated atop colorful haudas, and daringly jumping from one horse to another. The vibrant acts also included captivating displays of skill and bravery, as performers fearlessly interacted with the lions and tigers, showcasing their incredible brilliance. Rahman concludes by noting that many of these awe-inspiring feats were dominated by talented female athletes.
The post-Partition era witnessed the rise of several indigenous circus groups in East Bengal. Among these local troupes, the name that stands out is Lakshman Das's circus, immortalized in the memories of Alkananda Roy. A captivating description of Lakshman Das can be found in the pages of 'Chotomanu Upakhyan'. The author himself grew up in the quaint village of Gabbari, located in the Swarupkathi upazila of Barisal district, and his life unfolded there from 1941 to 1962. Fondly recollecting those years, he beautifully penned, "As the circus team arrived, their grand spectacle sailed in on colossal boats, bringing with them horses, monkeys, elephants, and an array of intriguing marvels. Our expansive school grounds would transform into the circus's vibrant domain, and at that time, Lakshman Das's circus held an esteemed place in the hearts of all."
The decline of circus groups can be attributed to a lack of patronage. The advent of television and other entertainment platforms and changing societal values have also contributed to the declining popularity of traditional circuses. The days of finding joy in witnessing conflicts between humans and animals have passed, as society has become more conscious of animal welfare and biodiversity preservation. The cherished memories of huddling up and enjoying the circus until midnight, braving the cold winter nights while walking hand in hand with parents through dark streets, have become mere fragments of the past. The once-magical performers of the circus ring have now found their place in literature, film, and the collective memory of older generations of audiences.
Hossain Muhammed Zaki is a Researcher. He can be contacted at zakiimed@gmail.com