Souls at 50: The many incarnations of a band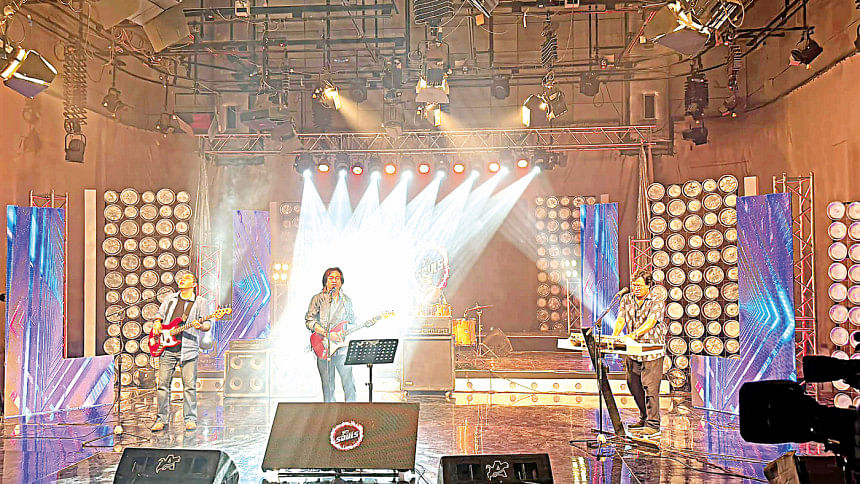 Back to the garden
Souls is not the first band in Bangladesh to reach the milestone of 50 years. That honour belongs to Zinga Shilpi Goshty. Zinga started a decade before Souls in 1963. However, Souls is different and, in some ways, a unique Band in Bangladesh.
When mentioning the Souls, you would like to ask like in Wish You Were Here, 'which one's Pink'? In a discussion of the Rolling Stones (1962), Pink Floyd (1965), Genesis (1967), Black Sabbath (1968), King Crimson (1968), Guns and Roses (1985) and other bands, you ask, 'which incarnation of the band'? Like these bands, Souls has gone through multiple line-ups. In fact, Souls has gone through more line-ups than any other band in Bangladesh. A discussion of Souls is a discussion of the many incarnations of the Band. Somehow, in each carnation, across few generations, the band has added something new to its rainbow.
Looking back on Souls will be looking back at one colour of a rainbow in the Band music of Bangladesh. It will also be looking at the 1960s, the decade preceding Souls. That preceding decade and the Liberation War shaped popular music in Bangladesh as we see it today.
American pie, long, long time ago
The first rock 'n roll single that topped the charts in the USA and the UK was 'Rock Around the Clock' by Bill Haley and the Comets in 1954. Soon after, Chuck Berry, Fats Domino, Little Richard, Jerry Lee Lewis, Elvis Presley, and Buddy Holly laid the foundations of Rock 'n Roll in the USA. It was through Radio Luxembourg that this brand of music found a young audience in the British Isles and rest of Europe.
By the end of the 1950s, British artistes, influenced by the Americans, slowly started to bring their version of Rock 'n Roll and popular music. These American and British artistes performed in English. Soon American and British artistes would find another young audience in South Asia. This time the portal was the 'Paradise Island' programme on what was then Radio Ceylon.
As the 1960s dawned the 'baby boom' generation of East Pakistan was ready to start their version of Rock 'n Roll in the form of what would later become band music.
I know it's only rock 'n' roll
It was not by design, but the birth of band music in this country coincides with Please Please Me, the Beatles debut album that debuted on March 23, 1963.
The first organized band in East Pakistan can be credited to Zinga Goshty from Chattogram. Shafaat Ali of Chattogram College formed the band on March 4, 1963. Zinga was a family band that mostly played traditional music in orchestration. They did, however, have a timeless song in 'Tomari Jeebone'.
In 1964, Fazle Rob, Rafiq Mazhar Islam, Sufi Rashid, and Khaja Sabbir of St Gregory's School formed Iolites. The band named themselves Windy Side of Care in 1967. Chattogram was not too far behind. In 1965, Farid Rashid, Neo Mendes, Noel Mendes, and Shakil of St Placid's School formed Lightnings.
Rambling Stones (featuring Jafar Iqbal and others), Bokolom (featuring Jalal Abedin and others), Fire on Ice (featuring Selim Alam and others) were other bands of the Pakistan era. They performed mainly in Hotels and Clubs in Dhaka and Chattogram. Through radio and TV they reached out.
None of these bands lasted long. Zinga exists, but only in name. In 1969, Rambling Stones disbanded after a fire in their practice pad. Lightnings disbanded after a bomb attack during a programme at Hotel Purbani in 1973. Iolites faded away.
Just when the bands of the 1960s started to experiment, the wheels of history were set into motion. 1971 dawned. The nation's young went out to liberate their country. A few of them would return to change band music and popular music in Bangladesh forever. The stage was set for Souls to be born.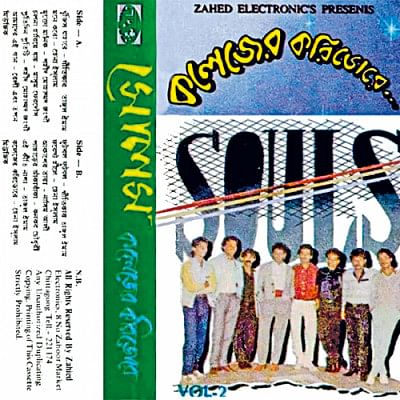 Here comes the sun
The journey of Souls starts from Chittagong Club. A 15-year-old Sazedul Alam returned home on December 20, 1971 just after the Liberation War. He attended the 1971, 31st Night at Chittagong Club. Lightnings performed that night. Lightnings sparked a 'light' in Sazed's mind. Sazed decided to form a band.
In 1972, Sazed, Subrata Barua Rony and Momtazur Rahman Lulu formed a band. They needed a name. Sazed's father, litterateur, Mahbubul Alam, suggested, 'Surela'. Surela's first notable programme was the 1972, 31st Night at Chittagong Club. The band soon found an investor and a manager in Wadud Islam.
Sazed's nephew, Fariadul Islam Chowdhury suggested the name 'The Souls' for the band. A friend, Mainul Alam dropped 'the'. And thus, the story of Souls started in 1973. The first line-up included Sazed (vocals and guitar), Lulu (lead guitar), Rony (drums), and Enayet (accordion). That first line-up would be the first incarnation of many more incarnations.
In the beginning, long time ago
Tapan, Rudy and Lorenjo soon joined Souls. Rudy and Lorenjo did covers of English hits.  In 1975 Lulu, Rudy and Lorenjo left the band. Shahed, Taju and Naquib joined. The 1975 line-up included: Tapan and Taju on vocal; Sazed on lead guitar; Shahed on bass guitar; Naquib Khan on the organ; Rony on the drums and Newaz on percussion.
There was one shortcoming. Souls was still a local Chattogram based band. This was to change in 1976. Souls participated in the All Bengal Rock Concert competition that year. They bagged three prizes: Top ten, top organ player (Naquib) and top vocalist (Taju). The competition gave the band an opportunity to become a national band. This freed themselves from the realms of Chattogram. The band's performance on Bangladesh Television (BTV) and the Shilpakala Academy earned them critical acclaim. Still, something was missing.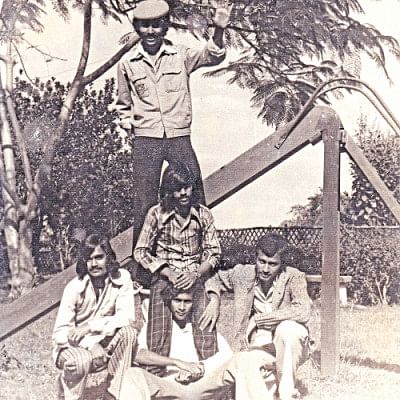 Changing line-ups started to become a regular feature of Souls. Rouf joined in 1977. That year, Taju left, and Rudy returned. Tapan went to Dhaka for studies, but featured with the band when he could. The band needed a signature song. That was just around the corner, but not without a price.
As Souls was ready to enter a new stratosphere with their first signature song, 'Mon Shudhu Mon Chhuyechhe' by Naquib Khan in 1978, the band experienced another line-up change. Sazed, Rony and Rouf left Bangladesh. Unlike other bands, a change in their line-up made Souls either more resilient or it brought a new flavour and colour to the band.
1980 was a seminal year. The 1980 line-up included: Tapan (Bangla songs), Nasim (English songs), Bachchu (lead guitar), Shahed (bass guitar), Pilu (drums), and Naquib (organ).
That year, before a concert at Dhaka Medical College, Tapan fell ill. Naquib stood in for Tapan for Bangla songs. And that was it. Naquib brought a new flavour.
Souls launched their debut album Super Souls in 1980. This album would turn out to be the wildfire the band was dreaming for.
Super Souls personified the band at the time. The album was a collection of eight Bangla and four English songs. Souls could not have asked for more in a debut album. There was no mechanism to determine if a single topped the charts or not. The only way to determine if a song was a hit was to see responses in concerts and the radio waves.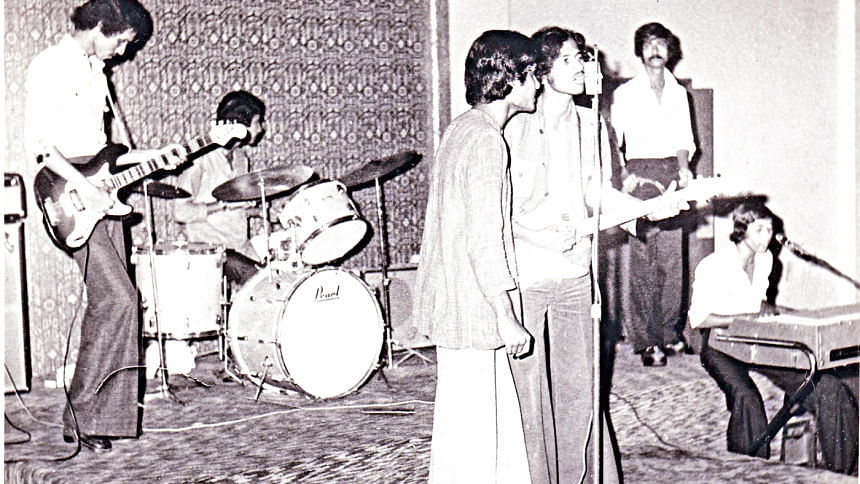 'Super Souls' was like 'A Hard Day's Night' of the Beatles. Each Bangla track: 'Mon Shudhu Mon Chuyechhe', 'Tore Putuler Moto Kore', 'Dorgay Mom Jele', 'Bhule Gechho Tumi', 'Nadi Eshe Poth', 'Amra Je Bhalobashi', 'Shukh Pakhi Ailo Uriya', 'Mukhorito Jeeboner Cholar Pothe' became an anthem of generation 1980.
When songs enter the heart of a generation, some of them will filter on to the next generation. This makes the artiste, or the band survive. That is what started for Souls through 'Super Souls' in 1980.
Which one's Pink?
Souls has been like a partnership in cricket. Just when a partnership settles in and looks to last forever, a wicket falls.
In 1982, Souls experienced another change in their line-up. Naquib and Pilu left Chattogram for Dhaka. Gerard replaced Naquib. Rali came in as the rhythm guitarist. Rony returned from abroad and took back his place on the drums from Pilu.
Souls once again showed their resilience. A new line-up was both a challenge and an opportunity to take the band forward. Ayub Bachchu and Nasim Ali started to compose songs. With some unpublished songs of Naquib, Tajul and Jilu, Souls launched their second album in 1982: 'Colleger Corridor-e'. Again, the album created anthems for young people.
The line-up changed again. In 1985, Shahed and Gerard left. Mohammad Ali (bass guitar), and Suhash (keyboardist) joined. The next year, Souls launched their third album, 'Manush Matir Kachhakachi'. Their fourth album, 'East and West' came out in 1988.
1989-90 the band had another change in its line-up. Suhash went abroad. Partha Barua joined as the keyboardist. Over time, Partha would become the link of Souls between the past, the present, and the future.
In 1990, Ayub Bachchu left Souls. Bachchu would go on to form LRB. Naquib formed Renaissance soon after he left.
In spite of so many ups and downs, Souls kept on rolling. They kept on performing. They kept on bringing out albums. Each album, somehow, resonated with some young people of the time. This ensured that Souls would survive from one generation to the next.
Inheritance tracks
My first encounter with Souls was in 1985. After my SSC, I was having a vacation at Lalkhan Bazar in Chattogram at my Nanu Bari. My Chhoto Mama, Raju, was a musician in his young days. He knew Chattogram bands of pre and post 1971. Raju Mama was also a schoolmate of Mohit Ul Alam (Sazed's elder brother).  Because of these connections, music was always a part of my childhood vacations in Chattogram.
One day, two people came to Raju Mama's den. They were Nasim Ali and Ayub Bachchu of Souls. That was the first time I saw two rock stars in flesh and soul. I spent the whole time looking at them, lost for words. Before returning to Dhaka, I got what was then their only albums, 'Super Souls', and 'College-er Corridor-e'. My answer to 'which one's Pink' are these two albums. I belong to that incarnation of Souls. Each song on those two albums are my inheritance tracks.
Years later, I entered my daughter's room. Annapurna was listening to a song. It was 'Byastota' from 'Aaj din katuk gaane'. I told Annapurna, I belong to the first two Souls albums. I was surprised to see my cassettes from 1985 on her table. She spins them sometimes on a cassette player I gifted her when I saw she was falling in love with music.
Thank you for the music
This year, Souls celebrates fifty years. The band is an example of Darwin's 'survival of the fittest' through its resilience and adaptation. In each line-up of Souls, the concept of Souls acted as a platform for leading musicians. This is probably what separates Souls from other bands in Bangladesh. Each line-up brought something new to the table. Each line-up gave an anthem to the generation of the time.
If the concept of Souls as a platform survives, then the Golden Jubilee is Part I. Our children and their children will celebrate Part II, the Centennial Jubilee of Souls in 2073. Souls will be the first band to do so.
Reference:
1. 'Bangla-r Rock Metal' by Milu Aman and Haque Faruk. Aajob Prokash. Feb 2023.
2. Key discussions with Professor Mohit Ul Alam and Milu Aman.
Asrar Chowdhury is a Professor of Economics at Jahangirnagar University. He has contributed to the Daily Star since 1993. Email: asrarul@juniv.edu