Let's talk polls and politics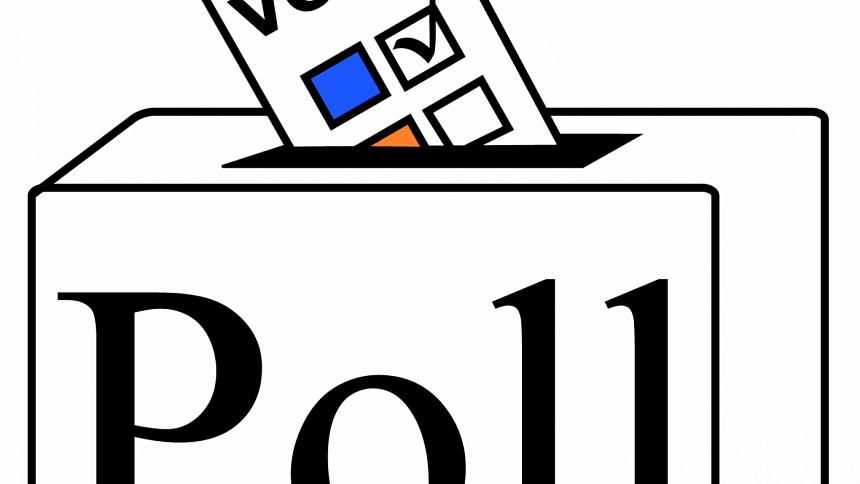 There is some very good news for Bangladesh's ruling party in a poll conducted by the US-based Democracy International. More about that later. Let's for a moment focus on the value of opinion polls.
After what happened in the US elections, the stock of public opinion polls has hit rock bottom. According to every single credible poll taken before the elections, including one taken on the day people went to vote, Hillary Clinton was cruising to victory. The New York Times and the Washington Post both gave Hillary's chances of becoming the next President somewhat close to 90 percent. Even the vaunted Nate Silver of fivethirtyeight.com thought Hillary was a shoe-in. Well, we know the results, and there is no reason why anybody should take opinion polls seriously anymore.
It is not just in the US. Polls also failed to predict the Brexit results. They also failed to correctly predict Britain's Labour Party's debacle in the 2015 elections. The results were nowhere near the neck-and-neck contest that the polls had suggested. Ditto for the last Israeli elections where polls had written off Bibi Netanyahu.
If polls are no good in telling us the future turns and tumbles, why should we even bother to pay attention to them? It turns out polls aren't supposed to pick a winner. They only give a broad overview of how the people polled feel about a specific issue or issues. Gallup, the world's best known polling organisation, has an interesting take on the value of opinion polls. It says polls do not explain why respondents believe as they do or how to change their minds. Instead, polls can be useful because they give the people a chance to speak for themselves instead of letting vocal media stars speak on behalf of all. In short, it allows the people to have a voice on matters they have little control over.
In recent years, polls have gone wrong mainly due to change in technology. Most polls are still conducted via land telephone at a time and in an age when most people carry a cellular phone. Heavy dependence on land phones gives lopsided results as pollsters are able to reach only much older people who are still holding on to their old Graham Bell phones. Of course, there are other reasons too. A lot depends on the questions asked. Another reason why polls fail is the internal contest among polling organisations to reach consensus results. Pundits call it "herding mentality".
Polls on their own are meaningless unless policy-makers and institutions act on the results they provide. In the case of US elections, pollsters correctly diagnosed the malaise afflicting the US: widespread discontent among white voters on a whole range of issues, including the economy and social values. The Democrats misread them, preferring to stick with their identity politics. Thus, it is not the polls, stupid!
Now let's return to the Democracy International poll on Bangladesh.
The USAID-funded poll – conducted in the last week of October 2016 using a computer assisted telephone survey system -- finds that an overwhelming majority of people in Bangladesh – a solid 70 percent – think the country is heading in the right direction. Even a higher number of people -- 77 percent -- think the government is doing an excellent or good job in preventing extremist attacks. A paltry 16 percent people think corruption is a problem. Fifty-four percent of respondents say they feel free to express their political opinions.
Far more telling was how the people feel about the country's two leading political parties. Thirty-eight percent of respondents say they support the ruling Awami League, while only five percent support the opposition BNP. The two other opposition parties, Jamaat and Jatiya Party, barely registered any support: two and one percent respectively. In 2014, Democracy International informs us, BNP had held onto a solid 35 percent support. How does one explain BNP's fall from grace? Clearly, the ruling party is dominant, but can it be so dominant that the next three largest political parties together are able to muster just eight per cent of popular support?
I am not sure what a computer-assisted telephone survey is and how seriously one should take its findings. However, if these are broad indicators of the country's political trends, something opinion polls are supposed to provide at the minimum, both party leaders and political scientists need to pay closer attention to the new political dynamics they reveal. Obviously, the ruling party benefits from a strong and unified political leadership, but functioning democracy also demands a meaningful opposition. Is the oft repeated claim – echoed by the US State Department – that the space for democratic opposition is shrinking the reason for BNP's reversal of fortune? Or is the malaise deeper?
A closer look at the polling data could give us a clue to the malaise. A stunning 35 percent of respondents say they don't want to reveal the party they support. Another 14 percent are in the "don't know" column. Thus, if "Undecided" was a political party in today's Bangladesh, it would register the largest number of votes. This cannot be a cause for comfort for those in political power.
Another broader issue has been revealed in an unrelated political survey. Yascha Mounk of Harvard University and Roberto Stefan Foa of the University of Melbourne have caused a tempest in a teapot with a new survey that shows democracy is in decline in many countries. A growing number of people under thirty – the so called Millennials – don't think it is "essential" to live under democracy. The support for democracy is especially soft in countries with strong political leadership. In these countries, the young are more open to having a "strong leader." In Russia, with a semi-autocratic Putin in total control, as many as 26 percent of young people think having a democratic system is bad for their country. In the US, long the bastion of Western democracy, 23 percent of Millennials share the same feeling. Similar trends exist in advanced Western democracies, such as UK and Germany. On the whole, in these countries, there is a growing support for populist views, both from the left and the right.
Two political scientists in a recent article in the Washington Post also elaborated on similar findings.
Both polls call for closer scrutiny and some soul searching. Democracy is all about institutions that nurture and protect the values that make it an ideal to be cherished. If one third of the voting age population turn away from democracy or remain unengaged politically, we need to pause and ask ourselves: are we failing our young?
The writer is a journalist and author based in New York.