PERSECUTION OF THE ROHINGYA COMMUNITY
The complicity of silence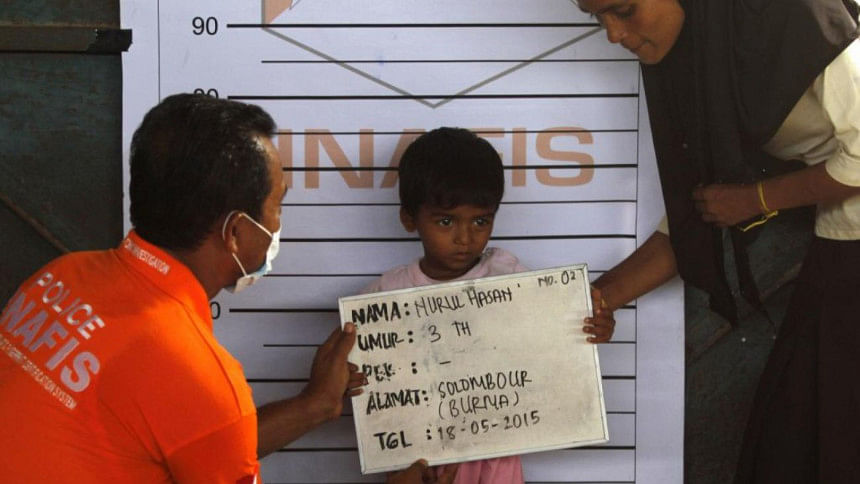 There is a genocide taking place in Myanmar. 
An entire people is in the process of being annihilated. Entire villages have been plundered, mosques have been torched, people have been killed. 
The man allegedly leading the massacre is a Buddhist monk named Wirathu, who was named by the Time Magazine as Myanmar's Bin Laden. He heads an extremist group known by its Burmese initials Ma Ba Tha, also known as Movement 969. Wirathu once called the Rohingyas "wolves" and justified his death march against them by saying "they are only well behaved when they are weak."
The slow death of the Rohingya people has been going on for decades. This ethnic minority group, who are Muslims and now number around 1.3 million, had settled in the Arakan province of Burma – now Myanmar – more than 600 years ago, many of them accompanying the Arakanese King Narameikhla who had taken shelter in the eastern part of Bengal after a mutiny against his rule. Protected and aided by Bengal's Muslim ruler, Sultan Jalaluddin Shah, he regained his throne in 1430 and established the Arakan Kingdom of Mrauk-U.  
The Rohingya Muslims, who once fought on the side of the Buddhist King, have now become the target of the local Bamars, Myanmar's principal ethnic group. In a country with well over 135 ethnicities, the Rohingyas are now vilified as outsiders, not recognised by the government as one of its ethnic minorities. Ironically, the Bamars themselves are settlers, arriving in the Irrawaddy Valley about 1200 years ago, mostly from Tibet and China.
Much of the killing against the Rohingyas has taken place right under the inquiring nose of the international community, but the world began paying attention only after thousands drowned while fleeing in rickety dingy boats across the treacherous waters of Bay of Bengal. The atrocities, including rape of women and girls, have been extensively documented by international organisations. Major newspapers, including the New York Times and London's Independent, have published investigative reports, sharing with the world the living horror facing the Rohingyas.   
The response from the Myanmar government, past and present, has been a flat denial. When confronted with evidence of rape, U Aung Win, the Chairman of a government team investigating the ongoing violence, said his soldiers won't rape Rohingya women "because they are dirty."   
What is perplexing is that the atrocities are being carried out by Buddhists who are thought to be a peaceful people. Their religion forbids the killing of every living being, including pets and vermin. Yet many of them now openly advocate the massacre of an entire people.  
It will not be an exaggeration to call the ongoing ethnic cleansing in Myanmar a genocide. According to the 1948 United Nations Convention on Genocide, acts committed with intent to destroy, in whole or in part, a national, ethical, racial or religious group is called genocide. Myanmar is one of the original signatories to the Genocide Convention and was also among the earliest to ratify it.  
It is about time we demand Myanmar to live up to its commitment.  
Although the United Nations is yet to formally charge Myanmar with genocide, there is plenty of evidence to make such a case. As a matter of fact, the UN's Special Envoy for Myanmar, India's Vijay Nambiar, has said incendiary propaganda had been used against the Muslims and their homes have been targeted with brutal efficiency. That's classic genocide: targeting a particular ethnic group for death and destruction.    
While this genocide is led by nationalist forces, past and present governments in Myanmar have actively aided and abetted them. Ma Ba Tha, and its predecessor 969 Movement, enjoyed support and protection from successive military governments and now from the "democratic dictatorship" of Aung San Suu Kyi. Several members of Suu Kyi's National League for Democracy are formally aligned with Ma Ba Tha. Her predecessor, former president Thein Sein, went out of his way to praise the blood thirsty 969 Movement as "just a symbol of peace" and its leader Wirathu "a son of Lord Buddha." Even overseas, Buddhists regard Wirathu as a hero. UK's top Buddhist monastery, Sasana Ramsi in London, honoured him with a "freedom of religion" citation in 2014.  
Ma Ba Tha's campaign is not just against the Muslim Rohingyas, but Islam itself. U Pamaukkha, a leading member of Ma Ba Tha and close associate of Wirathu, compared his movement's objectives to those of Donald Trump's. "(. . .) Like Trump we are trying to protect our country and our religion from the threat of Islam," he has said.
Aung San Suu Kyi, the one person who could stop the unrelenting racist attacks, has been, if not a consenting partner, at least indifferent to this crime against humanity. In early November, while visiting Japan, Aung San Suu Kyi was urged to condemn the violence against Rohingyas. She refused, saying she won't blame anyone before investigators gather all the evidence.   
She has agreed with the former military government to keep Rohingyas out of the national census and to strip them of all basic rights. She has also defended the military crackdown on Rohingya Muslims as being based on "the rule of law." She has argued that the violence was driven by fear among both Muslims and Buddhists, putting the country's four percent Rohingya minority at par with the country's 88 percent Buddhists.  
This from a woman lionised by the West as a champion of democracy and human rights. She was even awarded the Nobel Peace Prize "for her non-violent struggle for democracy and human rights". It is time the world holds her accountable for the daily violence against Rohingyas taking place with tacit support from her government and party leaders. She must also extend full protection to the Rohingya minority, including the recognition of their political and economic rights.
Much of the world, including the US and European powers, often proclaim their support for human rights. They can do so by refusing to award the Myanmar government with new economic and development aid. Early this month, Prime Minister Shinzo Abe of Japan pledged USD 7.7 billion in public and private support for development in Myanmar. Japan can show the path by scrapping the aid until human rights situation in Myanmar improves.
That would be one good first step. 
The writer is a journalist and author based in New York.