Crippling Senses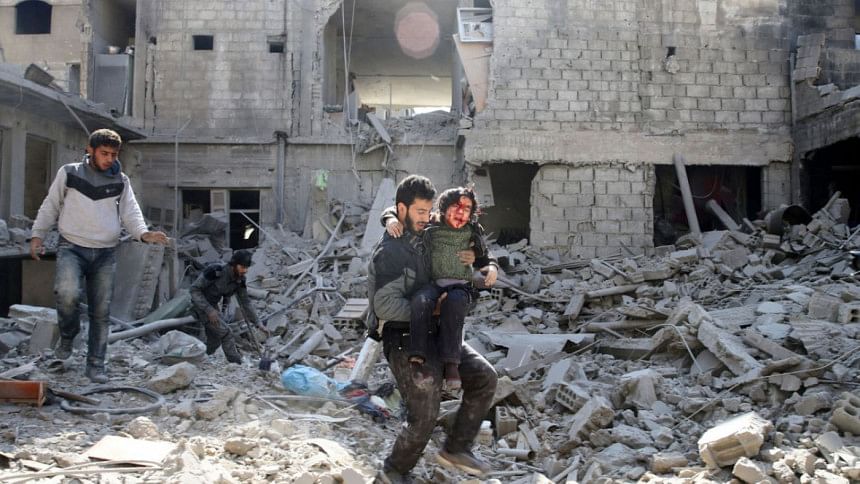 A human being has five senses. Taste, smell, touch, hearing and sight. These senses are essential for survival that is the ultimate goal and result of evolution. Lately, though, my senses have been making it difficult for me to survive.
I have been trying very hard to avoid graphic videos of violence on my newsfeed on social media. I have been keeping the television at home switched off. I have avoided checking international news. I know if I do, the news of violence against children in Syria will wreak havoc on my senses that will make it difficult for me to survive.
Normally, when I write or speak about issues, I try to pick issues that are closer to home; things I have more control over. Here I make an exception.
According to the BBC, some 393,000 people are trapped in the enclave near Damascus, which has been besieged by the government since 2013. Medics say more than 500 people have been killed since the government intensified its bombardment days ago in an attempt to retake the enclave. Many of them are children. Despite a ceasefire brokered by Russia, various media reports have emerged citing continued violence and killing. The seven-year war has reached new heights in causing carnage as Russian and Syrian warplanes have relentlessly bombed rebel-held enclaves in Syria's Eastern Ghouta.
As if the crisis itself isn't ugly or brutal enough, media reports have emerged on how women in Syria are being sexually exploited by men delivering aid on behalf of the UN. And even though the bombardment of information is new, the situation has existed for years. The system as it currently stands has chosen for women's bodies to be sacrificed. It is important to highlight that those who are exploiting women for sexual favours in return for aid are local Syrian men.
Credible reports of sexual exploitation and abuse going on during cross-border aid delivery have surfaced previously, specifically in meeting with the UN conducted in July 2015 (James Landale & Vinnie O'Dowd, BBC News, 2018) and regardless, no significant steps were taken. Charity employees were cited on the BBC report saying the exploitation is so widespread that there is now a prevailing assumption that women had offered their bodies in exchange for the aid, leading to some women refusing to go to distribution centres. As Danielle Spencer, a humanitarian adviser working for a charity, puts it, "Somewhere there has been a decision made that it is OK for women's bodies to continue to be used, abused, violated in order for aid to be delivered for a larger group of people."
According to an Al Jazeera report, since February 18, Russian-backed government warplanes intensified their bombardment of Eastern Ghouta, killing at least 770 people to date. The war monitor has dubbed the offensive as the "bloodiest" the country has seen in its six years of conflict. Health officials in the besieged Damascus suburb had accused the Syrian government forces of using chlorine gas in their latest aerial bombardment campaign. An independent journalist was quoted on the report citing that 3,000 families were internally displaced as they had come to seek refuge in Mesraba from nearby villages in the enclave.
The five senses that make survival possible produce certain emotions. Anger, fear, grief, these are all human emotions. Each emotion has a function. Fear serves as a warning of potential danger. Grief, and in turn tears, lead to vision handicapped by tears to show appeasement and gain sympathy. Joy causes us to relax in our environment, accept the absence of danger.
A crisis of this magnitude warrants an emotional response. So feelings of helplessness, anger are likely to crop up during these times. And as healthy, emotionally sound human beings, it is required of us that we process them. That would warrant some level of critical thinking.
I admit I don't have a fool-proof guide to managing anger or pain. Sometimes, I write to channel out feelings of frustration in an attempt to remember that the pen is mightier than the sword, that words have power, and that my words are what I have power over. And sometimes when anger churns in my stomach and my blood boils at injustice, I try to breathe and engage the logical side of my mind.
But as I scroll through news and more news I wonder, is this what jerks our senses alive? Does death need to be magnified and glorified for people to feel? Do we need the sounds of bombing, the pictures of severed limbs, the videos of people crying over the deaths of their children to awaken the humanity in us? To awaken us from apathy?
After much struggle, I have succeeded in developing a method to determine what an appropriate response should be for a crisis of this magnitude. I now ask myself, do I have any control over this? If the response is yes, I do what I can. If not, I ask myself what I have control over and act accordingly.
I have also noticed a tendency among people to react more to things that they don't have much control over. For example, it is somehow easier for us to sympathise with women who are being sexually victimised in Syria than Marma girls who are raped not too far away from us. It is not a question of which of the two situations is more gruesome. It is a question of why we respond to some things more than others. And I wonder if we respond specifically to things we have little control over because it enables us the luxury of sitting idle? Or if we find it easy to sympathise with people who we believe are more like us? How do we determine who is more like us and who is less like us?
There is no appropriate response to anger and pain. Each of us have our own way of processing emotions. But I think it might do us some good to reflect what it is that is causing us to react or respond the way we are. Once we reflect, we can begin to process.
Perhaps, then, we could have a world that doesn't necessitate the senses to be jerked so violently alive.
---
Shagufe Hossain is the founder of Leaping Boundaries and a columnist at The Daily Star.
---
Follow

The Daily Star Opinion

on Facebook for the latest opinions, commentaries and analyses by experts and professionals.
To contribute your article or letter to The Daily Star Opinion, see our

guidelines for submission

.
---