On Power: A high unaccounted for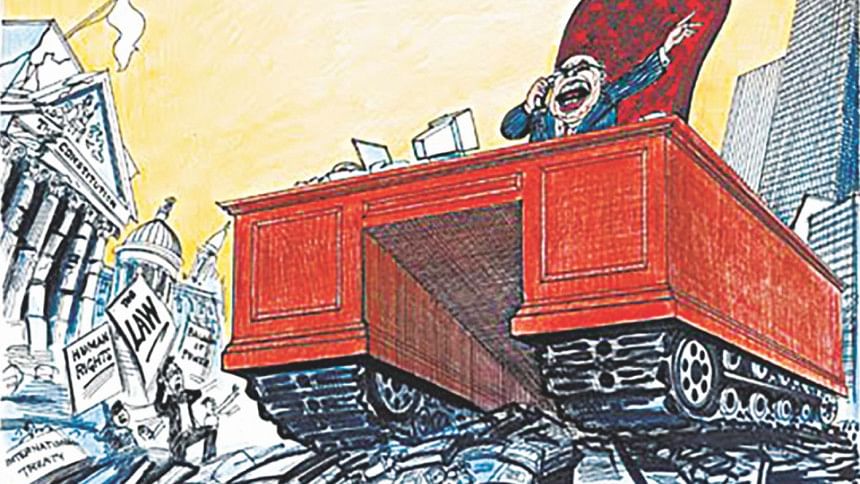 Last year, an English daily published a report that the police arrested at least 21,883 suspected drug-peddlers and addicts across the country between May 18 and June 21 as part of the anti-drug drives. An additional 6,794 suspects were arrested by the RAB between May 4 and June 24 and 4,891 drug peddlers and addicts were jailed and fined through mobile courts. A strong stance against drugs has been an integral part of this year's election campaign.
The "war on drugs" has been laudable. And yet, there is a much more potent, much more powerful drug that is often left out of the equation when we talk about addiction.
Power has been known to produce the same high as drugs. It has been known to produce the same chemical reactions in the brain that drugs produce. Like drugs, power also releases dopamine i.e. happy hormones. An excess of dopamine, however, can impact cognitive and emotional functioning in a not-so-happy manner. It can reduce empathy, promote hubristic and impulsive behaviour, thus contributing to gross errors of judgment and unnecessary risk taking.
They say, power tends to corrupt; absolute power corrupts absolutely.
Adam Galinsky and his colleagues at Northwestern University in their research found a correlation between power and egocentric behaviour. Deborah Greenfield and colleagues in their experiments found that high-power individuals were more likely to contact others when they needed something from them. In addition, a recurring tendency where people, like objects, are treated as a means to an end were found. Means to an end, and hence, invaluable. This threat of being devalued to a status of less-human, is even more grim for certain groups who hold a devalued status in society, perpetually caught in a power struggle, by virtue of belonging to groups that are already socially and economically marginalised: women and children, sexual minorities, religious minorities, ethnic minorities etc.
So, what happens when a person or a group of people gain enough political power that enables them to force other persons to do their bidding, even when they do not believe it right to do so? Unchecked political power, then, it seems would inevitably lead to a moral weakness in the person who exercises that power. And who suffers most as a result?
During the last election in 2014, at least 18 people died in election day violence. In total 21 people died on the day and about 400 voting centres were disrupted. This year, right after the elections, an attack was carried out in Faridpur affecting several households including some within the Hindu community. A report by The Daily Star states that a three-member probe body visited four spots of Bhanga in Faridpur on January 3 and took statements from seven supporters of both the Awami League and independent candidates to verify the information. The same report cites some national media outlets reporting about a hundred houses in Bhanga and Sadarpur upazilas, including those of the minorities, were vandalised and looted allegedly by supporters of the independent candidate after the polling and the next day. In Subarnachar, Noakhali, an attack was carried out on a woman, mother of four, resulting in her home and body being violated. So far, ten people have been arrested on charges of the rape case.
As I read the headlines today, my attention is drawn to the following: "Subarnachar rape 'not linked to polls'" NHRC Chairman Kazi Reazul Hoque was quoted in The Daily Star saying the following, "To our investigation committee, it did not appear that the incident was relating to election. In the case, the complainant also did not mention that the incident has any link with election."
Eventually, people with too much power often lose their sense of reality and their moral bearings. Before they know it, they live in an echo chamber, believing their own press and imagining that they are infallible. It may take time for this weakness to become visible. In fact, its full extent is frequently left to the historians to record, but we eventually learn of it.
There may be some who argue, there is nothing wrong with power vested within a single entity, as long as that entity is one that is dictated by good principles. After all, in ancient times the ruler of a country was often regarded as an object of devotion, because the ruler was taken as the symbol of the community. Good entities that abide by good principles, therefore, can be trusted with unlimited power. And as good citizens, guided by good principles, we must display unwavering faith in the power vested in the state. In fact, to posit a stance against absolute power when the ruler is fair and just, is to put on a shameless display of disloyalty.
I find the Confucian definition of loyalty quite interesting. The Chinese word zhong has two elements. First, although zhong often manifests itself through one's fulfilment of assigned duties or through services to one's superiors (e.g., to the ruler of one's country), it is primarily a commitment to one's community as a whole rather than to any specific person or assigned duty. Second, zhong is not an external moral commandment imposed from some outside transcendent or divine authority. It is culturally and historically rooted within, or has grown from, the "hearts/minds" of all individual members of the community.
I started writing this right after the 11th parliamentary polls in Bangladesh had taken place. News about ministers sweeping their office floors, making use of ride sharing apps, walking to their office and displaying a general sense of humility and integrity has been making rounds. Several ministers in the cabinet has been replaced with new faces and some very wise choices. It is an interesting time to be alive.
I fear, though, that this wisdom may also be short lived. Historically, attempts at combining wisdom and power have barely ever been successful. The greater the power, the greater the potential for abuse. Hence, given the addictive nature of power, no one is wise or good enough to be trusted with too much of it. And given the wisdom and farsightedness the government has so far displayed, surely it recognises the potential danger of absolute power.
They say, power tends to corrupt; absolute power corrupts absolutely.
So the unwise laywoman wonders, what is our newly elected government's plan for curbing the addiction to power?
---
Shagufe Hossain is a social inclusion activist and a graduate of McGill University's Department of Education and Society.
---
Follow

The Daily Star Opinion

on Facebook for the latest opinions, commentaries and analyses by experts and professionals.
To contribute your article or letter to The Daily Star Opinion, see our

guidelines for submission

.
---