Under an open sky
Exploring new and old dimensions of education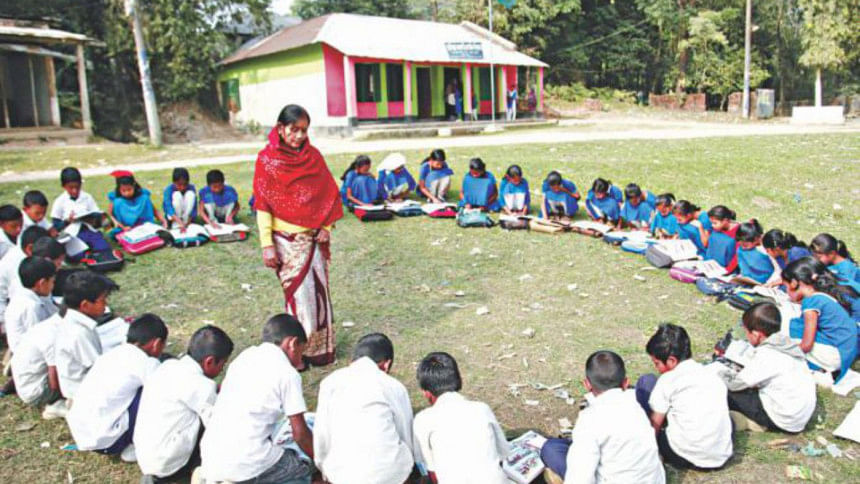 Last Sunday, the front page of The Daily Star displayed an image of a classroom. In the photograph, a teacher of Chhalia Government Primary School in Sylhet was seen as imparting lessons upon her students on the school playground. About 30 students, deeply engrossed in the books in front of them, are seen sitting in a circle surrounding their teacher standing in the middle of the circle.
The girls and boys look happy. Content. Amidst the deluge of depressing news that dominates headlines, this picture gave me some semblance of joy.
Unfortunately, the caption did not evoke the same emotions as the photograph itself. It says that the classes were being conducted in open air because the number of classrooms in the school is inadequate in comparison to the number of students there.
We are living in strange times. Right next to the image is a story on how a digital revolution is enabling students to learn from anywhere at any time. A number of initiatives including Durbin Academy, 10 Minute School and others are cited as game-changers in education, which, through creating digital learning platforms, are making access to education free and easy. Provided you are digitally connected i.e. have access to computer facilities and the internet.
My futuristic friends insist that Artificial Intelligence (AI) is the future of education. Although few people go as far as to say that teachers will be completely replaced by robots, it is anticipated that eventually artificial intelligence will either take their jobs or reduce teachers to mere robots themselves. We are assured however that educators need not worry about robots taking over schools. Not anytime soon, at least.
Although I consider myself fairly futuristic, these are circumstances that are making me confused. Aside from the numerous reports that highlight a gender and class divide in terms of accessing technology, I also wonder if it is truly possible to learn effectively through "digital education".
The VAK learning style theorises that learners learn by using three main sensory receivers: Visual, Auditory, and Kinesthetic. Learning styles are channels by which human expression can take place and are composed of a combination of perception and memory. While auditory learners learn primarily through listening and often talk to themselves or move their lips and read out loud, visual learners look for visual cues while learning, using two sub-channels: linguistic and spatial. And kinesthetic learners do best while touching and moving. So using material that they can touch and feel, or utilising room for physical movement is when these types of learners learn best.
Before we get carried away by this digital revolution, it is necessary that we ask ourselves, is the digital space accommodating for different kinds of learners? It gets even more complicated when we think about children with special needs.
There is also something inherently impersonal about a digital medium. Psychologists iterate that humans are defined by their ability to interact with others. The inability to touch and feel enables us the luxury of a certain kind of detachment. It is somehow easier to be cruel to someone you cannot see. When you don't see the emotions you are evoking in someone, you are afforded a sense of comfort in your cruelty you would not otherwise be. Being human involves engaging in relationships that reflect attributes such as empathy, caring, compassion, love and kindness. Isn't it possible then that as machines replace humans, the basis for human relationships erodes? What happens to the very attributes that make us human?
My nani used to say when she was in school, if she missed a class, the teacher would come to her house in the evening to find out if something was wrong. But as classrooms grow bigger and teachers fewer, we often find it difficult to do the bare minimum of knowing the names of our students. My nani also grew up close to nature, climbing trees, playing with mud, often running or cycling under open skies, connecting not only with other humans but also nature. 
While educational outcomes are usually measured by subject-based learning and pass and fail rates, which make measurement significantly easy, we have to wonder if the purpose of education in creating a better society is being accomplished. Can we create better societies if we foster disconnected human beings?
As part of the explorative journey in the theory of education that I frequently engage in, I draw a lot of inspiration from Rabindranath Tagore. We rarely think of him as an educationist. I am not sure why we are so quick to discount him. It could be because he did not write a central educational treatise. Or it could be the colonial legacy we have such difficulty shaking off. In any case, Tagore's ideas, garnered through his various writings and educational experiments at Shantiniketan, set the precedent for inclusive education decades ago.
He envisioned an education that was deeply entrenched in one's immediate surroundings but connected to the cultures of the world. The curriculum he idealised would revolve organically around nature with classes held in the open air under the trees to provide for a spontaneous appreciation of the fluidity of nature, emphasising the necessity of an empathetic sense of interconnectedness with the surrounding world. Much like the photo mentioned above that happened as a result of inadequate classrooms. Nature walks, running around and climbing trees, and excursions were a part of the curriculum and students were egged on in their pursuit of life cycles of insects, birds and plants. What better way to learn biology?
Other elements of his model include mutual respect among student and teacher, co-creation of knowledge, teaching history and culture for the progress that had been made in breaking down social and religious barriers, etc. 
Tagore envisioned his "classrooms" as a meeting ground of cultures, a learning centre where conflicting interests are minimised. In his essay A Poet's School, he describes a school where individuals work together in a common pursuit of truth and realise that "artists in all parts of the world have created forms of beauty, scientists discovered secrets of the universe, philosophers solved the problems of existence, saints made the truth of the spiritual world organic in their own lives, not merely for some particular race to which they belonged, but for all mankind" (Tagore 1922: 171-2).
As I read and watch and try to learn more in these confusing times, I can't help but question how Tagore would feel about education that is only a click away. Would he have rethought his values and deemphasised connection? Would he have felt irrelevant? Or would he have looked at the photograph of the teacher at Chhalia Government Primary School and thought, "This is exactly what I was talking about," before looking at the caption and be thrown off. Maybe he would be exactly as confused as I am. 
---
Shagufe Hossain is the founder of Leaping Boundaries and a member of the editorial team at The Daily Star.
---
Follow

The Daily Star Opinion

on Facebook for the latest opinions, commentaries and analyses by experts and professionals.
To contribute your article or letter to The Daily Star Opinion, see our

guidelines for submission

.
---