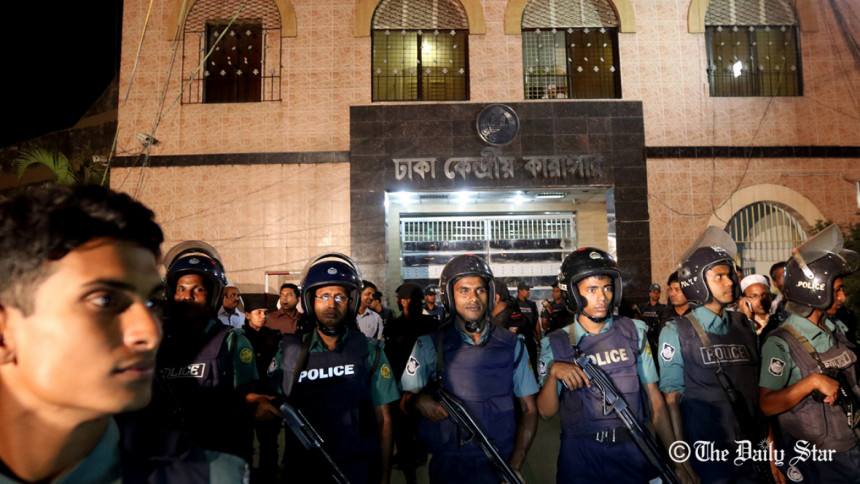 Two men, who tried their best – carrying out genocide and assassinating intellectuals and professionals – to stop birth of Bangladesh 44 years ago, have met their end inside Dhaka jail.
Salauddin Quader Chowdhury and Ali Ahsan Mohammad Mojaheed were executed at 12:55am today, after a long trial process that began with their arrest almost five years ago.

Also READ: President rejects mercy petitions of Mojaheed, SQ Chy
"The two were executed simultaneously," Inspector General (Prisons) Brig Gen Syed Iftekhar Uddin, confirmed The Daily Star. 
Their bodies would be handed over to their families for burial in their village home. Chowdhury will be buried at his family graveyard in Chittagong while Mojaheed in his home village in Faridpur.
Mojaheed, who was the chief of infamous Al-Badr Bahini in 1971, is the first person, who had the national flag of Bangladesh hoisted in his car as a minister, to be hanged by the court of the country. 
While law enforcers put up layers of security around Dhaka Central Jail amid heightened alert, paramilitary force Border Guard Bangladesh (BGB) were deployed in the capital, Dhaka, and Chittagong to ward off any violence.
With the execution of the two, total four individuals were executed for crimes against humanity committed during the country's 1971 bloody war of independence.
FOLLOW LIVE EXECUTION UPDATES, CLICK HERE
The process to carry out the execution of the two top war criminals – Chowdhury, a standing committee member of Bangladesh Nationalist Party (BNP), and Mojaheed, secretary general of Jamaat-e-Islami – were finalised after 9:45pm yesterday when the president turned down the convicts' petition for clemency.
The authorities of Dhaka Central Jail contacted families of Mojaheed and Chowdhury around 8:00pm, asking them to meet the two convicts in jail.
Dhaka Deputy Commissioner Tofazzal Hossain Mia and additional IG of Prisons Fazlul Kabir are inside the jail. IG of Prisons Brig Gen Syed Iftekhar Uddin was also inside for a while.
Also, Dhaka Jam-e-mosque Imam Monir Hossain and district Civil Surgeon Abdul Maleque Mridha are also inside the jail, showing evident signs of imminent execution.
Eighteen members of SQ Chowdhury's family, including his wife Farhat Quader and two sons Fazlul Quader and Hummam Quader, went inside and stayed for over an hour.
SQ Chowdhury denied filing any mercy plea, Hummam Quader told reporters after coming out. "He (SQ Chowdhury) said: 'Who says such rubbish? I didn't file any mercy.'"
Around eight members of Mojaheed's family arrived at Dhaka jail gates around 10:26pm. They waited around before entering the jail at 10:58pm yesterday.
Four ambulances went inside the Dhaka jail at 12:35am today immediately after the family members of Mojaheed came out from the jail.
Security around Dhaka Central Jail and adjoining areas was heightened. A large number of law enforcers including police, Rapid Action Battalion (Rab) and prison guards were deployed.
All shops and establishments around the jail area were ordered to shut by 8:00pm. Onlookers were asked to clear the area. The road leading to jail from Chawkbazar was closed around 7:40pm.
The long legal battles in the war crimes cases against Mojaheed and SQ Chowdhury finally came to an end on November 18 when the Supreme Court dismissed their petitions for reviewing its verdict that upheld their death penalty given by two special tribunals in 2013.
Salauddin, a self-proclaimed brigadier in 1971, was sentenced to death in October that year for committing crimes against humanity and acts of genocide in Chittagong in 1971.
He was given death penalty on four charges – the killing of philanthropist Natun Chandra Sinha, murders of Awami League leader Mozaffar Ahmed and his son, and two acts of genocide in Sultanpur Banikpara and Unasattarpara in Raozan of Chittagong.
The BNP leader was given 20 years in jail each on two charges and five years' imprisonment each on two other charges.
Mojaheed was handed down death penalty in July 2013 for planning and instigating the killing of intellectuals and professionals at the fag end of the Liberation War.
He was given life sentence on two other charges, and five years' imprisonment on one.
Both convicts filed review petitions on October 14 this year after the SC upheld their death penalty. On November 18, a four-member SC bench headed by Chief Justice Surendra Kumar Sinha dismissed both petitions.
Earlier, two war crimes convicts – Jamaat leaders Abdul Quader Mollah and Muhammad Kamaruzzaman – were executed since the war crimes trial began in March 2010.
Quader Mollah was hanged hours after the jail authorities received a short SC order on his review petition on December 12, 2013, while Kamaruzzaman was executed on April 11 this year after the prison authorities got the full SC order on his review petition.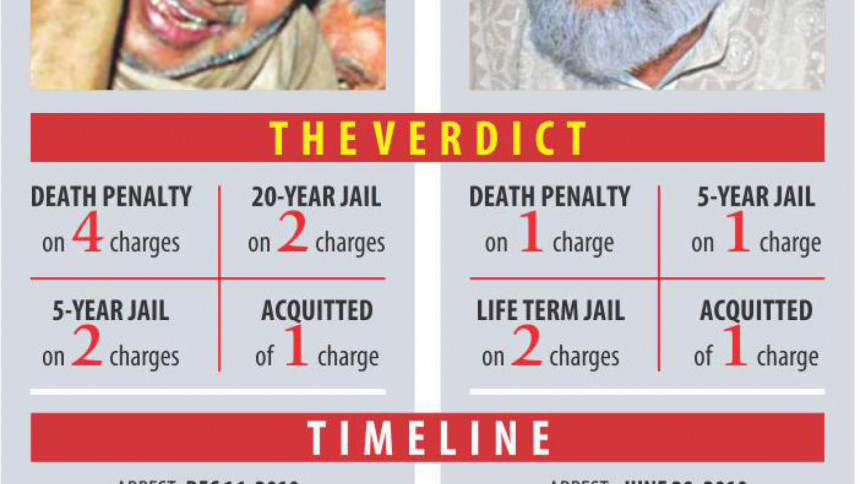 CASE DETAILS
SQ CHOWDHURY
Law enforcers arrested Salauddin on December 16, 2010 at Banani in the capital in connection with torching a car in Moghbazar on June 26. He was shown arrested on December 19 following a warrant issued by the tribunal.
On October 1, 2013, the tribunal found Salauddin, now 66, guilty of nine of the 23 charges brought against him of committing crimes against humanity.
He was handed death penalty for four charges – involvement in the killing of Natun Chandra Singha, Awami League leader Mozaffar Ahmed and his son; and genocide in Raozan.
The SC upheld his capital punishment in July after hearing his appeal against the verdict delivered by the International Crimes Tribunal-1.
The International Crimes Tribunal issued death warrant for him on October 1, a day after the Supreme Court released its full verdict of the appeal hearing.
Chowdhury, on October 14, filed the review petition to the SC seeking acquittal on all the charges levelled against him.
While turning down his review petition on November 18, the apex court said the documents submitted by Chowdhury on his study at a Panjab University in 1971 were not acceptable. There are many anomalies in the statement of the university certificates given by a professor to Chowdhury, the court said.
MOJAHEED
On June 21, 2012, Mojaheed was indicted for planning to kill intellectuals just before Bangladesh's liberation on December 16, 1971.
On July 17, 2013, the International Crimes Tribunal-2 found Mojaheed guilty of abducting and killing journalist Serajuddin Hossain. But the court did not give any separate sentence for this, as the offence was merged with those of the killings of intellectuals and professionals, for which the tribunal awarded him the death penalty.
The tribunal had also given Mojaheed death penalty for mass killings at Bakchar village in Faridpur, but the SC commuted his death sentence to life term on this charge.
The International Crimes Tribunal issued death warrants for the Jamaat leader on October 1, a day after the SC released the full verdicts.
On October 14, Mojaheed moved a petition to review the death penalty.
After hearing, the Supreme Court, on November 18, rejected his plea to review its previous ruling and upheld death penalty.