Cabinet okays law for utilizing Tk 2,12,100cr idle money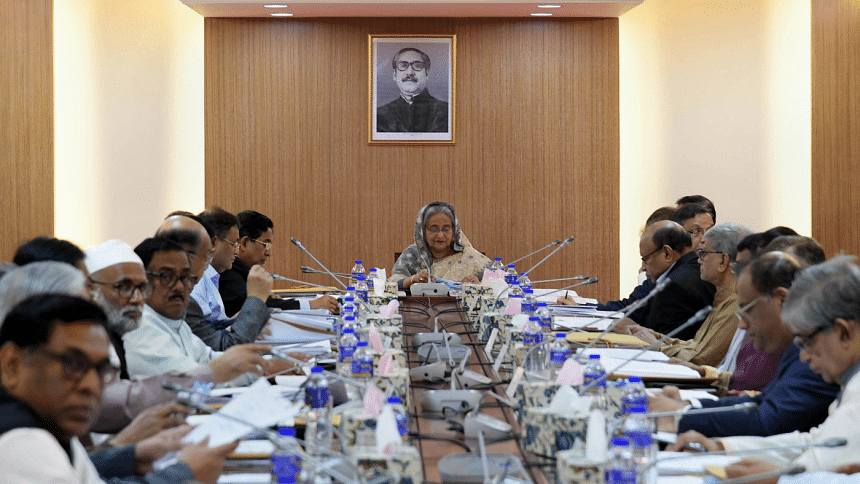 The cabinet today approved the draft of a law that will pave the way for depositing the idle money to the public exchequer as Tk 2,12,100 crore remained unused till May this year.
The approval came from a regular weekly meeting of the cabinet held with Prime Minister Sheikh Hasina in the chair at the Secretariat here.
"The cabinet has approved the draft of the law for paving the way to help deposit the idle money to the public exchequer as the idle money is not now being invested for good purposes. The money has now been kept idle with various banks as FDR," Cabinet Secretary Mohammad Shafiul Alam told a news briefing at the Secretariat.
He went on saying that the money will be used to carry out development works.
According to the information updated till May 2019, as many as Taka 2,12,100 crore of 68 autonomous, semi-autonomous, government statuary authorities, public non-financial corporation and self-governed organisations are kept idle, he informed.
Shafiul added: "Among the top 25 organisations, Bangladesh Petroleum Corporation (BPC) has idle money of Taka 21,580 crore followed by Petro Bangla Taka 18,208 crore, Power Development Board (PDP) Taka 13,454 crore, Chittagong Port 9,913 crore and Rajuk Taka 4,030 crore."
In accordance with the proposed law, the idle money of the organisations will be brought to the state exchequer after excluding the expenses for running the organisations, money for implementing various projects with their own finance and an additional 25 percent of the money for running the organisations to face any emergency situation, he added.