The benefits of positive self-talk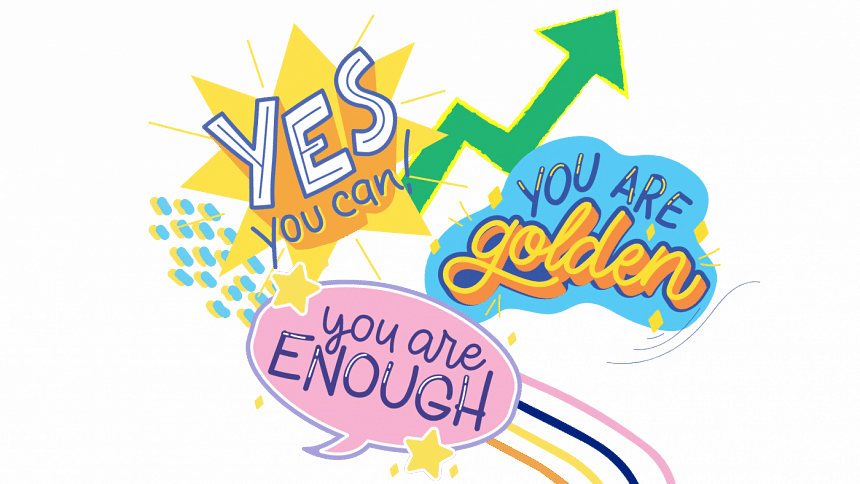 Self-talk is the inner dialogue which constantly makes subconscious observations about our surroundings. It often reflects the recurring ideas, beliefs and biases of the subconscious mind. A lot of the time, these thoughts can be quite negative and destructive, which can result in one undermining their confidence and leaving themselves demotivated.
Therefore, it is important to consciously practise positive self-talk throughout the day. This does not necessarily mean to maintain an optimistic demeanour all the time. Occasionally changing one's perspective of things can also do the trick.
Breaking out of the cycle of constantly berating oneself for one's faults can be difficult. Identifying the negative thoughts and either replacing them or challenging them can be effective, or one could simply stop thinking for a while, and divert one's train of thought to another topic to distract themselves. Cynical comments about oneself are mostly just the exaggerated truth.
Instead of telling oneself "This is too difficult", they could instead opt for "I'll try my best". Small changes can cause a significant shift in one's mindset. The process could take some time as breaking out of an old habit is difficult.
Speaking to oneself out loud can also be beneficial. After a tiring, cumbersome day, muttering a few words of encouragement to oneself in the mirror can provide us with a boost of self-esteem. It should be noted that how one addresses oneself also affects their emotions – using second-person pronouns such as "you" or one's own name can ultimately yield better results.
Positive self-talk has many benefits to physical, mental, and emotional health. It helps regulate one's feelings and behaviour and can be used as a stress-management tool. It can also help an individual develop healthier coping mechanisms for tense or traumatic situations and enhance social skills.
References:
1. Positive Self-Talk: How Talking To Yourself Is A Good Thing (June 27, 2020). Healthline.
2. What is positive self-talk? (March 18, 2022) Medical News Today.
Rubama Amreen is a student of Maple Leaf International School.