Monash University CMO and Director visit UCB Campus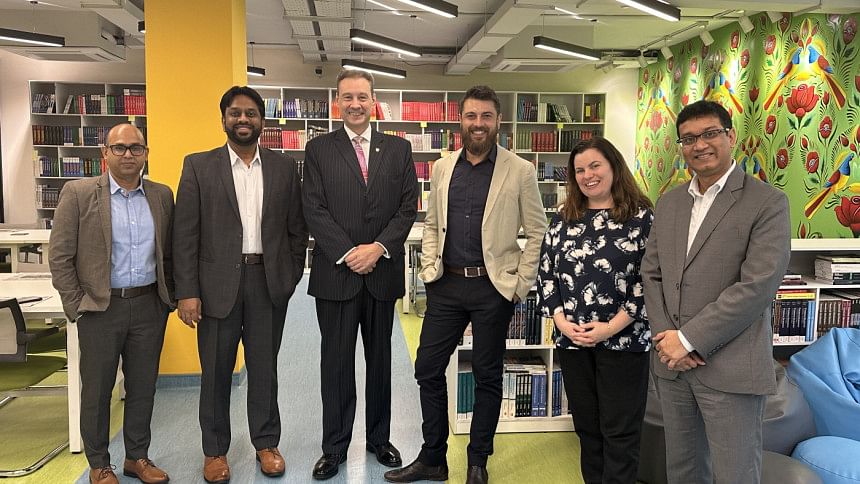 Fabian Marrone, CMO of Monash University, and Jenny McHendrie, Director, International Marketing and Recruitment, recently visited Universal College Bangladesh (UCB) – the STS Group entity providing world-class education in Bangladesh through the onshore delivery of Monash College pathway courses.
The visit to the UCB campus took place recently, where both groups exchanged ideas and discussed Monash's pathway programs, high graduate employability rates, scholarship programs, and more.   
Monash University is a top 50 University in the world and number two in Australia according to The Times Higher Education Rankings 2023. The university offers a comprehensive course offering across UG, PG and PhD, with an emphasis on double degrees.
During their visit, Fabian Marrone and Jenny McHendrie met with teachers and staff in the presence of Manas Singh, CEO of STS Group, and Amit Prasad, COO of UCB.
This highlights the dedication and commitment of UCB in creating better pathways for Bangladeshi students by putting initiatives in place to help students prepare for better job placements and brighter futures. This includes access to Monash Talent, a student job placement service offered by Monash College and available to all Monash College and Monash University students while they study and complete in Australia. 
Mr Marrone and Ms McHendrie also spent time touring the campus facilities and recognised UCB's efforts in ensuring students receive world-class education through Monash College programs delivered at  UCB in Bangladesh. 
While highlighting the partnership between Monash College and UCB, they explained how this collaborative approach can usher in a new era for Bangladeshi students. By gaining valuable knowledge and skills through UCB programs and then transitioning through to Monash University, students will make an impact and leave their mark on the global stage.                       
Manas Singh said, "It was such a pleasant experience to have Fabian Marrone and Jenny McHendrie at our campus and discuss many key factors about UCB and Monash in depth. We hope that both entities will keep working hand-in-hand towards offering international quality education for Bangladeshi students."
Fabian Marrone said, "We are pleased to visit the UCB campus and have thoughtful conversations. At Monash University, we focus on making our top-tier quality education accessible, including international students of which we have representation from over 150 countries including Bangladesh, that will equip them with future-fit knowledge and skills and prepare them for meaningful futures. International education also contributes significantly to the vibrancy of our campus, state, and country and forges greater bonds between our nations.  "
The recent visit of Monash high officials to Bangladesh is a testament to UCB's unwavering commitment to providing world-class education in Bangladesh and making a positive impact to nurture future leaders.