NSU's Department of Public Health organises day-long workshop on brain health research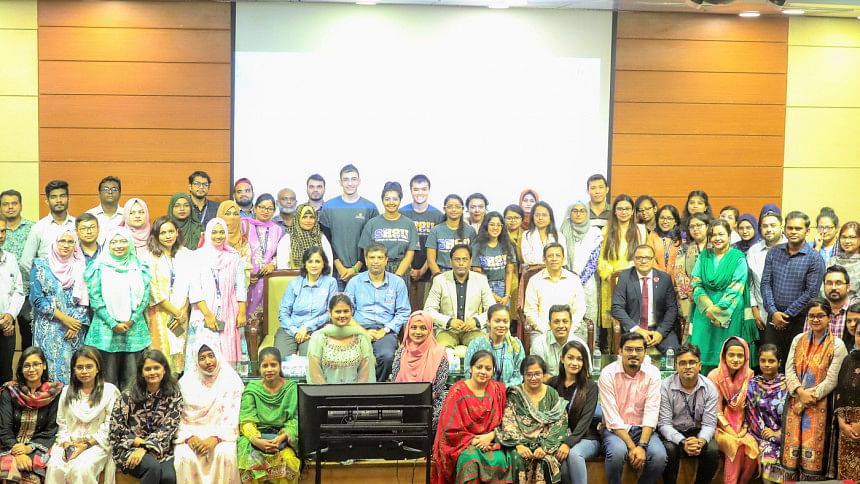 On June 13, the Department of Public Health, North South University (NSU), organised a day-long workshop for the early and mid-level researchers of Bangladesh to develop research capacity and become familiar with several tools and tests used to conduct neurocognitive developmental research. The workshop, organised as part of a funded project by the renowned National Institutes of Health (NIH). Participants were from both NSU and several other institutions and universities in the USA and Bangladesh.
The chief guest of the inaugural session was Prof. Dr Hasan Mahmud Reza, Dean, School of Health and Life sciences. Among the other dignitaries Dr Khalid M Khan from Sam Houston State University, USA, Dr Khaliquzzaman from BSMMU, Dr Al Fazal Khan, Head, Matlab Hospital, icddrb, and Dr Mohammad Delwer Hossain Hawlader, Chair of the Department of Public Health, NSU, were present. 
A group of five students from Sam Houston State University joined this training program, enriching the experience with their presence. The training program drew participation from over 100 individuals representing 21 different institutions across Bangladesh.
The workshop was conducted by skilled professionals in the field of public health on major areas of epidemiology, neuropsychological and mental health, detailed and step-by-step procedure on how to write a research protocol for neurocognitive research and a very interactive session on neurocognitive test instruments-computer-adapted batteries. Several other influencing factors in the field of research were also discussed in detail. The workshop involved presenting the applications of neurocognitive test tools, followed by demonstration and trial tests. Participants actively participated in live demonstration sessions, and the workshop came to an end on a pleasant note. 
This type of workshop will build a new generation of research initiatives that will bring more light to neurocognitive and neurobehavioral concerns and help to build improved support for neurocognitive assessment in epidemiological research.