Textile Carnival held at ISU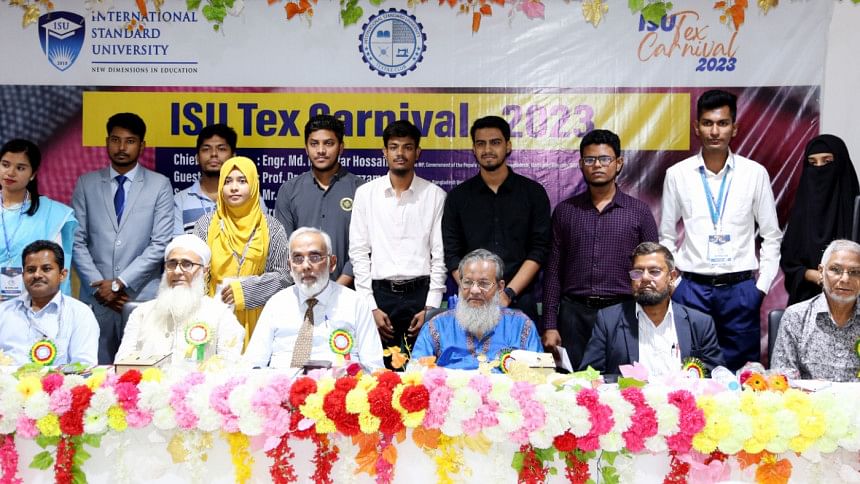 The Textile Club of the Department of Textile Engineering at the International Standard University (ISU) organised the "ISU Tex Carnival - 2023". The carnival took place on June 18 on the university campus at Mohakhali.
The carnival featured poster presentations and quiz competitions with the participation of students from 20 different universities. The event was chaired by Professor Dr Abdul Awal Khan, the VC of ISU. Dr Shah Alimuzzaman, the VC of BUTEX, Professor Md. Abdul Khaleq, Ex-principal, CTET, and Professor M.A. Kashem, former VC of BUTEX, were present as special guests.
H.T.M. Quader Newaz, Treasurer (In-Charge), Md. Lutfor Rahman, Registrar, Engineer Abdul Based Miah, Chairman of the Textile Engineering Department were present as guests. Invited guests and participants from different universities were also present at the event.
The VC of ISU stated, "Textile engineering has a glorious history from the era of the industrial revolution to the present. But the people of our country have less idea and interest about textile engineering. ISU's Textile Carnival will play an important role in spreading this idea among people."
From birth to death, according to speakers, the importance of textiles cannot be denied. To promote and advance textile engineering, efforts must be taken. The university will benefit from activities like the Textile Carnival, and they will also build a connection between ISU and other universities.
During the closing ceremony, awards were distributed among the 1st, 2nd, and 3rd prize winners of the competitions. Standard Insurance Limited sponsored this event, while World Famous Water Purifier Torayvino was the gift partner. Since its inception in 2019, the ISU Textile Club has been organising various events to enhance the skills of the students alongside their academic success.