Taking Care of Yourself When Living Alone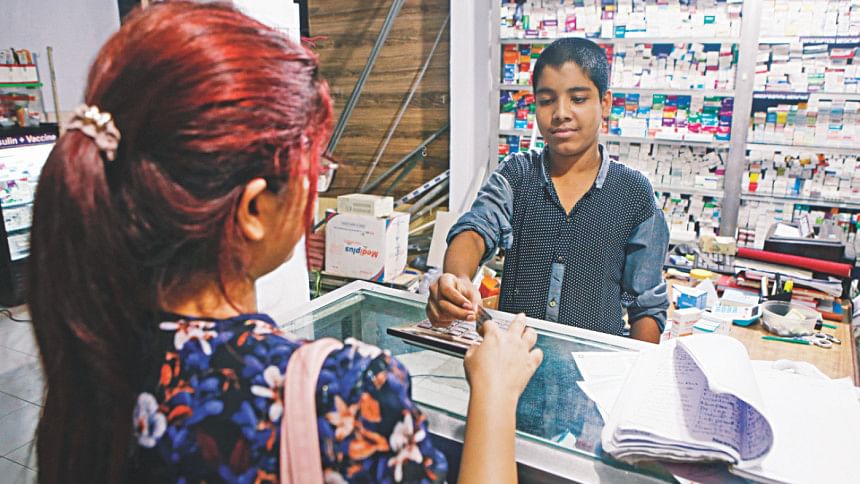 Living alone – we've all dreamt of it at one point or the other. It certainly does come with its perks: getting to live by your own rules and the independence it entails without making compromises with others, that confidence, the knowledge that you know you can make it on your own. But that confidence doesn't come unearned – there's a myriad of troubles and hoops one has to navigate through to earn that title of 'self-sufficient.'
The pros become the cons when you're alone. Getting to live by your own rules means you have to make them yourself and follow them too; there's no parent to ensure you go to bed on time so you're not too tired for work. The compromises you don't have to make with your family or roommates become compromises you make with your landlord, and the independence can make you want to crawl back to your mother for that sweet, warm sense of security. Tasmiah Haque Annanya, a fresh graduate working at an NGO who lives alone in Dhaka, says, "Living with family, there's someone else handling the planning bit all the time. But when you're alone, you have to plan and implement these things because no one else will. It gets stressful too, so you need to be able to handle some low key, constant background stress." This stress definitely takes a toll on your health, and falling ill isn't something you can afford when you're on your own.
Time is money, and most of us don't have enough. If you're living alone, you probably don't have enough time to cook yourself a decent meal, so even if it's more expensive, you'll end up relying on outside food to meet your needs. Taking care of your gut doesn't get higher priority than fitting everything into one tight schedule, so it'll suffer as a result. From bloating to contracting typhoid and hepatitis, junk and unhygienic food has its adverse effects on the short run and the long run, and it can make you tire out faster. It's difficult to take care of your body when you're under time restrictions, and your gut often takes the hit. Alif Kabir, a student living in Malaysia says, "Normally you would want to cook your own food to stay healthy, but most of the time I'll feel like not doing that because I'm busy and tired all the time so I'll just have whatever, like last month I ran entirely on KFC deliveries." Even when you know the long term repercussions, it's difficult to let go of these bad habits because no one sits you down and tells you to stop. It's all you.
The dreadful moment comes when you fall sick. If you were living with your parents, while it would be a hindrance it would be less of a problem because you have someone who's there to ensure that you're okay. When you're alone, you're in charge, and there's nothing worse than trying to run a house and maintain cleanliness, complete tasks and pay the bills than when you're spending your time vomiting and administering yourself medication. Rasheed Khan, currently a sophomore at Dalhousie University, Canada, comments, "If you fall sick, there is no one to help you. I've been sick twice, and I can tell you, I have never missed the company of another person as I did when I was in pain, lethargic, yet forcing myself to move and take care of myself." This is when you grow empathy for your parents when they fell sick when you were growing up and you couldn't help; the growing stack of responsibilities weighs heavy especially when you're out cold.
People living alone often go through self-medication rather than reaching out to doctors or clinics. A study by SIAPS (Systems for Improved Access to Pharmaceuticals and Services) in 2015* writes that for the majority of the population in Bangladesh, retail drug shops are the preferred first point of access for healthcare, rather than hospitals. Over 1 lakh licensed retail drug stores and about the same number of unlicensed ones sell drugs 'over-the-counter'. This includes antibiotics, even though there are laws in place that are to prevent this from happening. People living on their own fall in the majority that are prey to the overuse of drugs, unlicensed prescription and offers of diagnoses and treatment by salespeople and dispensers lacking training. As these salesmen are influenced by aggressive tactics of pharmaceutical companies, people don't get the treatment they need and this bodes as a threat to their health, especially if they're already sick. It is important to keep in mind that self-prescription of drugs is something that should not be practiced, and doctors should be approached regarding healthcare; it should not be left up to patients with asymmetric information to deal with.
Noting how busy and stressed one is when alone, it's difficult to pick out time in the day to dedicate to self-care. It's important to create time for yourself to unplug and relax, but with tight schedules and long work-hours, it can be impossible to do so without carving out hours in your time. Tasmiah Haque Annanya continues, "I think I'm so focused on taking care of the must-dos in life, at work and in the house, that I often forget to look at myself and what I need. Even if I remember, sometimes it just feels like self-care can be foregone because there are twenty other things to take care of that seem more urgent." It's important to maintain a healthy relationship with oneself, and that can be done by harboring more positive feelings towards oneself and others, through writing or painting, taking up a hobby and practicing mindfulness. It's okay to get behind, as long as the slack is picked up soon enough.
Reference:
Baseline Study of Private Drug Shops in Bangladesh: Findings and Recommendations