UCB commemorates graduates at Monash College graduation convocation 2023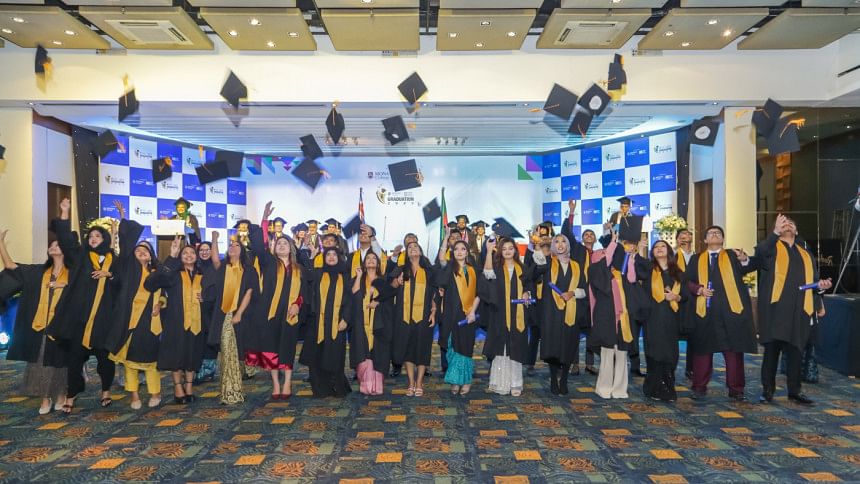 Universal College Bangladesh (UCB), a branch of Monash University, hosted its second-ever Monash College Graduation Convocation on July 9 at Radisson Blu Water Garden Hotel, Dhaka. The convocation honoured 76 graduate students from different programs at UCB. 
UCB currently offers four comprehensive programs – Monash University Foundation Year, Monash College Diploma in Business, IT, and Engineering (equivalent to Monash University's first year). The convocation was studded with the presence of meritorious graduates, faculty members, families, and other distinguished guests.
The event commenced with the astounding fanfare of the academic procession. The Chief Guest, Kate Sangster, Acting Deputy High Commissioner of the Australian High Commission, expressed her best wishes for the graduating cohort and emphasised the growing need for stronger student relationships between Bangladesh and Australia. Sangster highlighted, "Bangladesh ranks 20th in terms of the influx of international students coming to Australia. I am here to ensure that this number increases in the future."
The event began with a welcome speech from the Academic Dean, followed by remarks from Prof. Hew Gill, President and Provost Designate. Zarif Munir, Director and UCB Board Member, delivered a commendation speech. In his congratulatory address to the graduates, he mentioned, "As graduates of the nation's premier transnational higher educational institution, our students can stride confidently into the future, equipped with new skills and learnings. I am incredibly proud to witness this success."
According to a press release, Bob Kundanmal, Chairman of STS Group, expressed his enthusiasm, saying, "I am ecstatic to be standing here, looking at all of these accomplished faces ready to conquer the world. Providing Bangladeshi students with a pathway to access the top-notch educational standards of Monash University is a fulfilling experience. Through UCB, we hope to make international education more accessible for promising students in Bangladesh."
When asked about his future plans for UCB, Prof.  Muhammad Ismail Hossain, Dean of Academic Affairs, shared, "We are planning to introduce new programs without compromising the quality of education. In mid-September, we will be launching an LSE-EMFSS accredited BSc program, a full honours program directed by the London School of Economics."
Shenaila Shamim, one of the graduates attending the event, fondly recalled her time at UCB, stating, "This institution helped me build my confidence. I met wonderful people and was surrounded by helpful faculty members." She believes that this ten-month program can serve as a great alternative for students who wish to skip A levels and save a year.
The event concluded with the students joyfully throwing their mortarboards into the air, capturing a perfect moment of celebration.
UCB is Bangladesh's first Ministry of Education-approved international education provider, aiming to bring quality education to the country. The courses are planned and audited by Monash University, which ranks 42nd in the world according to the QS World University Ranking 2024. This partnership bridges the gap for students seeking international education and provides direct placement into Monash University's campuses in Melbourne and Malaysia.