The TV Show Equivalent of Hot Chocolate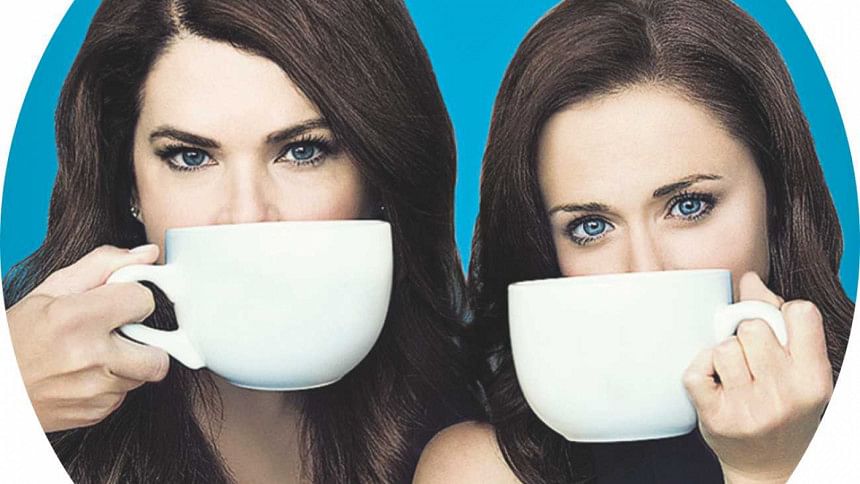 There are currently two kinds of people in the country: the ones with Snapchat stories of day-long wedding festivities, and others who no longer have the taste for anything but warm socks and warmer mugs of beverage. If you're among the latter, you need to get your hands on episodes of Gilmore Girls. 
I don't mean the Netflix reboot, although that might be the natural choice if you've just finished the original series. I mean the golden days of awkward acting, fur-lined denim jackets, and obsession with lip gloss as the ultimate cure, all made surreal through the slightly fuzzy picture quality of shows from the early 2000s. If the past few months of near-scary GG binge have taught me anything, it's that Amy Sherman-Palladino's creation is the cosiest and most affectionate TV-viewing experience you can imagine short of Baymax trudging out of your TV set to give you a hug. 
Gilmore Girls is a mother-daughter story about love, life, and growth; it's about colourful-as-Skittles Lorelai Gilmore who decides that if great men can name their sons after them, she can damn well share the same bond with her daughter Lorelai (Rory) Gilmore. Set against the backdrop of a quaint town called Stars Hollow, Lorelai and Rory learn to stay best friends as they grow in different directions because of work, education, circumstances, and men. They navigate through life's milestones separately but remain, at the core, a duo that loves to eat big, talk fast, and exchange a constant slew of clever literary and pop-culture references. That's the cheesy part of it. 
Its most endearing quality lies in its very natural depiction of life. With the only exception of the characters' talking a–mile-a-minute that may feel a tad unnatural at times, Gilmore Girls shows how no event, good or bad, means the end of the world. Their days begin with breakfast and a cup of coffee at Luke's Diner, Luke being an almost honorary family member and the modest town-man version of Mr. Darcy. We're shown how each of the town's members, all as endearing as they are weird, navigate through their own joys and tragedies, as Lorelai and Rory do the same. 
You can relate to Rory's fear as an outsider on her first day at a posh private school, and to Lorelai's dilemma as she struggles to introduce a man into their mix for the first time in years. Later incidents show how it's okay to grow up focusing on one central plan all your life, only to find out that a different route suits you better based on who you've become through the years. You want to hug Lorelai as she tries her hardest to deal with difficult parents, somehow managing to not scream until the next family dinner in which everything somehow naturally returns to normalcy – a scene we're all familiar with in our daily lives. You want to slow-clap for Rory for never letting a difficult breakup or any other tragedy affect her academic performance or her career dreams. The characters don't engage in unnecessary drama, always reacting with the kind of maturity or lack thereof with which we'd handle events in our own lives. Through it all, as Rory evolves from a nervous, introverted girl to a woman who works wonders to achieve her literary and journalistic dreams, and as the two women manage to make room for others in their fiercely strong little family, you find yourself in love with the inhabitants of Stars Hollow. 
They're the most effective form of stress relief if you've had a tiring day at work or school, or if you're just craving for some comfort.
Sarah Anjum Bari is a ravisher of caffeine and prose, with a heart that lives in Parisian cafes. Reality checks to be sent in at s.anjumbari@gmail.com