5 Top Stories to Know Today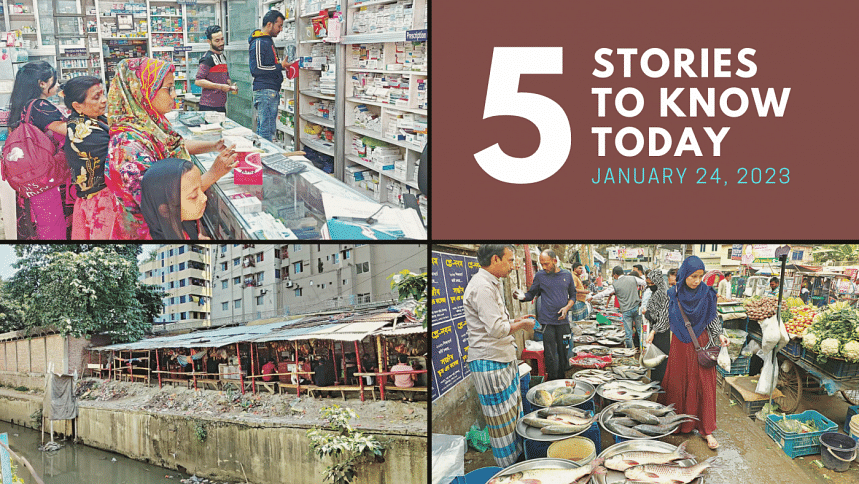 If you have missed out on the news updates, then do not worry. Just scroll down and take a look at the important stories all in one place.
Human trafficking cases in Bangladesh and the Philippines increased after devastating cyclones and typhoons displaced millions, the United Nations Office on Drugs and Crime (UNODC) said today. Evidence is emerging that climate-related disasters are becoming a cause of human trafficking as criminal gangs exploit a growing number of uprooted people.
The pharmaceuticals industry, which has made life-saving drugs available at lower costs, is facing troubles in opening letters of credit (LCs) to import much-needed raw materials and capital machinery owing to the US dollar crunch.
Bangladesh Bank data showed local drug-makers opened LCs for the imports of raw materials worth $465.43 million in the first six months of the current financial year, down 22.41 per cent from a year earlier. It was $599.85 million in the corresponding period in 2021-22.
Under the circumstances, the industry is worried about whether it would be able to deliver products to international buyers within agreed deadlines, failure to which may dent the image of the sector.
Scaling up public food distribution programmes for the poor and the vulnerable is the need of the hour -- given the cost of living crisis. But the government seems to be shying away from stepping up to this task.
So far, this fiscal year, it has distributed about 15 lakh tonnes of rice and wheat through its various food distribution programmes under the social safety net schemes, down 6 percent year-on-year, according to data from the food ministry until January 19.
Inflation averaged 8.76 percent in the first six months of the fiscal year, up from 5.7 percent a year earlier, according to data from the Bangladesh Bureau of Statistics.
Four persons were injured as a garbage can exploded in Dhaka's Moghbazar area this morning.
The injured were taken to Dhaka Medical College Hospital, said inspector Bachchu Mia, in-charge of DMCH Police Outpost.
Some of the places in Dhaka North City Corporation remain under stagnant water for years, while some lack basic civic amenities, including proper roads or pure drinking water. None of these neighbourhoods has a single playground. Such are the states of the three wards in zone-9 of DNCC.
In July 2017, DNCC took 18 new wards under its wings. However, even after five years, people in many of these wards are still bereft of developmental activities. The condition of wards 39, 40 and 43 is perhaps the worst. So much so, the residents said they were better off under the union parishad system.