AL loses in its bastion
Zaida elected Gazipur city mayor, defeats Azmat by 16,197 votes in peaceful polls; voter turnout around 50pc
It all happened quietly.
There were hardly any polling agents for Zaida Khatun. Even her supporters could barely be seen in the largest city corporation of the country. Even during the campaign, her posters were rarely seen.
But in Gazipur City Corporation polls, Zaida has won defeating ruling Awami League mayor nominee Azmat Ullah Khan by 16,197 votes.
Unofficial results show that Zaida bagged 2,38,934 votes while her nearest contender Azmat got 2,22,737, said Returning Officer Faridul Islam.
The voter turnout was 48.75 percent.
Zaida will be the country's second woman mayor of a city after Salina Hayat Ivy of Narayanganj.
Zaida is the mother of suspended Gazipur mayor Zahangir Alam. After the ruling Awami League nominated Azmat to run for mayor, a disgruntled Zahangir attempted to run as an independent.
He collected nomination papers for himself and his mother. After the Election Commission scrapped his nomination, he started campaigning for his mother.
After Zaida was unofficially elected early today, Zahangir said he would help his mother run the city corporation.
On the election day, the presence of Azmat's supporters was overbearing at most of the polling centres.
The electronic voting machines (EVMs) slowed down polling as the devices took a long time to detect the voters' fingerprints at some centres.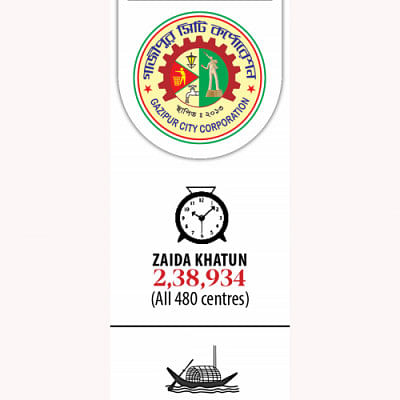 The Daily Star correspondents visited at least 50 polling centres and found a thin presence of voters when polling started at 8:00am, but as the day progressed, people started pouring in.
After casting their ballots, Azmat and Zaida both expressed satisfaction over the voting atmosphere and said they were confident of victory.
At different polling centres in Gazipur, Azmat's supporters wearing badges of boat, the AL electoral symbol, were seen outside the polling stations in violation of the electoral code of conduct.
About the presence of AL supporters inside the polling centre at Rising Sun Academy, presiding officer Delowar Hossain said, "This was not supposed to happen. We will definitely look into it."
At 22 polling centres in Tongi, the correspondents of this newspaper could not find any agent for Zaida.
A correspondent of this newspaper who visited 15 polling centres, found an agent for Zaida only at Sharifpur Government Primary School.
Abdul Kader, presiding officer at Shaheed Britti School and College told The Daily Star that only Azmat's supporters contacted him about being polling agents.
At Ummul Qura Hifz Madrasa, two polling agents of a woman councillor said an agent of Zaida entered the centre around 8:10am but he was driven out by the polling agents of Azmat.
Returning Officer Faridul and Gazipur Deputy Commissioner Anisur Rahman visited Joydevpur Govt Girls High School around 11:00pm and warned Azmat's polling agents against wearing badges of boat instead of the ID cards issued by the presiding officer.
"Our magistrate will arrest you unless you wear the designated ID card," Anisur was heard telling several polling agents.
There were almost no voters at the Bangladesh Rice Research Institute High School and BRRI Pragati Primary School 12:00pm, but Azmat's supporters were seen chanting slogans in front of the centres, which is a violation of the electoral code of conduct.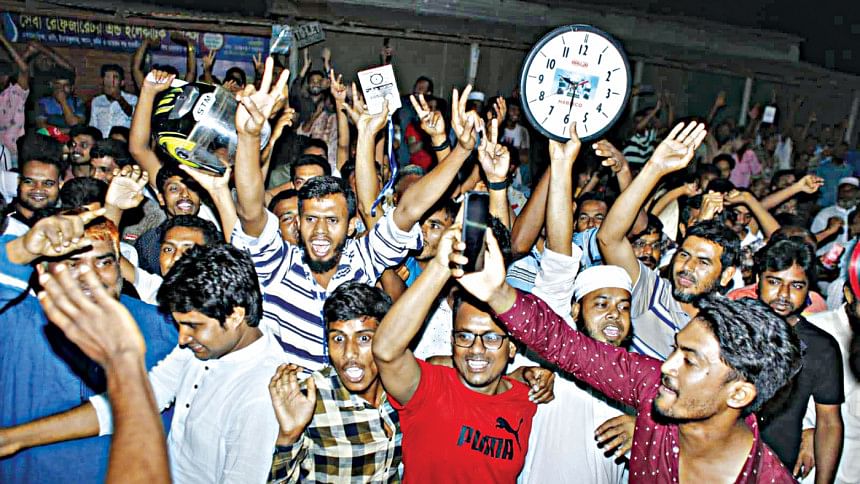 Members of law enforcement agencies present there did nothing to stop them.
Glitches in the EVMs resulted in long queues of voters in at least three centres.
Faruk Hossen, presiding officer at Ananta Model Kindergarten, said an EVM had to be replaced after it stopped working.
"It took some time to replace and the voters had to wait," he added.
Around 1:00pm, there was a long queue in front of two booths at the centre and only 15 percent votes had been cast by the time.
A garment worker named Kulsum Khanam said she had been in the line for two and a half hours.
Many voters at Kazi Azmat Ullah College, Gazipur Govt Women's College, and Madinatul Ulum Hafizia Madrasha said they had to wait for hours to cast their votes.
Zahid Hossain, who was at Azmat Ullah College, said, "I arrived at the polling centre before 8:00am, and now it is 9:30am. But I have not been able to cast my vote even though there are not too many voters."
Returning Officer Faridul said the use of EVM was new to many of the working class voters which caused delays.