'I lost my interest in cricket after being defrauded'
Towhid Hridoy was shaped by unfortunate events long before his first international appearance for Bangladesh national team. In 2013, a 'fake' cricket academy in Banasree embezzled money from him deceitfully. His family suffered as they had to mortgage land for a young Hridoy to join that academy but his career faced early setback. Batting with the likes of Shakib Al Hasan and Mushfiqur Rahim yesterday, Towhid showcased his own talent. He talked to The Daily Star's Abdullah Al Mehdi on facing deceit when pursuing cricket, and support of his family through difficult times. He also talked about batting with Mushfiqur Rahim yesterday and gave his opinion on Mashrafe Bin Mortaza's comment during the BPL regarding his national team call up.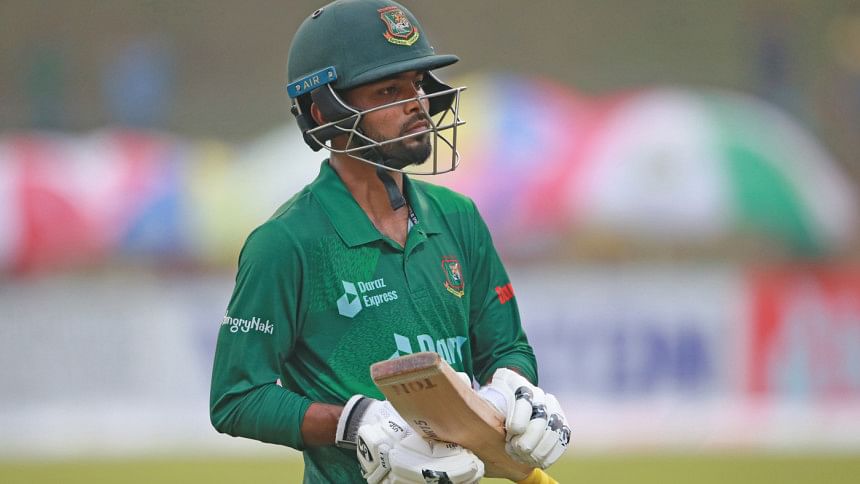 The Daily Star (DS): How happy are you and your family at being able to recollect yourself after being defrauded?
Towhid Hridoy (TH): Every player, those that make it big have some difficulty in life. It happens to everyone and what happened to me is something that worked out in a positive way. If I hadn't faced that, I wouldn't know what it is to face tough situations and the struggle that people face.
Maybe God wanted to test me. I lost my interest in cricket after being defrauded in Banasree. Every parent wants their children to do well. What my mother did for me can't be expressed in words. I am very lucky because to have parents' support is the greatest thing one can have in this world. My mother doesn't even understand the game but she never discouraged me.
DS: How did you convince your family after you took up cricket?
TH:Everyone in my family is well educated and everyone wanted me to focus on my studies and my father didn't support me playing cricket. Later my father saw that we were not talking and began supporting.
Ofcourse due to cricket I had a three-year gap in studies. Couldn't give SSC exam in U19 days due to being in New Zealand. Missed JSC once due to U-17 and there appeared a communication gap with my father. I used to feel pretty bad during those times as my dad wasn't talking to me. But when I started doing well, those things were overcome. I am happy I had their faith.
DS: You were able to get back the mortgaged land?
When I was in U-19 I solved that problem. In the back of my mind I was always thinking that a lot depended on me. The damage that I brought upon myself, acted as a trigger to recover what we lost.
DS: What did Mushfiqur Rahim say when he came out to bat with you in the Ireland match yesterday?
TH: When I went to bat with Mushfiqur bhai, he said 'you and I are both from Bogura. The two from Bogura will play till the end.'
DS: Mushfiqur was seen shaking your hand after his innings ended and telling you something?
TH: After he got out, he said I have to finish the game and that he needed me to score a ton.
DS: Did you use his bat?
TH: He [Mushfiqur] always gives me bats and I score many runs with them. I got some today too.
DS: Mahmudullah Riyad was 'rested' so how much is the pressure to perform for the players coming in?
He is a legend and there are no replacements for him in Bangladesh cricket. Ofcourse he will do well when he returns.
DS: Do you feel the younger crop has what it takes to get the team to a new level?
TH: I think this is a good side. The Bangladesh team is always good though performance and result may vary.
DS: Do you think Bangladesh players take more time to settle in?
TH: Actually there are some things there and I get your point. I hope the future batch and ours as well, will overcome these things.
DS: Mashrafe Bin Mortaza had said you needed more time to come into the national team. What do you feel?
TH: I feel what he said was because of my own good. He told me in the dressing room that players perform here and there and come to the national team but after a few bad performances they are dropped. So he told me that he didn't want to see that and wished that Bangladesh cricket would give me the opportunity and time. The seniors always want me to do well and they wanted me and others to do well for the country.
DS: Your fluency came from aggressive mentality or technical changes?
TH: When I played in the U-19 World Cup in 2018, I could hit well but in the middle that pattern changed. My thought process changed and I was playing in a different pattern. It happened in that 2022 BPL and I kept thinking why I wasn't playing like before. I tried to do little things and backed myself to do it and practiced in that way to find my old self.