'Losing wickets back-to-back a problem'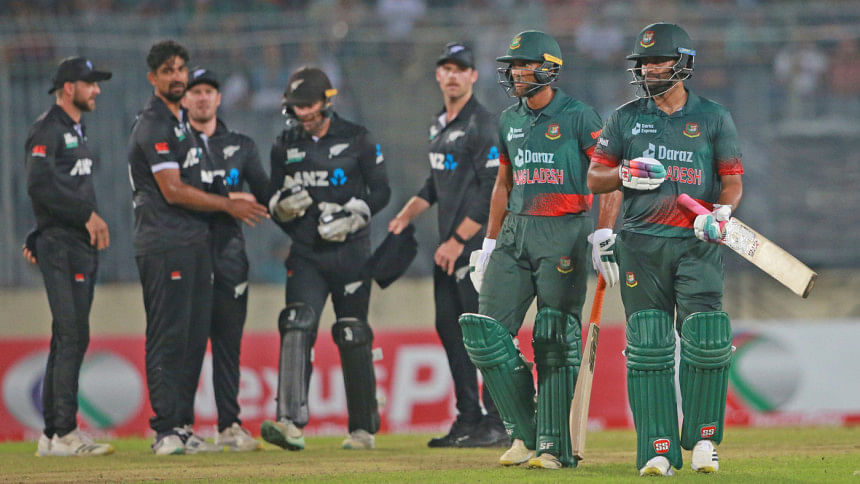 "What is wrong with our top order?" This question during the post-match press conference in Mirpur yesterday had Tamim Iqbal a bit perplexed.
The southpaw took some time and replied with a laugh: "We are losing wickets, that is the problem. Now, how do I answer your question?"
Bangladesh suffered an 86-run thumping against New Zealand in the second of the ongoing three-match series yesterday -- the Tigers' first ODI loss at home against the Kiwis since October, 2008. Even preliminary scrutiny of the game would reveal that it was yet another batting failure by the Tigers as they were bundled out for 168 in 41.1 overs while chasing a 255-run target.
Was Tamim able to answer the aforementioned question that he was asked? Unfortunately, it seems, like the Bangladesh team management, even the senior campaigner failed to pinpoint the issue behind such a batting display that has been a regular picture of the side in recent times.
"This is one thing that we seriously need to look into before the World Cup. Regardless of the team and the conditions you are playing in, any team losing 4-5 wickets upfront will not be winning most games. That is the truth," Tamim said.
However, Tamim, back into the national fold after relinquishing his ODI captaincy in August following a retirement saga in July, offered one specific reason for such batting failure and mentioned why they were not able to chase down the "gettable target".
"When you are facing the new ball, wickets will fall. But losing back-to-back wickets is a problem. If we can minimise this then we will be benefitted. But there were patches where our batters had partnerships. For instance, [Tanzid Hasan] Tamim and I had a small partnership in a very quick time after Liton [Das] got out.
"The type of wicket it was, this run [target] was gettable. But I'll have to add that they [New Zealand] should not have crossed the 250-mark. We could have restricted them within 210-215, but the wicket we played in was not bad. If you see the first game, the pitch was such that a lot was happening out there. But it was not the case in this game. The way we got out is there for everyone to see. There is not a single delivery which was really extraordinary and that we got out because of that," Tamim added.
It might be too harsh that all these difficult questions were thrown at Tamim, who probably had hoped for a return at a more amicable period. Batting for the first time since being at the center of all the controversy and chaos in the Bangladesh cricketing fraternity about two months back, Tamim looked solid during his 58-ball 44. The 34-year-old, however, did not shy away from mentioning that he indeed was nervous.
"To be speaking the truth, I was nervous. It would be a lie if I said that it was just another game. Whatever happened in the last couple of months…. when I was going out to bat, the nerve was there. After the first over, I was able to gather myself. So that was good. It was nice to be hitting the balls again," Tamim said when asked how he felt on his comeback to the side."
The match had seen another stalwart of Bangladesh -- Mahmudullah Riyad -- wield his willow in the national colours after returning to the side following a five-month gap. Riyad fell just a run short of his 28th ODI fifty, and according to Tamim, the 37-year-old looked fit and in his element during the game.