McCullum has 'no regrets' after Australia loss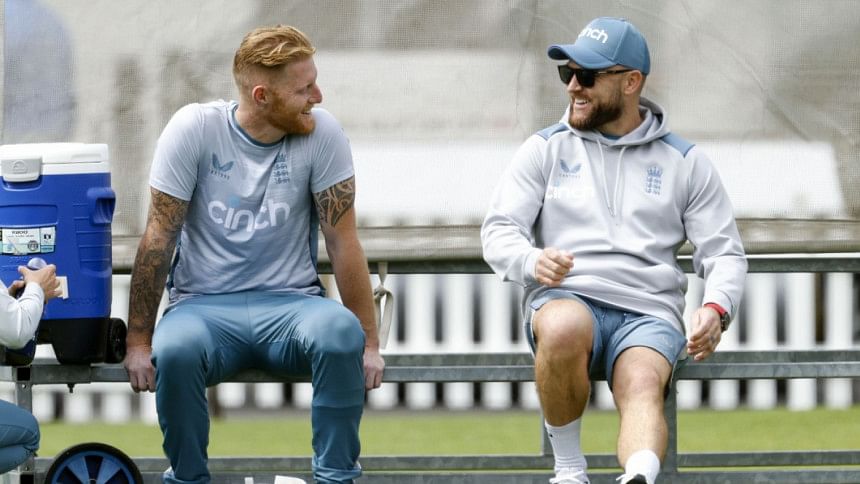 England coach Brendon McCullum insisted he had "no regrets" about his side's tactics after a stunning two-wicket loss to Australia in the first Test at Edgbaston.
Defeat left England 1-0 down in the five-match Ashes contest as they bid for a first series win over arch rivals Australia since 2015.
England were denied victory in Birmingham by an unbroken ninth-wicket stand of 55 between Australia captain Pat Cummins and Nathan Lyon that took the tourists to a target of 281 after they had been on the verge of defeat.
This was just England's third loss in 14 Tests since McCullum joined captain Ben Stokes at the helm, with the team's policy of all-out aggression dubbed 'Bazball' in reference to the former New Zealand skipper.
McCullum, asked if he had enjoyed himself despite the result, replied: "I had an absolutely amazing time. I thought it was a cracking Test match and two very different styles of play, but like a heavyweight boxing match not everyone has to fight the same.
"I think we played our style, which is to try and take the game forward and I thought Australia were happy playing their style as well, which ultimately led to success for them.
"I'm sure they'll continue with those tactics right throughout the series. So I think it's up to be quite a fascinating contest."
Stokes had earlier tried to seize the initiative by breaking with cricket convention in declaring on the first day before England had scored 400.
Defending that decision, McCullum said: "I think we always want to try and take the game forward.
"And we want to try and seize opportunities where we think we can put opposition teams under pressure.
"There's not too many opening batters that want to go out there and face 25 minutes of bowling, especially when the ball was starting to zip around a little bit.
"We thought with Broady (Stuart Broad) against Dave Warner as well, there might be an opportunity to land a blow there.
"They were able to get through it but for us, we're happy with the total that we got and we felt that was the most attacking option.
"We were two wickets away from being one-nil up in the series and if luck had gone our way, we might have been pretty content with that."
McCullum was adamant there would be no change in England's overall strategy following this dramatic loss.
"We firmly believe, the skipper (Stokes) and I, that this gives us our greatest chance," he said.
"I think everyone that has watched this game over the last five days, I would be very surprised if there were too many people who disagree with how we go about playing.
"Everyone was left entertained and then you're not always going to win and we understand that.
"We want to keep getting up and throwing punches is a team, and I'm really proud of the way the guys played. I've got no regrets about how we went about it."