Post-Ashes beers off as McCullum incensed by Bairstow stumping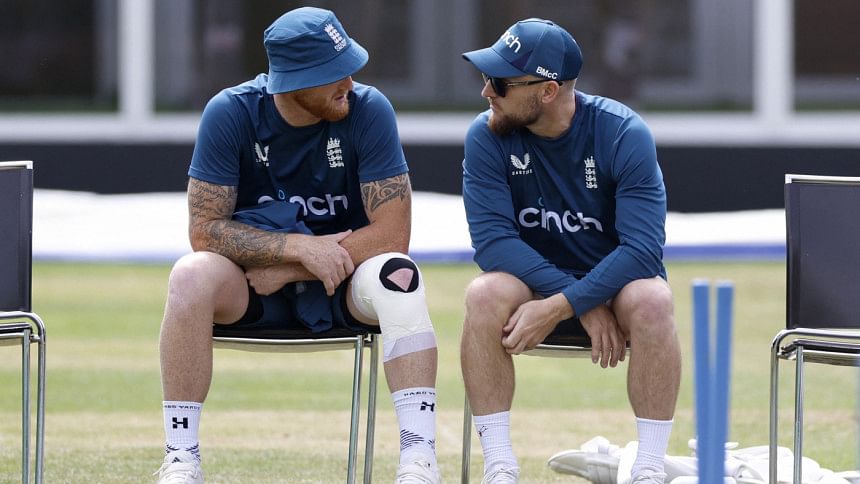 Furious England coach Brendon McCullum has suggested his players might skip post-Ashes beers with the Australia team and questioned the visitors' sportsmanship over the Jonny Bairstow stumping on the final day of the second test at Lord's.
With England on 193-5 and chasing a mammoth target of 371, Australia wicketkeeper Alex Carey underarmed the ball at the stumps after Bairstow left his crease at the end of an over.
The dismissal triggered long and loud booing from the Lord's crowd and saw Australian players verbally abused by MCC members in the stadium's usually staid Long Room.
With England eventually losing by 43 runs to trail 2-0 in the five-test series, McCullum made it clear the stumping had strained relations.
"I can't imagine we'll be having a beer with them any time soon," McCullum told the BBC.
"We have three tests to land some blows and try to win the Ashes. That is where our focus will be."
McCullum added that "the spirit of the game" was vital.
"In the end you've got to live with the decisions you make, and that's life," he said.
"But I feel from our point of view, if we were in the same situation, we might've made a different decision."
McCullum's comments triggered scorn in Australia, where media noted that the former New Zealand captain once stumped Muttiah Muralitharan in a 2006 test in Christchurch when the Sri Lankan left his crease to congratulate team mate Kumar Sangakkara for bringing up a century.
McCullum also rolled down the stumps to run out Paul Collingwood at the 2009 Champions Trophy when the England batsman wandered out of his crease, though New Zealand captain Daniel Vettori called Collingwood back.
'NO SNEAKINESS'
Disgruntled MCC members verbally abused Australia players as they walked through the pavilion at the lunch interval, prompting opener Usman Khawaja to remonstrate with several of them.
"Some of the stuff that was coming out of the members' mouths was really disappointing and I wasn't just going to stand by and cop it," Khawaja told Australian media.
Australian team management asked the MCC to investigate, saying some players had been "physically contacted" by spectators in the members' area.
The MCC later said it had suspended three members.
"Emotions were running high and words were unfortunately exchanged by a small number of members," it said.
Australia captain Pat Cummins defended his team over Bairstow's dismissal.
"I thought it was fair. You see Jonny (Bairstow) do it all the time, he did it on day one to David Warner, he did it in 2019 to Steve (Smith)," Cummins told reporters.
"It's a really common thing for keepers to do if they see a batter keep leaving their crease. Cares (Carey), full credit to him, he saw the opportunity, rolled it at the stumps, Jonny left his crease. You leave the rest to the umpires.
"It was all one motion, there was no pause or sneakiness about it."
England captain Ben Stokes was keen to move on from the incident but added he would not want to win in such a fashion at the end of an over.
"The first thing that needs to be said is, it is out," he said.
"If I was the fielding captain I would have put a lot more pressure on the umpires to ask them what their decision was around the over and around the spirit of the game and would I want to potentially win a game with something like that happening - and it would be no."