Grandstand finish for youth volleyball team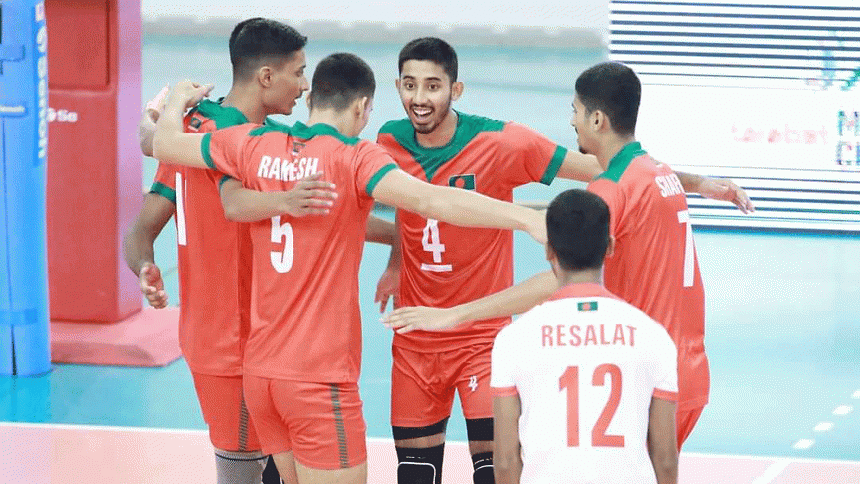 Bangladesh youth volleyball team produced their ever-best result in the Asian Men's U-20 Volleyball Championship with a fifth-place finish following a nerve-wracking 3-2 sets win over four-time champions China at Isa Sports City Hall in Riffa, Bahrain on Sunday night.
A 10th-place finish in 1986 was the best finish previously for Bangladesh youth volleyball team, who last participated in the AVC-sanctioned U-19 Championship in 2017 and became 10th out of 12 teams.     
The boys in red and green won the first two sets with 32-30 and 25-19 but China came back strong by winning the next two sets 25-23 and 25-22 and forced the match into the fifth set. Bangladesh won the decisive set 15-13 to wrap up the victory.
Bangladesh had beaten Iraq and Australia in group stages before beating Qatar in the knock-out round to move among the top six teams. However, they failed to advance to the semifinals after losing to six-time champions South Korea on Saturday.
The team is scheduled to return on Tuesday night.
Bangladesh U-23 national team are preparing for the upcoming Bangabandhu U-23 Asian Central Zone Volleyball Championship to be held from October 22 to 28 and some players from U-20 team are expected to join the U-23 team, which will also play an invitational tournament in Dubai from September 10-20.