Zinnat gets bye in first round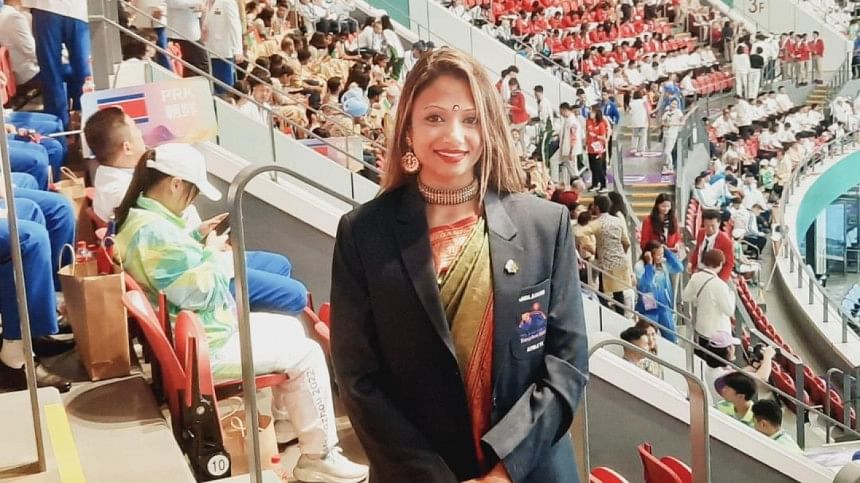 New York-based boxer Zinnat Ferdous got a bye in the first-round in 50kg weight category of the Asian Games, which officially got underway in Hangzhou yesterday.
Zinnat will face the winner of the match between Yesugen Oyuntseyseg of Mongolia and Aira Villegas of the Philippines in pre-qualifiers on September 27.
"It's good for me as I have got the opportunity to watch the opening ceremony," Zinnat said. "I will also get chance to watch my opponents, rings and some others even though I was ready for my first fight."
Zinnat said boxing is changing rapidly, so past video clips of the opponents would not help her much.
"I had the opportunity to watch how the opponents fought but if it will be different this time. Nevertheless, it was nice to watch her just before my bout," added Zinnat.
Some 18 boxers are taking part in this particular weight category.
Koly eyes a medal
Though Bangladesh won a number of medals from shooting in the Commonwealth Games, the discipline has failed to fetch a single medal for the country in the Asian Games.
The hope his time will lie with Kamrun Nahar Koly, Shaira Khatun and Nafisa Tabassum.
"I feel a bit nervous in my first appearance in the Asian Games. We had great practice today. If we can shoot like the practice session, we can hope to bring a medal for Bangladesh," said Koly, who will team up with Shaira and Nafisa for the 10m air rifle team event as well as individual event.
"Our women's team is really strong. We can expect a medal from any one individually or as a team," said Koly, whose personal best is 629.2 points.
Gymnasts aim for finals
Though Bangladesh coach expressed little expectation with Abu Sayeed Rafi and Sangkhiang Khumi, the duo is determined to show their best to secure places in the final round.
Rafi will play in pommel horse and vaulting apparatus while Khumi will take part in four apparatuses with Rafi.
"We have been taking preparation for Asian Games for a long time and our target is to qualify for the finals," Rafi said. "Though we don't have facilities like China, Japan and Korea, we have prepared with whatever we have and hope to fight against them."
Meanwhile, Bangladesh women's cricket team will play against India in the quarterfinals today while men's football team will play their last group match against group leaders China.
Athletes from hockey, chess, taekwondo and swimming will also start their campaigns on Sunday.