Djokovic schools Shelton to reach 10th US Open final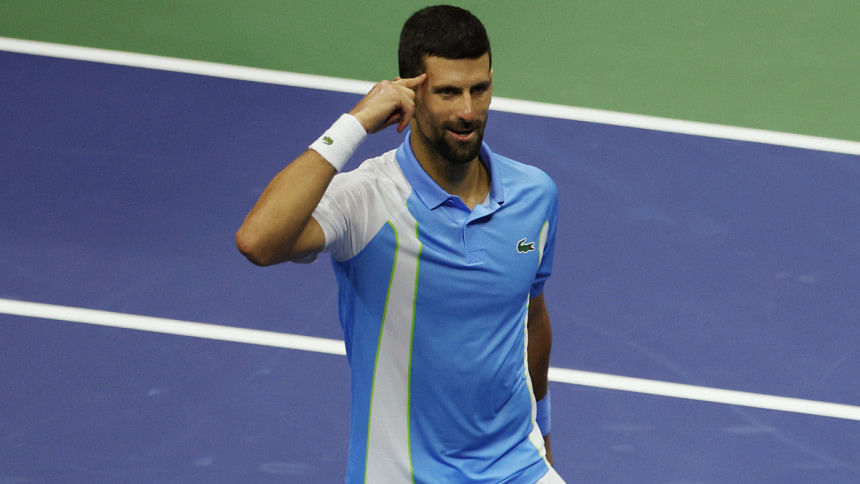 Novak Djokovic earned himself another shot at a record-equalling 24th Grand Slam title after beating unseeded American Ben Shelton in straight sets on Friday to advance to his 10th US Open final.
Djokovic ended the run of the 20-year-old Shelton, winning 6-3, 6-2, 7-6 (7/4) to set up a potential repeat of his Wimbledon final against Carlos Alcaraz, who faces Daniil Medvedev in the other semi-final.
"Another Grand Slam final. I cannot be happier with where I am," said Djokovic, who signed off victory in his 100th US Open match by imitating Shelton's hang-up-the-phone celebration.
The 36-year-old Djokovic is attempting to become the oldest men's champion in New York in the Open era, which would also see him match Margaret Court's all-time mark for most major singles titles.
The Serbian, who will return to number one in the world after the tournament, has now won 22 of his last 23 Grand Slam semi-finals. He captured the last of his three US Open titles in 2018.
Djokovic has reached the final at all four majors in the same year for the third time. He will try to claim three Grand Slams in the same season for the fourth time in his career.
"I'm obviously over the moon with the results so far on Grand Slams," said Djokovic.
"Playing in all four finals of all four Slams in a season is amazing. It's the highest achievement I can think about when I start the season.
"That's what I dream about, that's what I really wanted, that's where I want to be, in this kind of position."
Djokovic said there was no intent to send a message by mimicking Shelton's celebration.
"I just love Ben's celebration. I thought it was very original. I copied him. I stole his celebration."
Shelton, for his part, saw no issue with it.
"If you win the match you deserve to do whatever you want," he said.
"As a kid growing up, I always learned that imitation is the sincerest form of flattery."
Shelton began the US Open ranked 47th but will break into the top 20 for the first time Monday after making his first Grand Slam semi-final.
"I think the two weeks as a whole was a good run for me. A lot of positives to take away for the rest of the year and going into next year," he said.
"There's a small piece of it is disappointment obviously. I'm a competitor. Every loss hurts. It cuts you a little bit.
"But if anything, this week has just motivated me more."
Consistent Djokovic too strong
Facing Shelton for the first time, with the roof on Arthur Ashe Stadium closed due to the threat of rain, Djokovic landed the first blow by breaking for a 4-2 lead in the opening set.
Shelton showed tremendous grit to save four set points on his serve at 2-5, carving out a point to break back the next game only for Djokovic to see out the set at the fifth time of asking.
Shelton pushed a forehand wide to present Djokovic with two break points at 2-2 in the second set, coughing up an untimely double fault to again gift his rival the upper hand.
Djokovic pressed home his advantage with a second break as he largely neutralised Shelton's powerful seve, and surged two sets clear.
A passing forehand winner gave Djokovic another break to open the third set, but Shelton put up a late act of defiance to break back for 4-all and even conjured a set point in the 10th game.
Djokovic produced a clutch serve out wide on the way to a battling hold, punishing Shelton for a sloppy ensuing game but then stumbling himself with the finish in sight.
Shelton saved a match point to break and send the set to a tie-break before Djokovic hauled himself over the line and into a 36th Grand Slam final -- in his 72nd major tournament.