Tigers fine after distressing experience in the Atlantic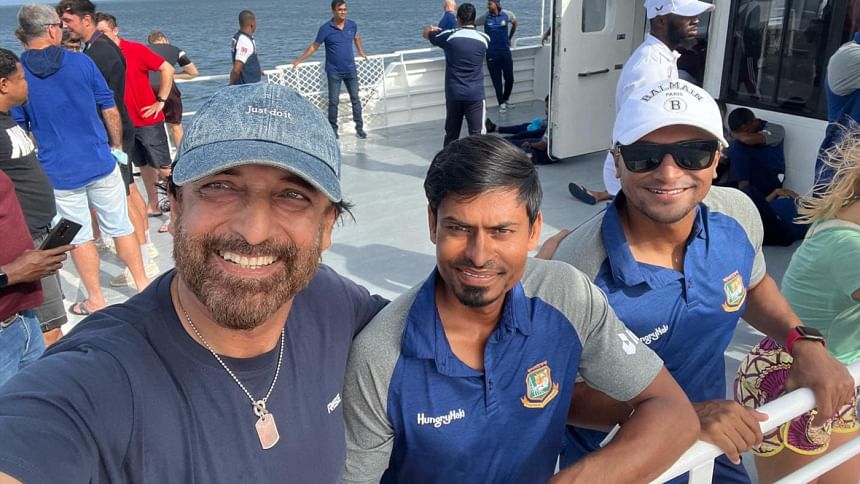 Bangladesh cricketers had a distressing experience during their sea voyage from Saint Lucia to Dominica on Thursday. 
In a five-hour-long ferry ride from Saint Lucia to Dominica via Martinique island, a number of cricketers felt seasick and questions were raised regarding Bangladesh Cricket Board's (BCB) travel arrangements for the Tigers' current tour of the Caribbean.  
However, BCB CEO Nizamuddin Chowdhury informed that the cricketers reached safely in Dominica, where they are scheduled to play the first of three T20Is on July 2. 
"They reached safely, it was confirmed to me by the team management. We were in continuous communication yesterday. No doubt, it was a bad experience for the players. We saw some players suffer while some enjoyed themselves. But the main thing is it was not at all a good journey for Bangladesh," said Nizamuddin to The Daily Star today.  
Nizamuddin also mentioned that some players asked the board to arrange a different mode of transportation for them midway through their journey in the Atlantic ocean.  
"When on a two-hour-long break in the Martinique island, players contacted me for arranging a flight for their remainder of the journey [from Martinique Island to Dominica]. I, accordingly, communicated with West Indies Cricket Board officials. But as the area [Martinique Island] is part of French territory, managing visas and other documents were difficult. It was also a bit of bad luck that the weather too was unforgiving. It is understandable the way Bangladesh players reacted," explained the BCB CEO. 
When asked why BCB agreed to such travel arrangements for the tour in the first place, Nizamuddin mentioned that they had no other option. 
 
"Yes, we were concerned regarding the issue. But the first thing is that it is the host country that always arranges this [transportations for players from one state to another]. Still, we did show our concern about this. But the problem was that the Windies official wanted to send contingents of both sides together as it is their standard practice. 
"However, they could not arrange a charter flight to carry both contingents at once. Also, due to Covid restrictions, only flights with fewer seating capacities were available. And hence, they opted for the ferry. We did show our concern regarding this, but they assured us that things would be fine as the Windies team would also travel with the Tigers. The thing is, we can relay our concern to them but the final call about making travel arrangements is made by the host country," added Nizamuddin. 
The BCB CEO informed that the players will be able to fully recover before the first T20I. 
"I talked with physio Bayjedul [Islam] and he assured that the players reached safely and that there would not be any repercussions as players will be able to recover after a day's rest. He [Bayjedul] also informed that the fact that a few players did not have proper sleep the night before coupled with their dietary issues could have aggravated the situation," Nizamuddin added.