Australia v New Zealand, 1st Test, Brisbane
Warner, Burns set perfect platform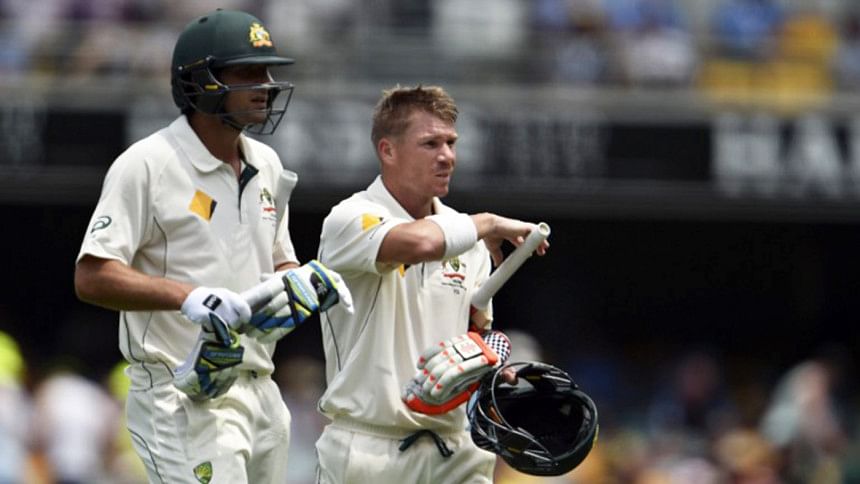 -Australia captain Steven Smith won the toss and batted first
-David Warner and his new opening partner Joe Burns weathered the new ball spells of Tim Southee and Trent Boult before accelerating to a stand of 161
-The stand of 161 was the best by a new Australian opening combination since Bill Lawry and Ian Redpath nearly 50 years ago
-Usman Khawaja settled down at the crease coming out to bat at No. 3
-Warner's thirteenth Test hundred was his first since he made 101 in Australia's first match of the year against India in Sydney
-He waited until the eighth over of the morning for his first boundary, but rotated strike cleverly to ensure the New Zealand bowlers had to keep changing their lines
For an Australian team still carrying the scars of being routed for 60 at Trent Bridge earlier this year, the first two sessions of the Gabba Test against New Zealand were in turn blissfully uneventful and increasingly dominant.
Batting first after the captain Steven Smith won the toss, the vice-captain David Warner and his new opening partner Joe Burns weathered the new ball spells of Tim Southee and Trent Boult before accelerating to a stand of 161 that went a long way towards setting up the match and series for the hosts.
Usman Khawaja then had time for a decidedly fluent start to his tenure at No. 3 in the batting order before tea arrived.
Warner's thirteenth Test hundred was his first since he made 101 in Australia's first match of the year against India in Sydney, and was clearly informed by a few of the lessons he learned during the unsuccessful Ashes campaign in England.
While there was still the odd flourish, Warner kept well and truly in control of his instincts and emotions, barely playing and missing until he made one failed swish at a Mark Craig delivery on 99.
Burns' Brisbane experience served him well. He showed tremendous patience to leave the ball well but also play the line when balls moved, not chancing an edge by trying to adjust too much.
Burns waited until his 20th delivery to get off zero with a sturdy square drive, and later pushed his score along by showing fleetness of foot against the spin of Craig.
He looked increasingly secure until dropping his guard briefly to follow a Southeee delivery tailing away and paid for the error with his wicket.
That delivery aside, the visitors were unable to keep the Kookaburra ball swerving as consistently as they had hoped, and only a handful of deliveries beat the bat.
Southee and Boult were a tad short in the early overs before Warner and Burns had set themselves, a common failing of pacemen visiting the Gabba.
The only clear chance of the morning was created when Burns chanced the tightest of singles to Brendon McCullum at short extra cover.
It was the sort of run when the batsman quickly knew he was in trouble, but McCullum was unable to get his throw on line and Burns survived.
By the interval it was fair to suggest Australia's selectors had pulled the right rein by including him.
Warner's innings carried on from the composed visage he took on in the dead fifth Test of the Ashes series at the Oval, when he excelled in his final opening stand with the now retired Chris Rogers.
He waited until the eighth over of the morning for his first boundary, but rotated strike cleverly to ensure the New Zealand bowlers had to keep changing their lines.
Later in the session he opened his shoulders, firing one straight driven six off the third seamer Doug Bracewell.
Growing New Zealand anxiety about their lack of inroads was betrayed by an LBW referral against Warner for a ball that was pitching clearly outside leg stump.
Boult and Southee found a modicum of swing when play resumed, but neither was able to land the ball consistently enough to pose problems.
Burns and Warner grew increasingly confident, the former nailing one hook shot to a prancing Southee short ball that might easily have resulted in a top edge.
The stand of 161 was the best by a new Australian opening combination since Bill Lawry and Ian Redpath nearly 50 years ago, and it was a surprise when Burns snicked a Southee ball delivered from wide on the crease.
McCullum brought Boult straight back into the bowling attack to try to defeat Khawaja, but the left-armer's motley assortment of short and straight deliveries did not trouble the new batsman.
Nor did a selection of balls dragged down by Craig pose Khawaja any problems.
Within a few overs Warner and Khawaja were rolling along as though Burns' wicket had been of little consequence, and this most inventive of New Zealand sides were starting to look short of ideas.