Managing friendships in an open-credit system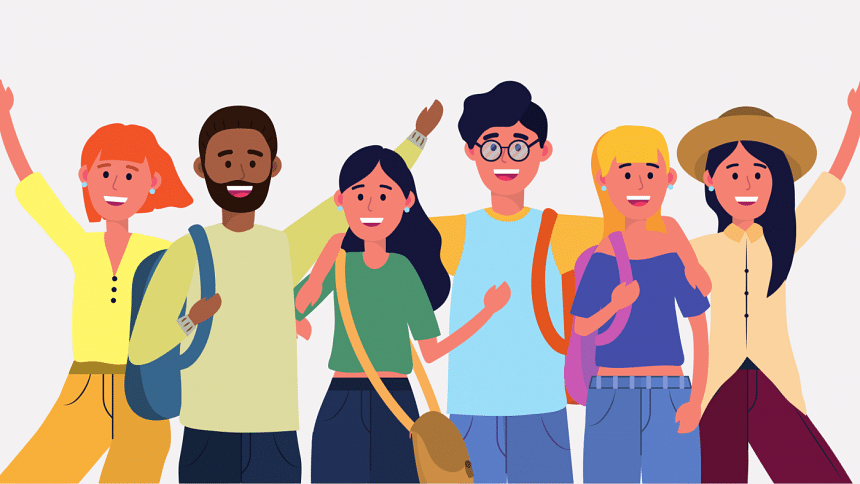 Making friends in university can be tricky. The whole experience gets another cascading layer of complication if you happen to study at a university with an open-credit system.
Being in my third year at BRAC University, as of writing this article, throughout the semesters, I have come across various pros and cons of the open-credit system at my university and seen how it impacted my friendships.
I only got a chance to make meaningful friendships during my first semester courses and then during the residential semester. But after that, trying to get the same courses or sections with your friends, under your desired course instructors at a mutually convenient time or attempting to match schedules with friends from other departments becomes a game of luck.
Sometimes, you have to sacrifice one or the other, and you end up rarely seeing all your friends as the semesters pass. Joining clubs do provide an opportunity to make friendships, but that may not be everyone's cup of tea.
I personally felt that a real sense of belonging is just not there. Not being the most extroverted person is definitely a factor, but I think even the most social person would find the concept of mingling with new people every new semester quite absurd. Furthermore, most of my friends and I will probably graduate at different times. This adds to the absence of belonging and familiarity throughout the university experience.
When hanging out and talking with my friends who study at closed-credit universities, I have seen them having completely contrasting experiences. They find that sense of belonging way more in closed-credit systems. Mixing with the same group of people for over four years makes it more natural to form lasting friendships. Matching schedules provide sufficient time to bond and make everything feel more familiar. Even if you are not all best buddies, you still manage to make several acquaintances, which might later blossom into friendships. And of course, graduating at the same time makes the whole experience feel more complete.
Ironically, for both systems, the pros can also be the cons, much like a double-edged sword. In a closed-credit system, you are stuck with the same group of people for years. So, even if you do not like them, you have to tolerate them. On the other hand, in the open-credit system, if you have a fallout with anyone, be it a friendship gone south or a bad break-up, chances are you will rarely cross paths with those people again. And based on what I have learned from my friends in closed-credit universities, supposedly, if you fail to make friends in the initial one or two years, it becomes harder to make new friends later on because everyone already has their fixed set of people they hang out with.
So, how should open-credit students go about managing their friendships better?
You could always try your luck in matching courses and timings during advising periods. And while it is a big part of your life, your university is not the only place to nurture friendships. Engaging in activities outside of university is a great way to solve that problem. When you do not share the same experiences, you simply create them elsewhere. It is important to remember that if a friendship is strong enough, you can always find ways to make it work.
Sabil spends most of his time trying to stay as hopeful as possible. You can contact him at sabilsadat616@gmail.com