Young leaders from Bangladesh at Women Deliver 2023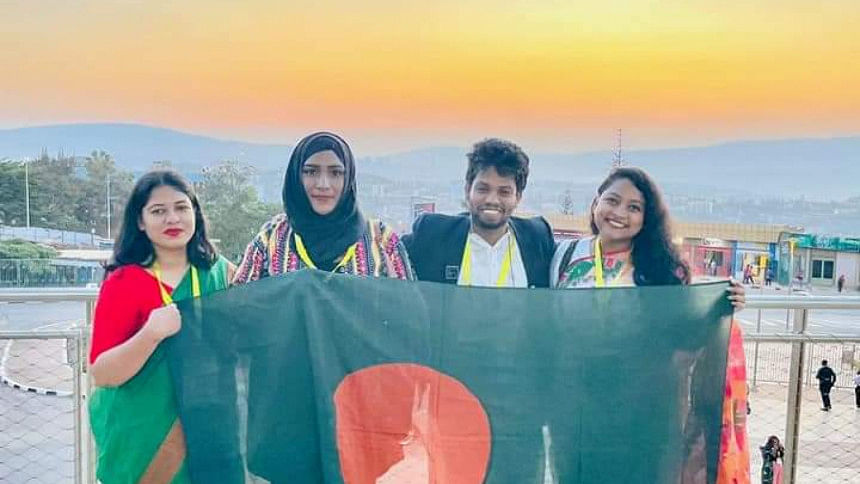 Women Deliver 2023, one of the largest global multi-sectoral conferences devoted to advancing gender equality, was held in the city of Kigali, Rwanda, from July 17 to 20. The event's 6,300 in-person attendees and additional 200,000 online visitors demonstrated a global commitment to empowering women and achieving gender parity.
The conference provided a platform for young people all over the world to advocate for the policies and solutions they felt were most important. Remarkable young leaders from Bangladesh, who each hosted a panel and joined lively discussions representing the Global South, brought us accounts of their experiences from the conference.
Winner of a prize for social entrepreneurship and activism, Nowshin Mehzabin Chowdhury, reflected on the experience, saying, "It was incredibly empowering to stand in a global space and know that I was being heard."
She found the young leaders' charisma, commitment, and values to be motivating at the 2016 conference, which she attended as a sponsored young delegate.
"It was like walking into a city full of possibilities where everyone has the same goal and is working from different angles to achieve equality, equity, and sustainability for all," said Nowshin upon returning from the conference this year.
Nowshin discussed youth-led labour market assessment and community mentoring for teen girls and young women at a USAID and FHI 360 HIV prevention session titled 'Shifting Power to Adolescent Girls and Young Women'. She felt empowered by bringing in Bangladeshi examples and advocating for local perspectives that emphasise youth involvement in policy-making.
Tanjila Mazumder Drishti, currently the Regional Lead for Asia at BRAC International, joined Women Deliver with a decade of experience in international development. She talked about the conference's dedication to emancipation through the co-creation of effective interventions with public and private partners, so the two were a natural fit. She presided over a panel on 'Transformative Education Approaches for Out-of-School Girls in the Global South', which discussed the obstacles to education that girls in the Global South face due to problems like childbirth, marriage, and poverty.
"The location of the conference in Rwanda allowed people of colour and representatives from the Global South to share their challenges without a colonised narrative attached to them," Tanjila pointed out.
MD Sohanur Rahman, another Bangladeshi who joined the conference, is a climate activist and advocate. He has played a significant role in the environmental justice movement in Bangladesh. The groundwork he laid with vulnerable youth and the intersex and transgender communities in rural Bangladesh prepared him to make a more significant contribution to the international effort to combat climate change and promote gender diversity.
Sohanur talked about local initiatives and policies at a panel called 'Spaces, Solidarity, and Solutions'. The goal of the panel was to talk about inequality in Bangladesh and how disasters affect communities that are already considered social outcasts. He said that giving a voice to those who do not have one means helping them develop and encouraging them to help make policies and solutions. Sohanur said, "At the conference, we saw a political willingness that we want to see here in Bangladesh."
Talking about the theme of the conference, Sohanur and Nowshin placed a strong emphasis on "taking cultural and religious ethos, pathos, and logos into account", because it was centred on issues pertaining to gender, sexuality, and abortion rights this year. "These vital topics served as a springboard for bringing the discussion to political bodies, thereby kicking off progress and shattering both political and social taboos."
The conference's emphasis on innovative educational strategies for girls in the Global South inspired Tanjila. She thinks that reviving the momentum of Women Deliver in Bangladesh could lead to the empowerment of marginalised communities. She went on to say, "One conference may not solve everything, but Bangladesh is no longer a colonised basket case. It has broken out with its own stories of development and economic independence."
At the global exhibition that took place during Women Deliver 2023, Bangladesh was represented by Brac, a non-governmental organisation that is dedicated to empowering communities across Asia and Africa. Nowshin and Tanjila both praised the attendance and hoped for a larger Bangladeshi presence at future conferences to help boost Bangladesh's international profile and foster international partnerships.
Women Deliver 2023 was a groundbreaking event that promoted equal rights for men and women.  It was a transformative experience that reaffirmed Bangladesh's young leaders' commitment to social change, and they believe these events could give Bangladeshi youth a voice and perspective.
Tanjila, Sohanur, and Nowshin serve as examples of why more young people should take part in policy dialogues to talk about their own problems, such as mental and physical health, education, and jobs, to advocate for meaningful change and create a rights-achieving nation on par with the global superpowers.