Celebrating World Milk Day 2023
Recognizing the nutritional, societal, and environmental importance of the dairy sector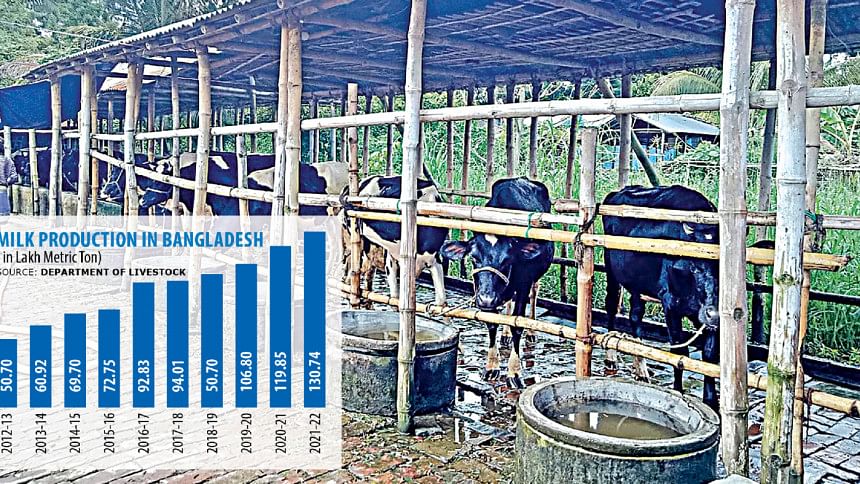 Milk not only nourishes the world but also generates social and economic impacts, making it an essential component of our collective well-being. On the occasion of World Milk Day, we gather to celebrate the invaluable role of the dairy sector in our lives. This global event, established by the Food and Agriculture Organization of the United Nations in 2001, serves as a reminder of the profound impact that milk and dairy products have on our nutritional well-being, societal fabric, and environmental sustainability.
Bangladeshis have a strong affinity for milk and dairy products due to several reasons deeply rooted in their culture, dietary preferences, and nutritional awareness.
First and foremost, milk is widely recognized as a rich source of essential nutrients, particularly calcium, protein, and vitamins. As a result, consuming milk and dairy products is viewed as an effective way to maintain good health, especially for children and individuals with growing bodies and developing bones. The nutritional benefits associated with milk have made it an integral part of the Bangladeshi diet.
Moreover, dairy products are frequently incorporated into traditional Bengali cuisine, enhancing the flavor and richness of various dishes. Milk is commonly used in preparing popular desserts like kheer (rice pudding) and mishti (sweets), which are cherished treats during festivals and special occasions. The creamy texture and distinct taste of dairy products have become an integral part of the culinary heritage and traditional flavors of Bangladesh.
Additionally, the dairy sector plays a significant role in the rural economy of Bangladesh, where agriculture and livestock rearing are prominent. Many Bangladeshis are involved in dairy farming, either as small-scale farmers or as part of cooperative societies. According to the latest Department of Livestock Services (DLS) data, there are 8-10 lakh small and big dairy farms across the country, and more than 2 crore people are involved in the sector. The dairy industry provides a source of income and livelihood for these people, contributing to the socio-economic development of rural communities.
Furthermore, increasing awareness about the health benefits of milk and dairy products has influenced consumer preferences in Bangladesh. People are more conscious of maintaining a balanced diet and incorporating nutrient-rich foods into their meals.
Recognizing this shift in consumer behavior, popular dairy brands have responded by making their products more affordable and appealing. For instance, Saleh Uz Zaman, Head of Public Relations and Communications at Arla Foods Bangladesh, highlights their efforts: "We introduced Dano Daily Pushti in sachets so that people can easily afford a glass of milk every day."
"By focusing on empathy to drive our operations in Bangladesh, we have successfully seen DANO being used daily in 1/3rd of the households in Bangladesh," he added.
Despite the expansion of milk production across the country, it still falls short of fully meeting the national demand. The estimated annual demand for milk in Bangladesh is 156.68 lakh tonnes, while the country produced 130.74 lakh tonnes in the FY2021-22. As a result, the current availability of milk per capita is 208.61 ml per day, which is below the recommended minimum daily intake of 250 ml. This reveals a significant opportunity to increase milk production in the country and bridge the existing gap between demand and supply.
While it is crucial to undertake initiatives aimed at increasing milk production and diversifying the dairy industry, it is equally important to prioritize sustainable practices that minimize the environmental impact of the sector. The commitment of the industry to responsible production and efficient supply chain management is vital for ensuring a resilient and environmentally friendly future.
Encouragingly, Bangladesh has been witnessing a growing adoption of sustainable farming practices, improved resource management, and innovative technologies within the dairy sector. These efforts focus on reducing greenhouse gas emissions, conserving water resources, and safeguarding biodiversity.
Saleh Uz Zaman, representing Arla Foods Bangladesh, emphasizes their commitment to meeting the local market's requirements while maintaining sustainable practices. They have joined hands with Pran Dairy to promote a market-driven and sustainable approach to dairy production. This collaboration aims to enhance milk productivity, improve quality, and boost the economic output of the local dairy value chain in Bangladesh.
In 2023, World Milk Day aims to emphasize how the dairy industry can actively work to reduce its environmental impact while simultaneously providing nutritious food options and sustaining livelihoods. By aligning efforts towards sustainable practices and fostering collaborations within the dairy industry, Bangladesh can ensure a prosperous future that balances the growing demand for milk with environmental stewardship and socioeconomic progress.