HC questions hiring under-18s at shipbreaking yards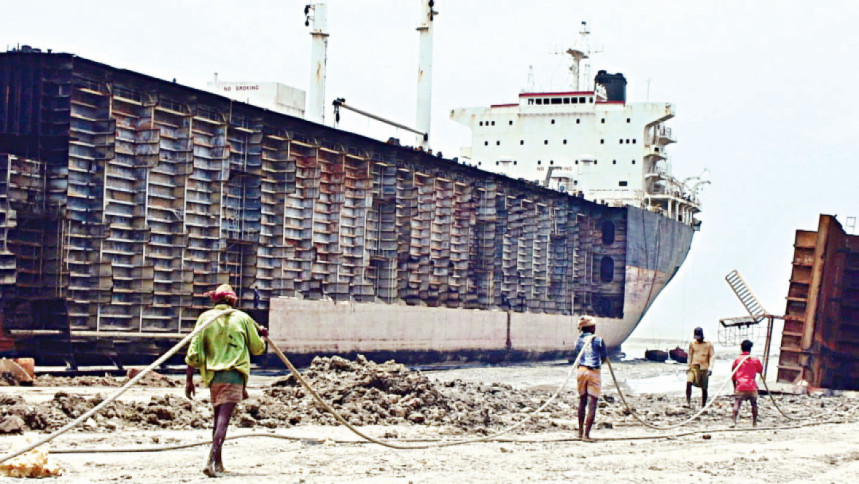 The High Court today issued a rule asking the relevant government officials to respond within four weeks as to why they should not be ordered to ensure that no person under the age of 18 is employed at shipbreaking yards.
In the rule, the court also asked the respondents to show causes as to why they should not be ordered to ensure proper insurance, health and safety measures to protect the labourers from any unwarranted casualties at the yards.
The court also questioned why necessary steps would not be taken to prevent brass from being stolen from ships at various shipbreaking yards across the country.
Secretaries to the ministries of industries; commerce; home affairs; labour and employment and health and family welfare; director general of Bangladesh Ship Breaking Recycling Board under industries ministry; chairman of National Board of Revenue; chairman of Anti-Corruption Commission; chairman of Bangladesh Inland Water Transport Authority; and chief controller of imports and exports under commerce ministry have been made respondents to the rule.
In response to a writ petition, the HC also ordered the director general of Bangladesh Ship Breaking Recycling Board to submit a report on the inventory of brass collected from each ship at the shipbreaking yards, before this court in three months.
The HC bench of Justice JBM Hassan and Justice Razik-Al-Jalil issued the rule and order following a writ petition filed as a public interest litigation by rights organisation Law and Life Foundation Trust last month (October), seeking necessary directives.
During the hearing on the petition today, petitioner's lawyer Mohammad Humaun Kabir Pallob, told the HC that huge quantities of brass collected from the ships at the shipbreaking yards have reportedly been smuggled to different countries by a syndicate, therefore, the cost of brass is increasing in the country everyday.
Smuggling brass out of the country must be stopped to protect, develop and flourish the domestic industries, he argued.
Deputy Attorney General Tushar Kanti Roy and Assistant Attorney General Farhana Bithi represented the state during hearing of the petition.