AI news presenters: What they mean for the future of newsroom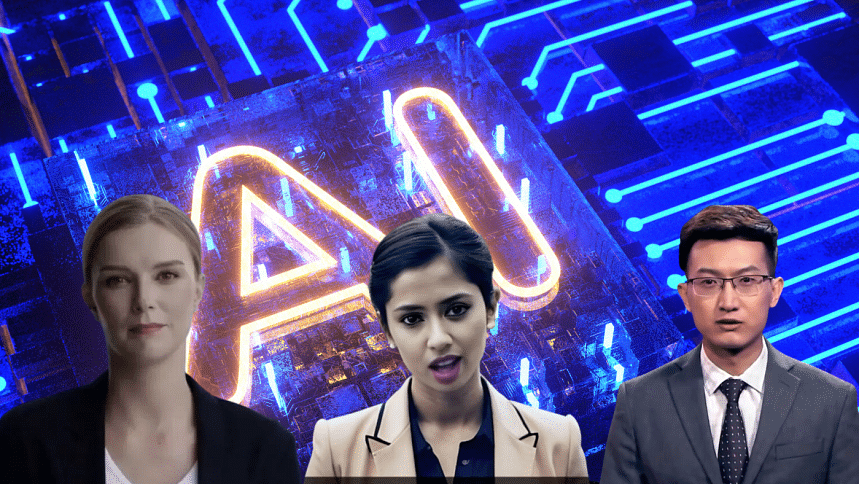 The buzz around Artificial Intelligence (AI) has been sweeping through newsrooms for some time now. Since the debut of the country's first-ever artificial intelligence news presenter named 'Aparajita', there has been a raging debate regarding whether AI news presenters will take over the job of human news presenters in Bangladesh. Moreover, many Bangladeshis took to social media saying they were having a difficult time distinguishing the face of the AI news presenter from that of a real face.
However, Aparajita is not the first AI news presenter that the world has seen. Globally, the adoption of artificial intelligence for news presentation is evident, as demonstrated by Chinese news agency Xinhua around 5 years ago.
In 2018, China's Xinhua made groundbreaking strides by introducing the world's first artificial intelligence (AI) news anchor. Created to work tirelessly on the Xinhua news agency's website and social media platforms, the virtual newsreader aimed to reduce news production costs. For a nation known for controlled state news presenters, the AI anchors represented a significant advancement.
Since then, the concept of AI-generated journalism has been slowly taking root in the industry. Following China's lead, Latvia introduced its first AI-generated news presenter in 2019. A female AI news presenter by the name 'Laura' was introduced using advanced machine learning methods to read news in Latvian. The AI news presenter's voice was based on a popular Latvian news anchor.
In the Middle East, the AI wave in newsroom operations arrived as Kuwait News launched its first virtual news presenter named 'Feda' in April. This move brought about mixed reactions, with some praising the innovation while others expressed ethical concerns about AI's role in news distribution.
In South Asia, India launched its first AI-powered news anchor named Sana in April this year. Sana occasionally presents bulletins on the India Today Group's Aaj Tak news channel and made history by delivering a news report entirely in French, a milestone in Indian broadcasting.
India's embrace of AI news anchors didn't stop there. Several other channels across the country introduced their own AI-powered presenters. For instance, a private news channel in Odisha debuted 'Lisa,' an AI presenter fluent in both English and Odia languages, bringing a new level of efficiency to news production.
Meanwhile, Indonesia also joined the AI news anchor trend by introducing three virtual presenters catering to different demographic groups. Though they are not yet interactive, these AI avatars were generated using AI software.
Taiwan's FTV News entered the AI presenter scene with an AI weather presenter developed over six months. The technology allowed for the creation of photorealistic human images, making the presentation more lifelike and engaging.
Malaysia also saw the integration of AI avatars in its leading broadcast news organisation, Astro Awani, with 'Joon' delivering Malay news reports and 'Monica' contributing to the Agenda AWANI talk show discussion.
While AI news anchors are still in the experimental phase worldwide, they are gradually finding their place in news presentations. Currently, news channels use them to present short news bulletins, occasionally with voiceovers recorded by human journalists which are then seamlessly synchronised by the AI presenters. However, this introduction of artificial intelligence into newsrooms has sparked concerns among some, as they fear it may threaten human jobs. 
According to a report from investment bank Goldman Sachs, artificial intelligence (AI) has the potential to replace approximately 300 million full-time jobs. However, the report also suggests that this technology could lead to the creation of new jobs and an increase in productivity.
As AI-generated journalism continues to evolve, it sparks both excitement and ethical discussions in newsrooms worldwide. While the technology offers unprecedented efficiency and cost savings, there are concerns about its potential impact on human jobs and the accuracy of AI-generated content. As technology continues to evolve, it remains to be seen how AI news anchors will impact the future of news broadcasting and whether they will eventually take over breaking news segments. For now, their presence signifies an exciting advancement in the media landscape.