Bangladesh Startup Summit Day 2: Jaan Tallinn, Skype Co-Founder, on Artificial Intelligence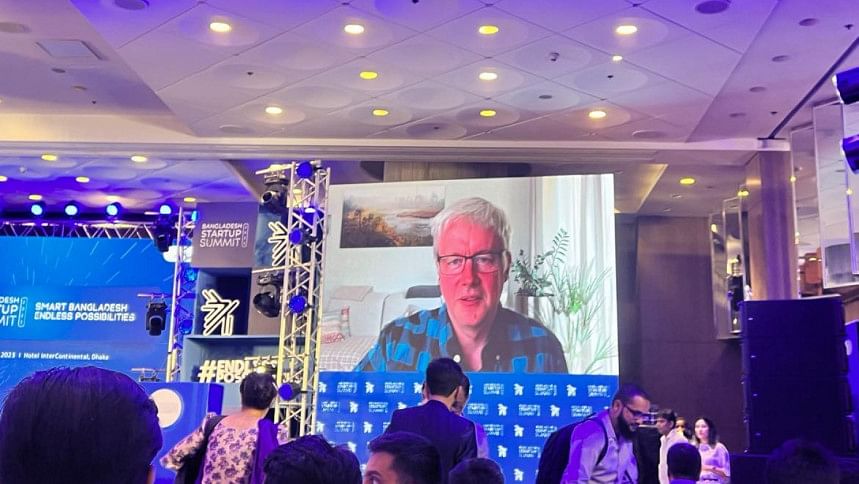 In a riveting fireside chat during the second day of the Bangladesh Startup Summit, attendees were treated to an exclusive virtual conversation with Jaan Tallinn, the co-founder of Skype and a thought leader in the field of artificial intelligence (AI). Hosted by Moinul Zaber, a Senior Academic Fellow at the United Nations University, the session delved into Tallinn's journey, from revolutionising communication through Skype to his current passion for understanding and shaping the landscape of AI.
Tallinn, who joined the session virtually, candidly shared insights into his formative years in Estonia and the inception of Skype, which marked a significant milestone in his entrepreneurial journey. As the discussion turned towards his evolution from a peer-to-peer advocate to an AI proponent, Tallinn acknowledged the transformative potential of AI but expressed his concerns about its unintended consequences.
The conversation turned towards the landmark paper titled "Transformers," released by Google in 2018, which played a pivotal role in advancing AI capabilities. Tallinn acknowledged the positive developments in AI but stressed the importance of addressing the potential risks and challenges that arise with its increasing use.
Reports about AI in Manhattan, often referring to him as a "giant," have led to misconceptions that he aims to eliminate all AI. Clarifying his position, Tallinn emphasized that his concern lies in the responsible governance of AI rather than its outright eradication.
One of the central themes explored during the conversation was the inclusion of minority voices in AI governance, particularly in countries like Bangladesh. Tallinn underscored the significance of providing a platform for those directly impacted by AI to be aware of the associated risks and to have a say in shaping its development. He proposed the establishment of representative committees as one potential solution to ensure more diverse perspectives are considered.
The discussion also touched on the differing approaches to AI governance by major corporations. Tallinn highlighted the case of OpenAI, a limited company, which faces challenges in representation on its board. He called for greater scrutiny and pressure to ensure that AI governance is more inclusive and accountable.