Bangladeshi Nabanita in Forbes' 30 under 30 Toronto list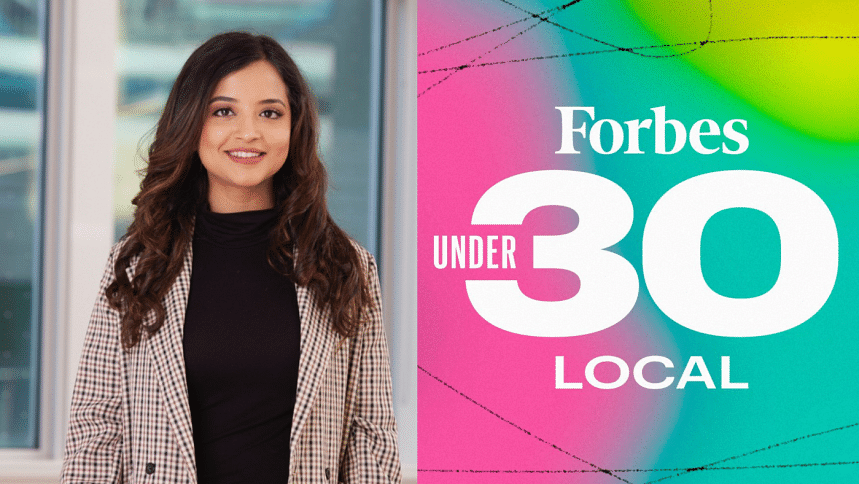 Nabanita Nawar, a Bangladeshi researcher and entrepreneur residing in Canada, has recently been featured in the Forbes' '30 Under 30 Local: Toronto' list. This is the popular business magazine's first-ever list of this kind, and she is the only Bangladeshi to be featured. The list is a part of Forbes' local series where they attempt to highlight the bright minds from major cities across the world.
Nabanita is the co-founder of HDAX Therapeutics, a company pioneering the development of the treatment for peripheral neuropathy, a condition that affects over 30 million people globally. Due to nerve damage brought on by chemotherapy, diabetes, injury, or genetics, peripheral neuropathy patients experience discomfort, loss of sensation, immobility, and paralysis. Presently, the advancement of the disease cannot be slowed down, stopped, or reversed by medication. According to their progress so far, patients could receive doses of HDAX by 2025.
"I am very grateful, and honoured, to be a part of this prestigious list," Nabanita shared in a conversation with The Daily Star. She added, "While it is very challenging to be working at the forefront of innovation, it is definitely a fulfilling and rewarding experience."
The Forbes '30 Under 30 Local 2023: Toronto' list also included Pimyupa Manaswiyoungkul, another co-founder of HDAX Therapeutics who serves as chief operating officer (COO), while Nabanita is the company's CEO. The company has collaborated with leading cancer research facilities from all across the world and has submitted several patent applications. It was built on the foundation of five years of academic research at the University of Toronto and has raised more than $800,000 in funding so far.
Nabanita graduated from the University of Toronto with a PhD in medicinal chemistry and a BSc in biological science. She has over eight years of experience in the fields of scientific policy, leadership, and drug discovery. Due to her work in this area, she was honoured with the '2022 Rising Star' distinction from the Ontario Institute for Cancer Research. She was also awarded the 'Canadian Silver Medal' from the Chemical Institute of Canada.
According to Forbes, Toronto is the pulse of Canada's business and tech life, and has been called the next Silicon Valley. In this first-of-its-kind list, Forbes outlines Toronto as a city renowned for its entrepreneurial and multicultural spirit, as well as world-class educational institutes. Other inclusions in the list include personalities from many different areas, including tech, science, sports, and arts.