Arial beel under threat
Real estate companies planning to build 'concrete jungle' in the heart of wetland
Over a decade ago, the spirit of rebellion echoed through the air in Arial Beel as residents united against the government's plan to construct an airport on their ancestral lands.
The community stood resolute, refusing to surrender their precious territory. The protests that ensued led to clashes with law enforcement, resulting in the loss of a policeman's life and hundreds wounded.
But against all odds, their uncompromising determination paid off, and the government was forced to abandon its airport project.
However, times have changed, and a new threat now looms over the beel (a large lake-like wetland).
The very farmers who once fiercely clung to their lands are now finding themselves enticed by the offers of real estate companies. Tempted by the promise of higher prices, they are now parting with their ancestral properties, unknowingly becoming pawns in a sinister game of environmental degradation.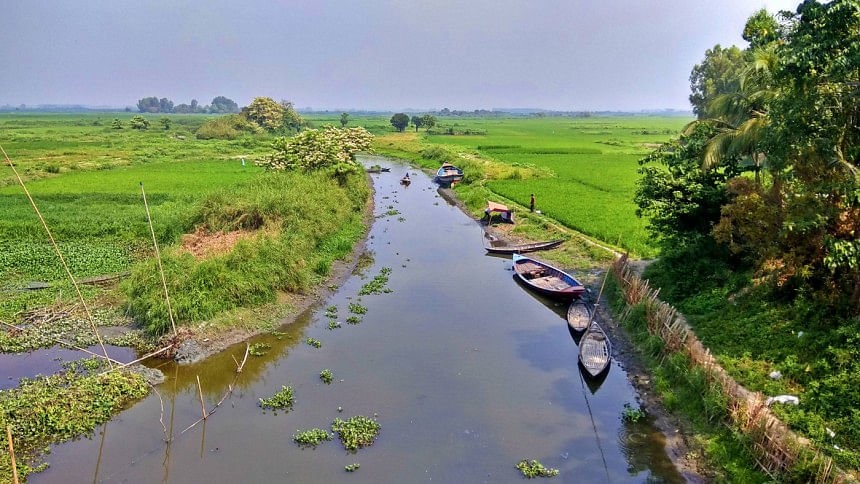 Arial Beel, one of the largest wetlands located in Munshiganj, is facing an invasion by illegal real estate developers. These business entities have acquired portions of the wetland, filling them up with sand and strategically placing signboards to attract potential buyers for residential development.
The Natural Water Reservoir Conservation Act 2000 forbids the filling of any government-recognised reservoir under any circumstances. Also, any individual or organisation cannot stop or change or attempt to change the direction of the flow of water by constructing structure or developing land or extracting sand or mud in any water bodies, without the permission of competent authority, as per Bangladesh Water Act 2013.
As the Arial Beel continues to be encroached upon, its very existence is being threatened, and the once thriving ecosystem is gradually giving way to concrete jungles.
The exact extent of Arial Beel's loss remains unknown, with neither the residents nor the government officials possessing accurate data.
"It was never my intention to sell my land, but the realtor kept on offering high prices, which proved too much to resist," said Alal Uddin, a farmer from Arial Beel. Many others echoed similar sentiments.
In a recent study conducted by the Bangladesh Institute of Planners, published in June 2023, it was revealed that the rate of wetland filling has increased significantly over the past eight years.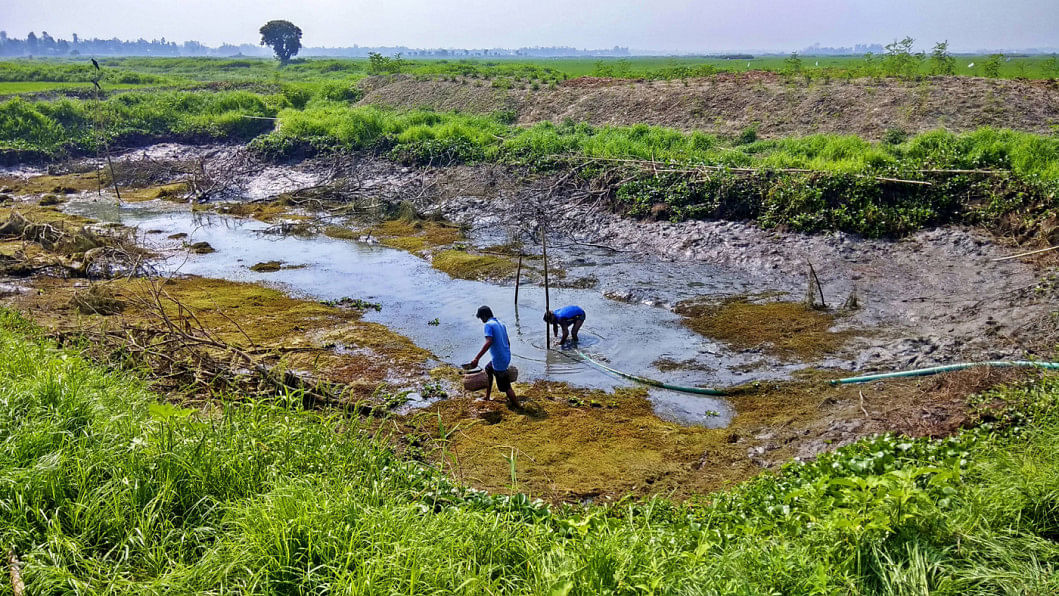 According to the study, 0.44 square kilometers of wetlands have been filled between 2015 and 2023.
Visiting seven Arial Beel villages in Srinagar of Munshiganj -- Hasara, Kewatkhali, Gaidighat, Baroikhali, Srinagar, Rairkhal, and Alampur -- this correspondent found that numerous unregistered real estate companies have installed dozens of hoardings in croplands.
One such prominent player, "Pushpodhara Properties Ltd" has encroached upon an approximately 75,000 square metres of once fertile land in Kewatkhali village.
The company has constructed a two-storey building to facilitate its land-filling activities in the wetland.
Under the "Padma Eco-City" project, Pushpodhara Properties plans to build various infrastructures on 300-katha land, aiming to create a natural forest covering 32 acres, along with several other facilities, including a lake, within a larger area of 150 acres, said one of their officials seeking anonymity.
However, such actions have been carried out in violation of the Natural Water Reservoir Conservation Act 2000, the Bangladesh Environment Conservation Act 1995, and the Bangladesh Water Act 2013.
The Department of Environment (DoE), entrusted with safeguarding wetlands, appears to be unaware of the ongoing situation at Arial Beel.
It is also noteworthy that the company lacks environmental clearance from the DoE, which is mandatory for such projects.
In addition, as per Section 5 of the Real Estate Development and Management Act-2010, it is obligatory for every real estate developer to obtain registration from the National Housing Authority (NHA) to conduct their business.
WHAT AUTHORITIES SAY?
According to NHA officials, the company's (Pushpodhara) registration had expired in 2020, rendering its current operations illegal.
Gias Uddin Chowdory, superintending engineer (current charge) of Planning, Design, and Special Project Wing at NHA, said, "The procedure is to register the company's name and then obtain separate permission for the project. However, this company's registration expired over three years ago, and they haven't received any approval for the ongoing project."
Gias Uddin said the company was misleading people by using its expired registration number, creating a false impression of government approval. "Even a registered company cannot start a project without obtaining permission for that specific venture."
Contacted two weeks ago, DoE's Munshiganj deputy director Mizanur Rahman, admitted to not knowing the current status of Arial Beel, but promised to look into the matter.
Two weeks later, he informed the newspaper that no company named Pushpodhara had sought permission from the DoE.
Contacted, Pushpodhara Properties Ltd's managing director Syed Alinur Islam claimed that the company obtained permission from the NHA for their project.
Additionally, they asserted having approvals from both the DoE and the district administration.
However, when approached for documentation to verify these claims, Alinur Islam remained unresponsive, even after multiple attempts to contact him via mobile phone.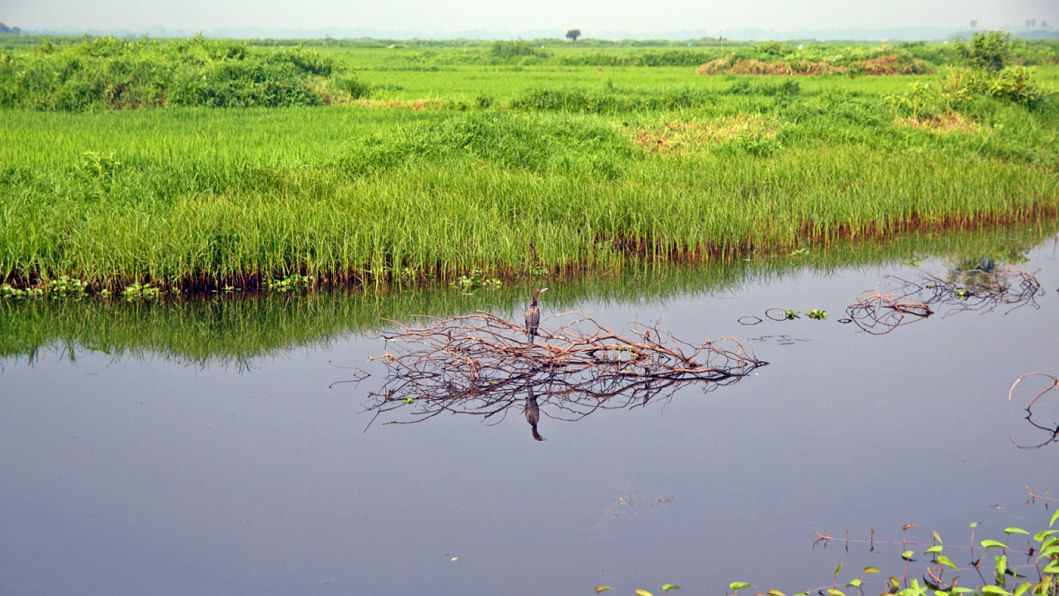 DECREASING FISH POPULATION
Over 14,000 hectares of the beel's land are utilised for paddy cultivation, and it boasts around 500 ponds, as reported by the Department of Bangladesh Haor and Wetlands Development (DBHWD).
The beel has been grappling with environmental pollution, extensive encroachment on its resources, and a significant loss of biodiversity.
A study conducted by the DBHWD in September 2020 highlighted the plight of various fish, plant, and animal species, facing risk of extinction due to these challenges.
The obstruction of water entry into the wetland has led to a decline in land fertility, resulting in a reduction in fish production, as corroborated by DBHWD's assessment.
The statistics from the Srinagar upazila fisheries office paint a grim picture of the declining fish production in Arial Beel.
Fish production dropped from 39.65 tonnes in the 2020-2021 fiscal year to 37.92 tonnes in the 2021-2022 fiscal year. This consistent decline each year raises serious concerns about the ecosystem's health, said Samir Kumar Basak, a senior upazila fisheries officer.
WHY VILLAGERS SELLING LAND NOW?
The villagers have now become willing participants in selling their land to real estate developers, enticed by the surge in land prices following the inauguration of the Padma Bridge.
Over the past year, the value of land near the road in Arial Beel has nearly doubled, soaring from Tk 3.36 lakh to around Tk 6.61 lakh per katha.
Similarly, the land's value within the area has risen from Tk 60,000 to Tk 1.12 lakh per katha, attracting realtors and investors to the region.
Jalal Uddin, a former participant in the anti-airport movement, said he initially joined the protests in 2011 out of fear of losing his farmland without proper compensation.
However, he sold his land around five months ago after a real estate company's representative offered him a substantial amount.
Sumon Hossain, another villager who was part of the movement, also sold 200 katha of land, along with a pond, in Kewatkhali village for Tk 3.2 lakh per katha.
He cited losses in crop cultivation and fish farming over the past two years as the reasons for his decision, along with the attractive offer from a real estate company.
Shahjahan Badal, convener of Arial Beel Rakkha Committee and leader of the movement, said "Villagers are interested in selling their land as real estate companies offer a higher price. No one missed this chance."
EXPERTS RING ALARM
The consequences of this unchecked real estate expansion in a wetland like Arial Beel are dire, leading to the loss of precious biodiversity, warns environmentalists.
One of the key roles wetlands like Arial Beel play is in flood mitigation. Their natural water storage capacity allows them to absorb excess water during heavy rainfall or storms, reducing the risk of flooding in nearby areas, they said.
Syeda Rizwana Hasan, chief executive of the Bangladesh Environmental Lawyers Association, underscored the significance of Arial Beel as a national asset.
She criticised the government agencies for their failure to protect the wetland and called upon the district administration and other relevant authorities to take immediate action to safeguard Arial Beel from further degradation.