Destroying the last line of defence
Coastal residents at great risk of cyclones as mangrove forests cut down, leased and grabbed for 'development'
The coastal people of Cox's Bazar and Chattogram are left exposed to the wrath of natural disasters as a vast swath of mangrove forest -- which serves as a natural shield against cyclones -- was cleared up over the years to develop economic zones and shrimp farming along coastal belts.
According to the World Bank's estimate, mangrove forests globally protect millions of people and several billions worth of property each year from cyclones and tidal surges.
Over the last decade, the government leased out around 41,000 acres of mangrove forest to establish economic zones, tourism parks, and energy structures in Chattogram and Cox's Bazar, according to the forest department's data.
Besides, around 12,500 acres of mangrove forest were grabbed by politically influential people for shrimp farming in Moheshkhali and Chakaria upazila, the data showed.
However, the amount of land grabbed is higher than the official records as encroachment continued unabated over the last two decades, sources in the forest department said.
"The coastal areas are protected by the mangrove forest. For example, mangrove forests in Satkhira and Bagerhat bore the brunt of cyclone Aila in 2009 and saved millions of people from its wrath," said Prof Khondoker Mokaddam Hossain of Institute of Disaster Management and Vulnerability Studies at Dhaka University.
"We have to maintain a balance between development and forest conservation. Development should not come at the cost of forest and environment," he added.
In Chakaria upazila, an entire forest known as "Chakaria Sundarbans", was wiped out from the south-eastern landscape following a government policy of promoting shrimp farming by the then Ershad government by clearing the forest.
In 1989, the then government leased out a total of 21,000 acres of forest -- which had an area of 48,000 acres -- to people with political connections for shrimp farming. The rest of Chakaria Sundarbans has been encroached on over the years since 1990.
Mokaddam Hossain said apart from the disappearance of Chakaria Sundarbans, influential people turned the mangrove forest in Moheshkhali into a shrimp farm, increasing the vulnerability of the coastal people.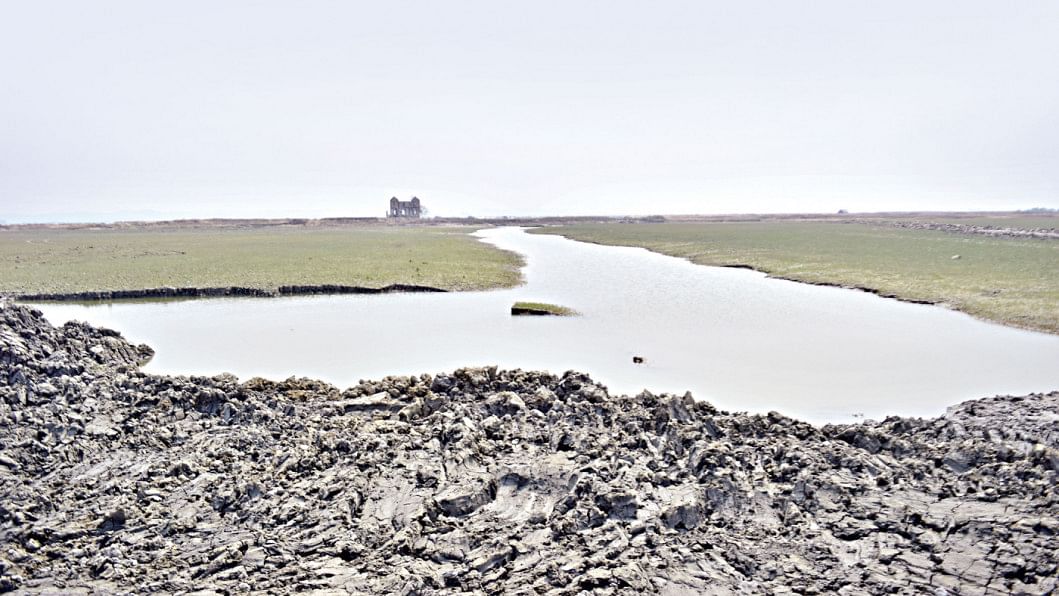 In Chattogram, Bangladesh Economic Zone Authority (BEZA) built the Mirsarai Economic Zone over an area of 30,000 acres of mangrove forest, felling 5.2 million trees. More trees had to be felled for the eco-tourism park on Sonadia island.
The coastal island of Moheshkhali, Saint Martin's Island, Kutubdia, Sonadia and Chakaria lost their mangroves due to massive land grabbing for shrimp farming, local environmental activists said.
The mangrove forest was encroached in Cox's Bazar chiefly to build homes and in the rest of the district for shrimp farming, said Nazmul, who has been transferred recently from Cox's Bazar office to Narsingdi.
Nazmul Huda, deputy director of the Department of Environment (DoE), said they filed around nine cases against the clearing of the mangroves in Chakaria, Sonadia, Moheshkhali and the Bakkhali river in Cox's Bazar.
The mangrove forest was encroached in Cox's Bazar chiefly to build homes and in the rest of the district for shrimp farming, said Nazmul, who has been transferred recently from Cox's Bazar office to Narsingdi.
Seeking anonymity, officials of the Department of Environment (DoE) said they cannot take action against such deforestation as the perpetrators are politically influential.
Kalim Ullah, general secretary of Bangladesh Poribesh Andolon's (Bapa) Cox's Bazar unit, said mangroves not only saves people from cyclones, but also protects islands from erosion. Every year, coastal residents lose their homes to erosion in the absence of mangroves.
"Wiping out mangroves gradually in Chakaria, Sonadia and Moheshkhali for shrimp farming and salt production has left coastal people without any natural shield," he said.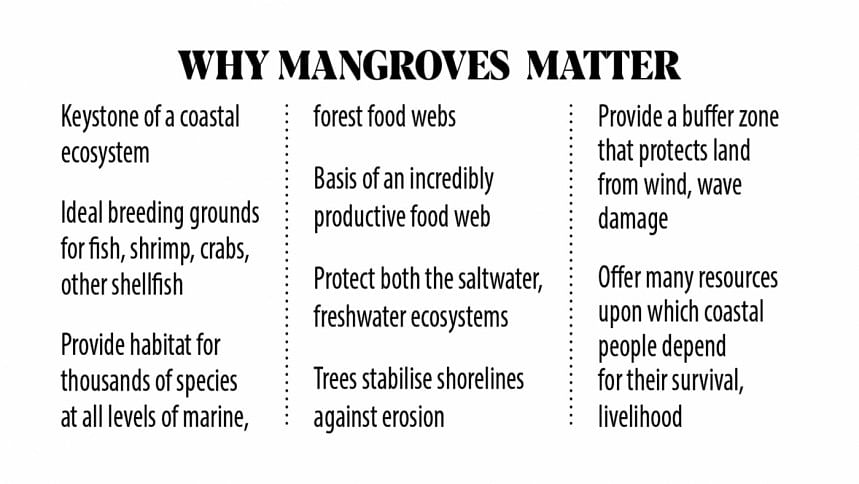 He suggested that a task force be formed consisting of various government agencies to stop the onslaught on the forests.
SM Rubel, convener of Nagorik Andolon -- a citizen's platform in Moheshkhali upazila -- said influential people started ravaging the mangrove forest in Moheshkhali in 2003, which is still ongoing.
"Mangroves used to save us from any natural disaster. But now there is no natural shield for the coastal people left on the island," he said.
Mohammad Abdur Rahman, divisional forest officer of Coastal Division, Chattogram, said they filed at least 30 cases against encroachers.
"We cannot stop encroachment as we don't have the human resources, vehicles, and speed boats required to conduct drives there. We cannot ensure the presence of a patrol team required to stop the menace in the forest due to our shortage of human resources," he said.
He also mentioned that they don't get the necessary support from the police and the local administration.
"These agencies only assure us of cooperation verbally. But in reality, we are left alone to deal with this crisis," he said.
"To stop encroachment, the forest department must be strengthened. Otherwise, it would be tough to protect the green belt," he added.