Remote palichara reflects overall reality
Palichara, a remote village in Rangpur district, is not an unknown name in the local football fraternity ever since it emerged as a breeding ground of female footballers in the country.
Like Mymensingh's Kalsindur, the girls of this tranquil village -- the likes of Sirat Jahan Swapna, Ishrat Jahan Ratna, and Mishrat Jahan Moushumi -- achieved successes in age-level national tournaments and went on to aid the national side in bringing international accolades.
The crowning achievement for women's football arrived last year with the maiden SAFF Championship title. However, sudden departures of a few key figures of the SAFF-winning contingent -- of Swapna and the long-serving head coach Golam Rabbani Choton – had taken all aback.
Why did someone as young as Swapna -- a proven striker approaching the peak years of her career -- would hang up her boots at such a juncture where women's football in the country was primed to flourish like never before?
On the opposite side of the spectrum, supportive locals and administration have helped tip the balance of the scale. As a matter of fact, the success of Palichara girls prompted the government to recently build a stadium there with modern facilities.
Although Swapna said her retirement was down to her "own accord", it is believed that the national team's complete lack of action since the SAFF triumph, coupled with salary issue and the uncertainty surrounding a proposed franchise league (WSL), culminated in her making the call. 
In an attempt to understand Swapna's decision, this correspondent visited Palichara last month but failed to unearth anything concrete. However, the interactions with locals and upcoming footballers there gave a good indication about where the problem lies with Bangladesh women's football despite having achieved huge success of late.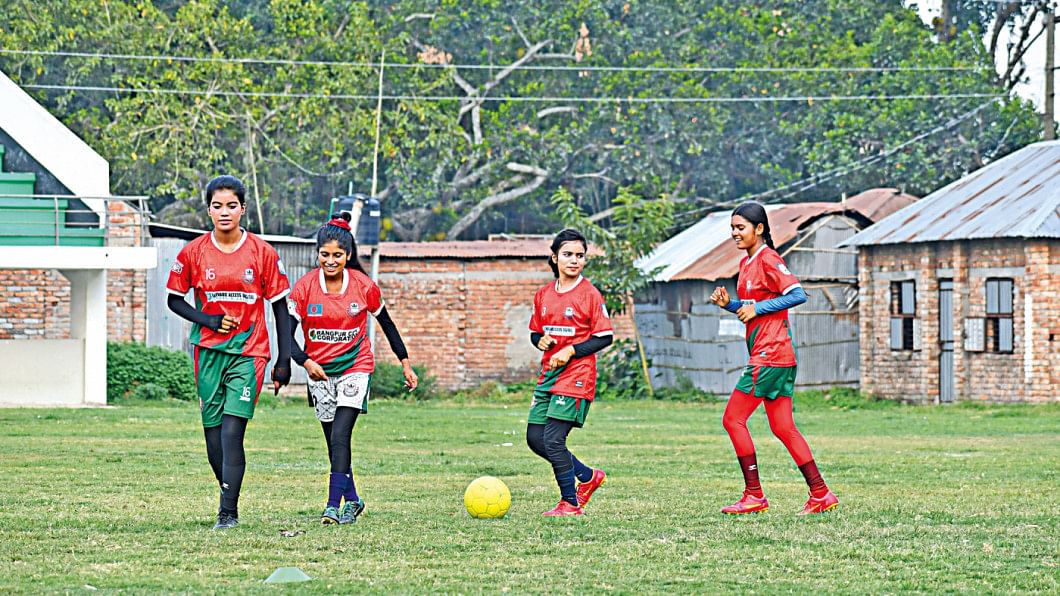 As the budding female footballers of Palichara talked about their role model, their eyes seemingly lit up with a mix of pride and sorrow. Like the rest of the country, Swapna's retirement decision shocked them to the core but these young girls are still dreaming as big as their predecessors did.
While it cannot be denied that parents are now encouraging their girls to play football, still they face social stigma from their relatives and other residents of the tiny village. Just for choosing to play football, they are still subjected to bullying to this day. Recently a few girls were harassed by local miscreants.
On the opposite side of the spectrum, supportive locals and administration have helped tip the balance of the scale. As a matter of fact, the success of Palichara girls prompted the government to recently build a stadium there with modern facilities -- comprising press box, galleries, dressing room, and dormitory.
"We got these modern facilities only because of the success of the girls in this area," Rangpur District Sports Association general secretary, Anwarul Islam, proudly said.
Similarly proud was former Union Parishad member Jahangir Alam, who said, "Women's football got a new life in this area following our girls' success in the Bangamata Sheikh Fazilatunnesa Mujib Gold Cup in 2011." 
Nearly 30 girls from different villages in the vicinity regularly visit the stadium to partake in training. It was a refreshing surprise for this correspondent to watch a JFA Under-12 National Women's Football Championship-23 qualifying final match in such a beautiful stadium.
The miscreants and the bullies seem to be the minority when the local residents there proudly utter the names of Swapna, Ratna, Moushumi and others.
"Now everybody encourages their girls to play football, which was not the case ten years back," said Munsur Ali, a local resident.
We are excited that we have had 10-12 girls who have played in different age groups from here. But the situation was not like this five-seven years ago. In the beginning, our guardians used to tell us not to play. What will you get out of playing?" they used to say. Then after we got better at our game, we got encouragement from everywhere. Now, guardians want their girls to play. Parents can now understand that the girls can do something well by playing football. But still, our girls have to face a lot of harassment in the streets and some other places. Here, we have a lot of people who don't want the girls to play football. But the honourable Prime Minister has given us such a big stadium for which we thank her. She loves sports and wants us to improve. I hope she will continue to extend her cooperation and help us.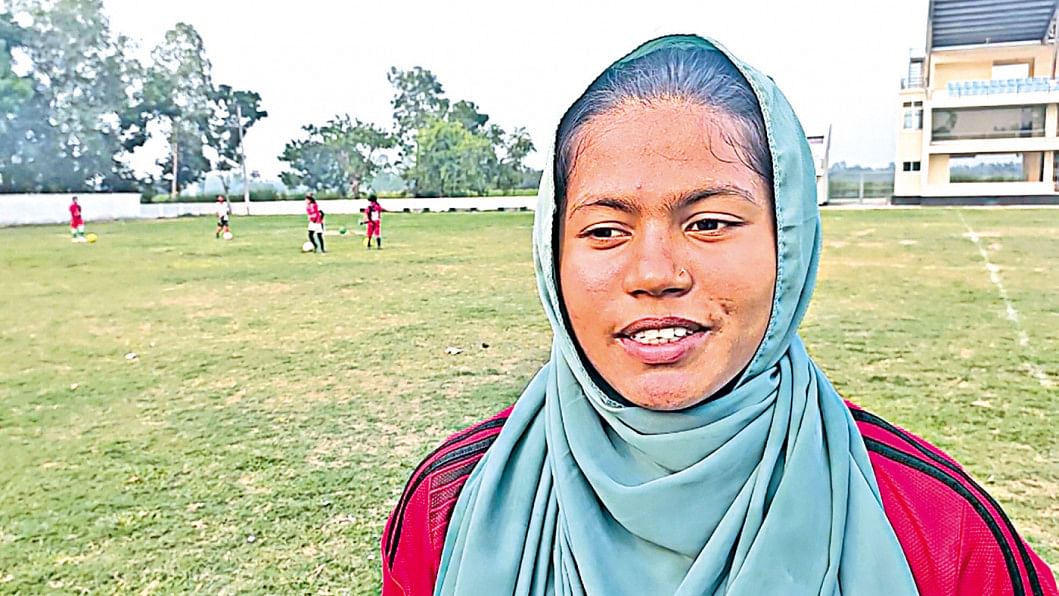 Upon witnessing the determination of the budding female footballers and support of a section of locals, it is no wonder that a place like Palichara -- where the majority of the people are farmers and day labourers who remain impoverished -- went on to achieve something extraordinary, in terms of women's empowerment in sport.
Having said that, are the facilities and collective support enough for Palichara's sustainability? Why does poverty still remain the main enemy of these girls, who have to practice without proper three meals a day? 
Local coach Milon Ali informed that a few well-wishers -- notably Biplob Kumar Sarker, joint commissioner of DMP who was Superintendent of Police (SP) of Rangpur District, and Japan expatriate Mamtaj Khan -- have been supporting the girls.
It is still challenging for the girls to come into football. Even if the parents support them, the relatives still object. I've never received the support of my relatives fully. The people in the neighbourhood aren't okay with girls playing sports. Everyone says negative things about us. We have so much success and achievements but still have to listen to taunts and slanders. They never motivate us. We are here only because of our parents. But our coach Milon Miah and the police administration motivate us. The Joint Commissioner of Police, Biplob Kumar Sarkar sir gives us the sports gear and always keeps in touch. He sends us gifts for Eid and is a constant during times of happiness or sorrow.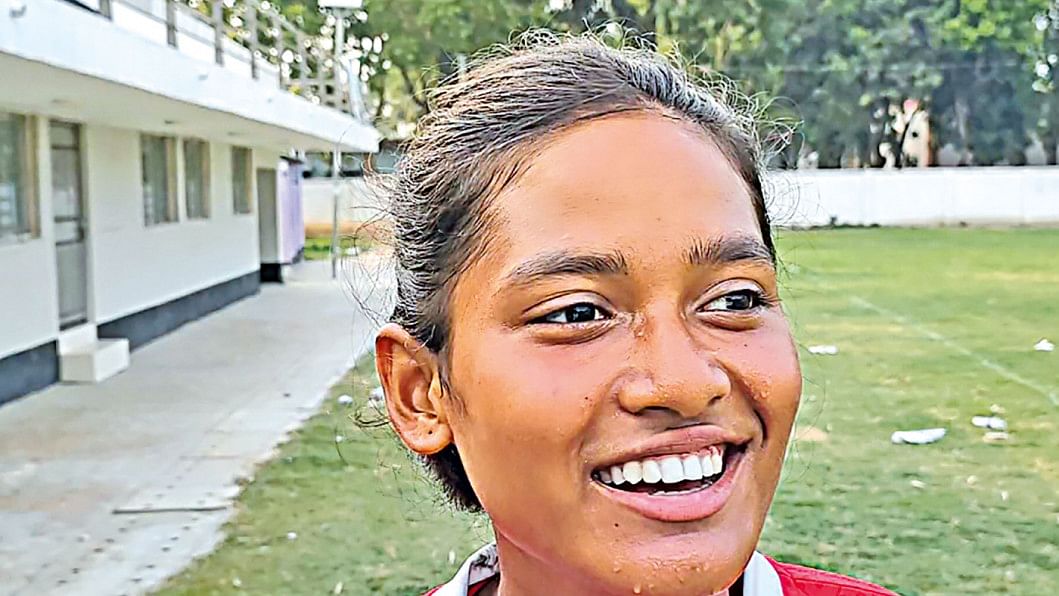 "They are very talented but support from some individuals is not good enough for them to continue their football venture. I firmly believe these girls too have the ability to make the nation proud if they get proper support," Biplob Kumar Sarker told The Daily Star.
I started playing football seven years ago seeing Swapna, and Ratna apu. But in the beginning, my family didn't want to let me play. The stadium you are seeing today next to the Nayapukur Bazar wasn't there back then. It was an open field that had a cricket pitch where the boys would play. When we went there, we were the subject of teasing from the boys. When my game improved, the environment started to change but you can't say that it is good. Still, now, we haves to listen to a lot of criticisms. We still have a lot of problems even though we have a modern stadium. The number of calories we burn every day in training is not compensated by our calorie intake because of the lack of food at home. We would be quite benefited if the government arranged some food for us every month. Our fathers are mainly farmers and a few are van drivers and there are some who live on a day-to-day basis. We eat one meal and often have to forget the other meals; we eat whatever comes our way at home. It would've been good for us if someone helped us with food. If the government or anyone else supports us, then we can do well in the future. Swapna apu was not only the best striker in Rangpur district but the best in the division. She could've brought more glory to the country if she would've played more. We were proud to have a footballer like her from our village but we don't know why she left football. Now, it feels bad to see such a good player leave football as we were inspired by her. If they give up so easily, then how can we reach a good place?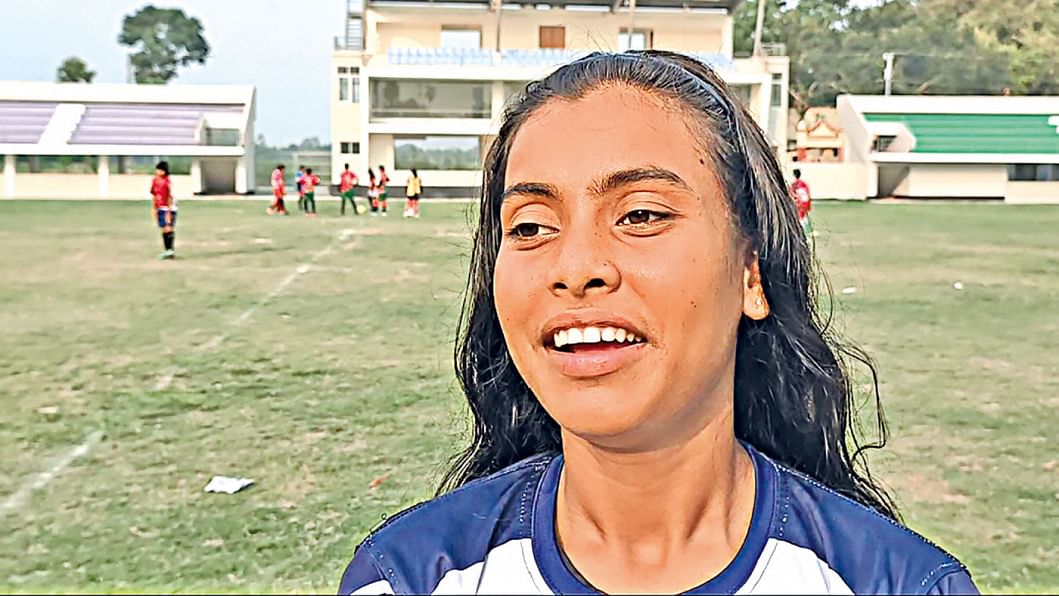 From grassroots to top level, the time has come to address and sort out all possible issues, starting from something as fundamental as financial security. The SAFF Championship has shown that unprecedented success alone cannot ensure growth and its continuity when the infrastructure only exists as a facade.