Totail Beel in peril
Illegal activities of a real estate developer, authorities' inaction threaten the ecologically important last surviving wetland in Keraniganj
Just a decade ago, Totail Beel, surrounded by unspoiled and pristine nature, could be reached from the Buriganga river.
Today, rampant illegal activities linked to a housing project are causing the last wetland in the Taranagar union of Keraniganj to shrink rapidly.
Locals fear that if encroachment and landfilling continue at the present rate, the wetland might turn into a concrete jungle soon.
Keraniganj, which lies along the Buriganga, used to have many canals and water bodies only a decade and a half ago.
But things began to change rapidly when, in 2009, Shaheed Buddhijibi Basila Bridge over the river was inaugurated. Besides improving communication between Keraniganj and Dhaka, this bridge has led to an infrastructure boom.
Since then, real estate companies have filled up many wetlands across Keraniganj to construct new housing projects, choking the water bodies and degrading the environment.
The Totail Beel, the sole surviving wetland in the area, is now facing an invasion by such a real estate developer.
This reporter has made several visits to the Totail Beel in the last few months and witnessed the wetland being filled up gradually by Millennium City, the real estate developer.
The company has turned deaf to the calls of locals and environmentalists and is continuing its encroachment of the beel in Shyamalapur village.
Shockingly, the real estate company is operating without a mandatory license from Rajdhani Unnayan Kartipakkha (Rajuk) and does not have clearance from the Department of Environment (DoE).
The wetland is designated as a water body in Rajuk's Detailed Area Plan (DAP), officials confirmed.
The lucrative land of the beel, adjacent to the capital's Mohammadpur-Keraniganj road, seems too lucrative to the company to ignore all the cautions and laws.
Locals say inaction by government authorities such as the Rajuk, DoE and local administration is allowing the unlawful activities to continue.
According to locals, the Totail Beel has been an integral part of the region's landscape, serving as both a source of livelihood and a natural buffer against flooding by flashing out excessive water into the river.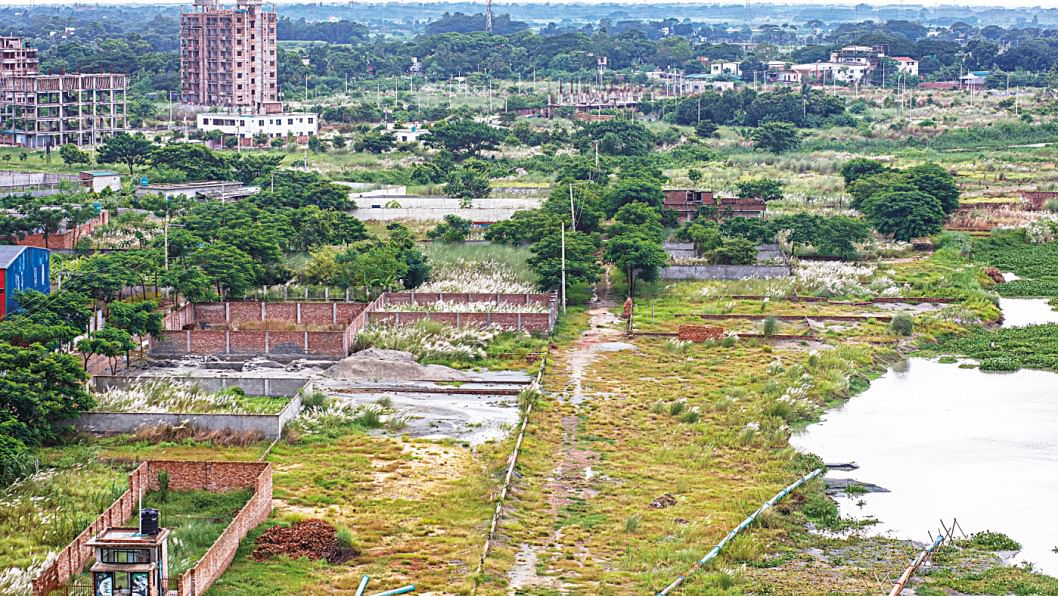 Farmers have traditionally used the wetland's water for irrigation, and during the monsoon season, it served as a crucial fish stock. Additionally, it played a vital role in draining storm water, benefiting not only the local agricultural community but also safeguarding nearby areas from waterlogging.
Locals say, for generations, they have been producing rice and seasonal vegetables on the fertile land of the beel during the dry season.
Moreover, farmers in the nearby lands rely on the water from the wetland for irrigation.
However, the encroachment of the wetland has led to a drastic reduction in water levels within the wetland making it increasingly challenging for farmers to cultivate their crops. It has also resulted in the loss of fish, significantly impacting the local community's economic well-being.
Experts have repeatedly expressed concern about the government authorities' failure to protect the wetland.
The Natural Water Reservoir Conservation Act 2000 forbids the filling of any government-recognised reservoir under any circumstances. Also, any individual or organisation cannot stop or change or attempt to change the direction of the flow of water by constructing structure or developing land or extracting sand or mud in any water bodies, without the permission of competent authority, as per Bangladesh Water Act 2013.
AUTHORITIES TURN BLIND EYE
However, nothing deterred the real estate company from its course.
Despite repeated written complaints by locals, relevant authorities including the upazila administration, Dhaka district administration, and the Department of Environment have not responded to their pleas, let alone taken actions to protect the wetland.
As a result, sand filling of the beel continued for over one year, unabated, locals and environment activists said.
During this correspondent's visits in August and September to the wetland in Keraniganj's Shyamalapur village, half a dozen dredgers were seen dumping sand into the wetland at night.
The wetland, which is 450 meters from the Buriganga, was seen partially filled up with sand by the illegal real estate company.
Analysis of Google satellite imagery shows the area of the wetland was 6.56 acres in 2020, which shrank to 5.54 acres in 2023 due to landfilling, suggesting that around one acre of it has been illegally grabbed by the company.
However, other lowlands in the upazila, which are not designated as beel, are also being used by housing projects, reducing cropland rapidly.
In 2000, there were 10,540 hectares of agricultural land in the upazila. Now, there are only 8,350 hectares, according to the local agriculture office.
And the trend is not limited to Keraniganj either.
In a recent study conducted by the Bangladesh Institute of Planners, published in June 2023, it was revealed that the rate of wetland filling has increased significantly over the past eight years in Dhaka region.
DEPLETING FISH POPULATION
The locals said the destruction of Totail Beel is having a profound impact on their lives.
Didar Hossain, a farmer, said, "The company has already filled up the beel's connecting part with the river. We used to catch various fish before. Now the beel is dying slowly."
Gias Uddin, a fisherman, said, "This is not only a wetland to us. We fishermen depend on it for our livelihood. They are killing it before our eyes."
They urged the government to take immediate action to protect their lifeline.
"Totail Beel used to absorb excess water during monsoons, reducing flooding in our locality. But with its area shrinking due to illegal filling, we feel our villages are now more prone to waterlogging," said Abdul Goni, a teacher of the village.
"I have heard that many government departments are there to protect these wetlands. What are they doing? How could people do this kind of illegal activity under their noses?" said an outraged Abdul Hossain, another local.
"We have complained repeatedly but no action has been taken so far," he added.
Authorities' blame game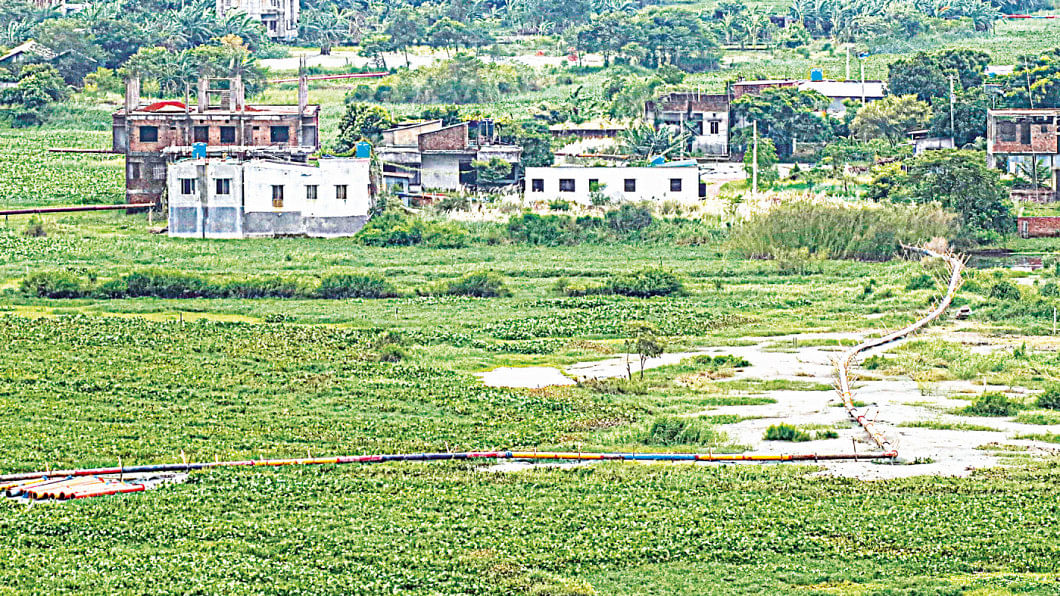 However, Masud Hassan Patwary, Director (Monitoring & Enforcement) of DoE, said he is not aware of Totail Beel sand filling.
"I did not receive any written complaint regarding sand filling," he said.
He said, protecting wetlands, the local administration's role is important.
Contacted, Ashraful Islam, a town planner of Rajuk, said that Millennium City has no registration to run the company.
"The local administration has already been informed and requested to take action against illegally run real estate companies," he added.
Interestingly, the local administration said they weren't informed by Rajuk and DoE in this regard.
Talking to The Daily Star, Faisal Bin Karim, Upazila Nirbahi Officer of Keraniganj, said, "Rajuk and DoE have never contacted us and asked us to take action against these real estate companies and their illegal landfilling activities."
He even denied receiving any complaints from the locals too.
"We have not received any complaints from the locals regarding illegal activities like wetland filling in the Totail Beel," he said.
Analysis of Google satellite imagery shows the area of the wetland was 6.56 acres in 2020, which shrank to 5.54 acres in 2023 due to landfilling, suggesting that around one acre of it has been illegally grabbed by the company.
The Daily Star has obtained copies of three complaints that locals filed with the relevant authorities, which were received by the concerned officials.
Contacted, the developer company admitted to the accusation of landfilling with sand saying they had filled up a "minor portion" of Totail Beel.
"We have filled up a minor portion of the beel, which is agricultural land, not a wetland," Taju Sarker, an owner of Millennium City, told The Daily Star.
"I am operating in a very small area," he said admitting his company didn't take any permission from Rajuk and DoE.
Sharif Jamal, former general secretary of Bangladesh Poribesh Andolon (BAPA), said wetland like Totail Beel plays a key role in flood mitigation.
Their natural water storage capacity allows them to absorb excess water during heavy rainfall or storms, reducing the risk of flooding in nearby areas.
"Mindsets need to change. I demand immediate action against the illegal operations devastating this essential wetland."